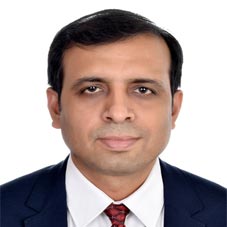 Offering agility and introducing immaculate experience into increasingly complex business scenarios, virtual CFO has emerged as a pioneering phenomenon dealing with the various new-age problems arising from globalization, cloud management, multichannel needs, and added demands on businesses at an earlier stage. Witnessing a stiff industry demand, FinsQ was co-founded by Ashok Ahuja to ensure top notch Virtual CFO Services by simultaneously enabling start-ups, Mid Size/New age Businesses and MNCs to unperturbedly focus on their business outcomes.
Equipped with associates and consultants spanning all major professions within the finance & legal domain including Chartered Accountants, Company Secretaries, Cost Accountants, MBAs, CFAs and Lawyers, the motto of FinsQ is to bring all necessary expertise under one roof to help businesses address bulky or unstructured problems quickly and effectively.
Engaging in a detailed discussion with CEO Insights, Ashok Ahuja highlights the exceptionality of virtual CFO services offered by FinsQ.
What inspired you to establish CFO FinsQ? How has your company's journey been so far and what challenges did you encounter during this journey?
We witnessed a gap in the market as Mid-Size businesses/Young entrepreneur/Start-ups were not able to afford full-time experienced CFOs. We are quite aware that every CFO is not equipped with the expertise concerning all the industries and does not fit in all the industries.
The notion to fill the existing gap inspired us to start offering virtual CFO services via FinsQ. Talking about challenges, Finance is an important aspect for every business but for promoters, this is a non-core function.
As per them, it does not add any value to the system. But on the contrary, promoters need data for making their important business decision and they tend to spend less time. Promoters were not giving value to the compliances however Government's push towards compliance made our life easy.
Brief us about the pain-points pertaining to the financial industry segment. What technological innovation or strategies does the company employ to deal with such hurdles?
Our Industry is facing more complex challenges now than ever before. Our roles as a financial service provider have evolved and we are facing the following challenges such as hiring and retaining a strong team, managing cost, integrating with the newest technologies and so on. Another major challenge is that despite claiming to love innovation, people still resist change.
For instance, while striving for change and a more progressive future in the world of digital adoption, many companies. Going digital is not only about bringing innovation but also about changing the culture, being flexible and ready to introduce new programs. The only way to succeed in the present fast-growing environment is by being open to experimentation and embracing the opportunity to create a new culture.
We as the drivers of financial intelligence must also lead in change management by shepherding the businesses forward with analytically-guided decision making and enabling more efficient processes enhanced by various technologies like OCR, Artificial intelligence (AI), Business Intelligence, and adoption of advancements including cloud computing, machine learning and more.
"There is big difference in Growth, Progress and Success". Success does not only means increase in Revenue rather in real terms called Growth. If Growth is added by ethics that is called Progress. If we further add to this humanity, morality and Spirituality that is called Success of any individual or any business
What is your USP that segregates your company from others in the finance industry?
Being a process-oriented firm, we follow a modular approach with dedicated teams working in specific areas. We have employed skilled industry experts who address our various verticals such as accounting, security, compliances and more. With a dedicated team working on process, we strive to improve process orientation, drive the process, make sure that process is being implemented in the company, and focus on process automation.
The budding entrepreneurs should focus on their businesses without worrying about their accounting as we are there to take care of it. Since we are a technology-driven company, we generally focus on automating the process using the various technologically advanced tool and this is what bifurcates us from other co-players. As we don't follow the traditional approach but are intriguingly relying on modern technology to ensure accuracy, we get our results faster along with more visibility.

Throw some light on the various Virtual CFO services that you offer.
FinsQ has been able to provide cost-effective financial solutions to bring them on par with the big business players. We believe a virtual chief financial officer (CFO) should be an effective organizational leader and a key member of senior management, balance the responsibilities of stewardship with business partnership and an integrator and navigator for the organization.

Adhering to tech-enabled services using various tools to automate the process like AR Automation, AP automation using OCR, Cloud technologies, FinsQ is committed to maintaining the quality and authenticity of its premium services.

How are you updating yourself with the latest technologies/industry trends to make your company reach its future goals?
We have a team of highly experienced Professionals to help entrepreneurs to excel in their businesses. Our lean operating model and boutique approach ensures world-class service at highly competitive prices to clients. We have established our in-house tech team who continuously research on available tools in the market and the development of-our in-house tools. Owing to rampant support and dedication, we would like to establish ourselves as the best Virtual CFO service provider not only in India but across the globe as well.

Ashok Ahuja, Co-Founder, FinsQ
An experienced as well as Qualified Chartered Accountant Ashok Ahuja is a finance professional with a proven ability in Controllership, Financial Management, Process innovation and improvement, Team Development, Project Management and execution, Business Partnering and Problem solving.

With more than 15+ years of experience as finance professional in Various Multinationals which include Healthcare, Contracting, Export manufacturing, Consulting and worked as CFO for India businesses as well as experience of managing APAC and in leading cross functional teams , Ashok is also indulged in negotiating and influencing people to buy-in to financial and business recommendations to reach a WIN-WIN for all.