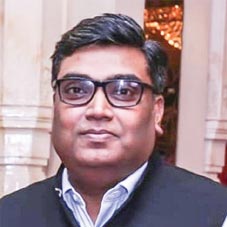 The Virtual CFO industry is gaining great momentum, as today's small and medium businesses are well-aware of the instrumental role these financial advi play in taking their business to new heights, without costing a fortune. Considering the businesses that require these services are generally young with so many ideas popping up regularly, a VCFO should be smart enough to moderate the thoughts in their buzzing minds and guide them patiently. Aligned to this, CA.Manava Prem, Managing Partner, Arora Prem & Associates Chartered Accountants (APCA, as it is fondly called), guides his clients by providing innovative customised solutions while carrying uncompromising professional standards and ethics.
This 34-years-old firm which was involved in traditional CA practice for nearly 2 decades expanded its wings and ventured into the VCFO industry under the leadership of CA. Manava. Today, with two offices at New Delhi & Gurgaon, APCA caters to clients based out of Delhi/ NCR, Rajasthan, Karnataka, Telangana, Gujrat, Maharashtra, Punjab, Jharkhand, Uttar Pradesh and Bihar among others. CA. Manava, in an exclusive interview with CEO Insights, discusses about the factors that have contributed to APCA's success. Here are the excerpts:
What propelled you to switch gears and foray into the VCFO domain?
An Indian CA firms inherently work as VCFOs for their small and medium sized clients and are engaged for various advisory, assistance in meeting compliances vetting of documents and other such activities. As such it was a logical extension for us to get into the VCFO practice. Our CA firm
background gives us a strategic advantage as we have strong domain understanding across various work verticals. We vest keen focus on meeting all the compliance for clients and meet the aspirations of our teams and associates. Not having any compliance backlog for clients gives a good sleep and a happy team is the best motivation in any organisation.
Kindly tell us about the milestones that have given you the utmost satisfaction.
A long-term association always gives satisfaction. We have clients, for whom we have been providing services in various capacities for over 20-25 years; in fact, any client who has stayed with us for over two years invariably continues with us only and we grow together. Similarly, we have team members who are associated with us for over 12-15 years and that's a long period. This bestows us with immense satisfaction and speaks about our professionalism, work culture, and the institution that we want to create. Also a business a scalable only when it is driven by the system. With the use of technology, we have built a system which is system driven and works with minimalistic deviations.
The long-term association we've been maintaining with our clients and our team members showcases the best about us
How do you keep yourself and your clients abreast with the latest trends in the Finance Sector of India?
VCFO office is essentially about teamwork. We invest a lot of time and energy on books, resources, team building and infrastructure development to improve the capability required for our services. Being committee members of various Chamber of Commerce, other professional associations and groups, helps us to extend our reach and constantly enhance our knowledge and expertise, which we share with our clients. A few of our clients have been organising seminars on various economic,
investment and related matters and I have been addressing those seminars on budget and other matters.

Tell us about the challenges that taught you the basic lessons of managing the organization and helped you to achieve success.
The root of success as VCFO lies in the patience that it requires. The practice takes time to develop. It is important to earn clients' confidence, something which the client will have on an in-house CFO. The clients for VCFO services at times are overly sensitive on various issues and require utmost care to handle and negotiate. We always insist on entering into a service agreement with clients, however at times we need to go beyond in service than what is mentioned in service agreements. The real pleasure in VCFO practice lies in witnessing our clients' success.

How do you manage to balance between your personal & professional life?
It was a pain initially to balance between the professional and personal life and I would thank my wife and family for supporting me all through the period. I have for last few years stopped working on Sunday's daytime. I go out of town for short breaks and have quality family time at home. I spend a lot of time on reading management and history books.

CA. Manava Prem, Managing Partner, Arora Prem & Associates Chartered Accountants
After earning his Post-Graduation degree (Master of Commerce) from Vinoba Bhave University with a Gold Medal, CA. Manava attained the renowned Chartered Accountant degree in 2004.Kickstarted his career in the corporate world, where he was heading the finance function of a 250-people-strong organization, He joined APCA in 2003 and have been adeptly spearheading the firm's affairs since 2007 with focus on keeping a right mix of team from corporate and non-corporate background.

Favourites:
Hobbies: Reading Spending quality time with family and meeting friends, collecting fountain pens.,
Cuisine: Experimental Foods Travel Destination: Unscheduled Travel Destinations