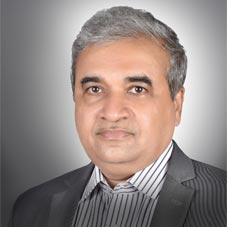 Surprisingly, most of the businesses in India today do not have a trusted financial expert. Simply, most of them cannot afford a person to strategize their financial goals. It is crucial for an enterprise to on-board a specialist for financial management, but many enterprise owners ignore to employ a professional CFO, with a notion of saving some money.
Though this saves a small amount, it definitely will leave adverse consequences on the stability of the company in the long-run. As a rescue, Virtual CFOs are booming as a cost-effective and efficient solution. However, a business needs to choose a trusted and reliable service provider to grab greater opportunities for future growth with the use of modern financial analysis tools. Such a Virtual CFO who has gained upright trust is N. Ramakrishnan, Managing Partner of CFOASSIST.
He is a seasoned professional with over 3 decades of rich and comprehensive experience in the areas of Strategic Planning, Financial Control, Company Secretarial Affairs, Costing, Fund Management, Budgeting, MIS, Taxation, Legal & Commercial Matters, and M&A. He is a strategic planner with proven ability to improve operations, impact business growth, and maximize profits through achievement in finance management, cost reductions, internal controls, and productivity/efficiency improvements. He along with his proficient team is driving financial success for many businesses today. CEO Insights engages an interview with Ramakrishnan to explore valuable nuggets of his journey.
What different roles and responsibilities have you been undertaking as a VCFO for your clients?
At CFO Assist, we handhold MSME clients in their path to Sales growth, Business Improvement / Margin Improvement, Cost Reduction, and negotiation with key vendors and lenders for driving significant growth.
What taught you the basic lessons of managing diversified functions of organizations? Also, how did you manage to propagate success to startups & MSMEs?
I have been exposed to FMCG, Retail, Commodities, and Media industries. The experience derived over the years is being passed on to Startups and MSME clients to improve rapidly. Thanks to the rich business experience in multinationals over the last 3 decades, we negotiate, debt or equity funding for startup or MSMEs depending on their appetite, in such a way that it is well woven into their growth strategy.
N.ramakrishnan is an expert in business transformation by increasing top line, reducing cost through better negotiations and improve profitability thereby meet organisational objectives
In your professional journey so far, which are the milestones that bestowed your utmost satisfaction?
This is an area where client satisfaction is the key. The clients have spoken about the commitment, driving force to lead the business, and thought leadership provided to help improve the business.
Family plays an important role in every person's life. How has your family supported you in your career so far? Also, how do you manage to balance between your personal & professional life?
I ensure adequate work-life balance and help my wife and children in their aspirations, thereby, ensuring support in my area. I also ensure at least two vacations each year to destress. Personally, I focus on spiritual pursuits and regularly practice yoga & meditation.
Do you participate in any mentorship programs or give keynote speeches in conferences & seminars to share your industry insights with your peers?
To all my subordinates, I help and facilitate mentorship in their growth aspiration.

N. Ramakrishnan, Chartered Accountant & Company Secretary at CFOASSIST
• A keen analyst with exceptional relationship management & negotiation skills with proven abilities in liaising with government departments, regulatory authorities and external agencies.
• A strategic planner with proficiency in monitoring & implementing internal control systems for all financial and statutory matters.
• Undertaken various cost control measures to improve the profitability of the operations.
• Expertise in funds and ensuring optimum utilisation of available funds towards the accomplishment of corporate goals.
• Possesses significant leadership experience resulting in better financial performance and enhanced systems for higher performance of the team.
• Strong analytical & organizational abilities with adeptness in formulating accounting systems, preparing accounting records and financial statements.
• Services and solutions comprising of Internal Audits, Secretarial Audits, Investigation Assignments, Loss Prevention, Special Audit Assignments and Due Diligence Reviews in the companies employed.

"N.ramakrishnan is an expert in formulating business continuity plans, identifying & adopting emerging trends to achieve organizational objectives and profitability norms"

The key drivers that CFOASSIST deploys to ensure that the clients' finance are used appropriately to meet its short/long-term needs
• Handhold the MSMEs to ensure growth in Top Line and Bottom Line and tight cost control.
• For Startup, help improve the Pitch Deck, Financial Deck and connect with potential investors.
• Introduce Budgeting system and monitor Budget vs Actual.
• Develop various Dashboards to monitor company performance on Daily, Weekly and Monthly basis.
• Negotiate with Various vendors to drive cost downwards.