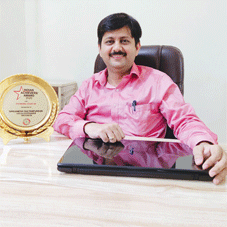 A passionate Electronics Engineering graduate from the Bits, Pilani and WIT Solapur, research and innovation have always been a major motivator for Ganesh S all along his career. Having worked with multiple startups and MNCs, he always had ample prospects to work and explore new technologies. Envisaging the opportunities in the E-commerce domain, not just in the recommendation engines but in improving the overall customer satisfaction and customer retention; Ganesh was compelled to establish his unique initiative 'Tryitfirst'. Introducing the concept of try and buy at the customers' doorstep, Tryitfirst has successfully renovated the outlook of the e-commerce industry where a gadget or product can be purchased only after affirming its functionality physically, rather than just from few photographs uploaded on any digital platform.
Engaging in an exclusive interaction with CEO insights, Ganesh S highlights his journey as a visionary entrepreneur who was able to amalgamate the concept of 'trying before buying' as a contemporary brand.
1. As the co-Founder of Tryitfirst, what different roles have you been undertaking to ensure that the company's operations are used appropriately to meet its short/long-term needs?
Being an Entrepreneur and co-founder, I have to don various hats on various occasions either as a developer at technology or marketing strategist to gain more sales or fill in as a delivery executive as well when there are some occasions of sudden spurts in deliveries. Although being the Chief decision-maker, I have an able team where we sit and take a collective decision. As our startup is a bootstrapped one, the most important factor is the optimum use of resources be it finance, assets or human resources.
All our decisions we take are always
aligned to our long-term goal of becoming a major E-commerce player in India and helping a majority of people to come online, touch, feel the real product and then make a purchase. A Satisfied Customer is the major and critical part of our all-goal alignments to either Long Term or Short term. Technology is also important to us, and we keep upgrading our AI Model, user analysis, and logistics analysis to become better, in terms of operations and profits.
2. What were the initial challenges that taught you the basic lessons of managing diversified functions of organizations?
We started with only the idea of providing the Real Feel of the product to our customers. When we had our Alpha and Beta launches, after getting feedback from customers we tuned our model to be more than just being a regular e-com with See and Read Reviews. We added a few features by giving the customers have a much similar experience retail store coming to customer's doorstep, where our Delivery Champion explains to the customer about the products, its features, and helps them buy better.
Believing in the Physical Touch and Feel of the product is the center of all our innovation.
One very important challenge for us was addressing the service or replacement of products in the warranty period was a major challenge. We implemented a seamless replacement system where with just one click return request, for the entire warranty period be it 6 months or 2 years, we provide the replacement and the customer need not go visit a service centre. This has helped us get the edge over our competitors who just provide for only 10 days.
3. What are some of the new age challenges confronted by this market and how do you safeguard your clients/customers from these flaring challenges? Does your approach contribute towards trendsetting?
Gaining customer confidence and convince them that we are genuine is a major challenge for us because we cannot burn huge amounts in customer acquisition like the heavily funded companies do. Customer retention is also one of the major challenges, as many companies give quite unreasonable discounts
for the customers and we lose quite a number of customers who are very price sensitive. Implementing Try and Buy along with the 365 Days Replacement policy is the Trendsetter which we have as a Unique Selling Point.

4. Along with the USP of Tryitfirst, can you elaborate on the various products & services offered by the company?
Believing in the Physical Touch and Feel of the product is the center of all our innovation. We are the only firm providing the 'Try Real Product and Buy' model for the electronics and all other products listed on our site. To achieve this, we have our innovation cell which works on the analytical model and algorithm and we are in process of a patent.

Under our '365 Days Replacement Policy', we are bridging the gap between the Customer and Company Service Center, where with just a button click, the customer gets a replacement product within the entire warranty period and not just 10 days, unlike our competitors. Apart from that, we are the only e-commerce company that does provide the EMI on the COD Orders and provide the Brand Bank offers as well which are aligned to the Brands, which is otherwise missing in every other major E-commerce players.

Being an E-commerce startup, we offer our services on the Electronics Gadgets like Smartphones, Audio Accessories, Laptops and have recently started with the categories of Groceries where we cater to the widest range of available groceries. Although currently, we operate in Hyderabad City, we are expanding operations soon to the multiple Metros in India and across the Telangana State, before having a Pan India operation.

Ganesh S, CEO, Tryitfirst
A seasoned Professional with experience spanning multiple companies encompassing multiple roles, Ganesh has successfully veered multiple projects in the Data Analytics, IoT, Edge Device Analytics, Network Security throughout his career. With passion for innovation, he has set up the Online E-Commerce Platform with Customer Centric policies notably for Try and Buy of Electronic Items. Owing to his past experience, he not only holds couple of patents which are the driving force in some of the products being successfully built around but is also leading the start-up with apt data analysis to ensure every TRY is successful and have satisfied customers.