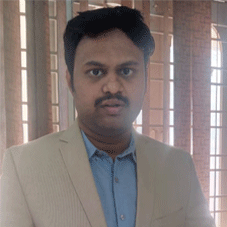 Under the aegis of Srujan Reddy, WealthBag is a firm that has been managing investment portfolios and providing investment advice to institutional and individual investors for decades now. Backed by the full resources of an established wealth management firm, the decisions are made with a knowledgeable team of professionals possessing a reputation for success. Today, by making people achieve their financial goals, Srujan is recognized as one of the top corporate leaders in Hyderabad, India.
Kindly peruse the following excerpts of the conversation between CEO Insights and Srujan, Founder Partner to know more about him and WealthBag.
Give us a brief detail about your educational and professional background and how has it helped you in your journey so far?
At 14 I was interested in stock markets but dis not know where to learn. I got to know CA's can read the financials and there were a lot of CA's in the market so joined CA but later learnt that there is nothing to learn here too but I need a financial degree so joined Wealth Management Course and cleared both levels. The wealth Management course helped me to know that there are a lot of variety and potential financial products in a market whereas a CA helped me in taxation matters of clients.
As the Founder of WealthBag, what
are the key drivers that you deploy to ensure that the company's operations are used appropriately to meet its short/long-term needs?
We will evaluate SWOT analysis every month. It is about what's working and what's not working as well as what potentially exciting or concerning things happening that we need to consider as a future month plan. And, we always evaluate on the 1st day of every month, 1. Where we are now 2. Where we want to be 3. How we will get there.
There is a lot of difference between doing convenient things and doing things right. What you are doing right now may be convenient but building a business that can take you from Rags to Riches is the right thing for me
What were the initial challenges that taught you the basic lessons of managing diversified functions of organizations? Also, how did you manage to achieve the success that you had in the later phase?
The initial challenge was to make people believe that my strategies and approaches work in the market. Maintaining resources is the biggest challenge for any organization and we overcame it by segregating the limited resources and now we have a backup on every resource we use.
What are some of the new age challenges confronted by this market and how do you safeguard your clients/customers from these flaring challenges?
The major challenge we face is "Branding". We don't have the brand value as major organizations. Our approach to clients is PITCH, where the pitch is important to play for any
sport. P- People I-Integrity T-Transparency C- Communication H- Honesty.

In your professional journey so far, which are the milestones that bestowed your utmost satisfaction? And, what was a difficult decision you had to make as a leader, and how did you come to that decision?
In my professional journey, 2020 made me a "HERO" where perfectly predicted the lows and highs of the stock market with dates. 2020 is the most satisfying year for me than any other previous year. As an individual, the important decision is getting into stock markets without any sound background and as a leader maintaining this for many years. As a founder, difficult decision to make is sending off the other partner and it took days to overcome but it is life, people will come and go but business should go on forever.

Is there any innovation currently happening in your company?
We have launched a new product where the client has "0%" risk on investments, and we are upgrading the technology and charts.

Tell us about your company's recent revenue growth and future roadmap.
2020-21 is the biggest year in revenues. We almost clocked 7 times more compared to last year and we are hoping to double in 2021-2022.

Srujan Reddy K, Founder Partner, WealthBag
The USP
Support – we will back clients up for the long term.
Action – we will put a plan to work.
Solutions – we will create the best strategies for clients.
Let's talk – we will listen to clients and discuss the possibilities.
Portfolio:
We offer variety of products depending on risk analysis of the clients. But as a whole we render the services such as:
• Investment Planning
• Financial Planning