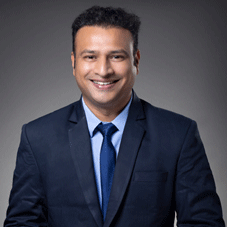 Tell us about the most important aspects of your company – Goldenkey Ventures.
There was a demonetization movement in November 2016 that had a major effect on real estate growth, there was little or no investment and as a result, there was only so much that could be achieved. Another factor that has hindered, if not completely stopped, many ventures is the Real Estate Regulation Act, Goldenkey Ventures, on the other handendured debt-free in all of this. We were only able to do so because we were capable to transform thoughts on paper into practice and in the year 2019, we launched our company.
The CEO, of a company, undertakes various roles such as a leader, visionary, decision-maker, manager, board developer and others. What different roles have you been undertaking at Goldenkey Ventures?
We have teams for architects to
build innovative design outlines, quantity surveyors to settle imagination drafts, structural engineers, and a number of other positions, all of which I am involved in.
What were the initial challenges that taught you the basic lessons of managing diversified functions of organizations and how did you manage them?
You must be an active member of each team in order to effectively manage an organization, you must have an understanding of the positions that such a group performs. This presented a challenge at first because there was no way that I could be conversant about both architecture and engineering at the same time. But, somehow, I managed to teach myself to know at least a little bit of everything in order to help the business succeed.
As the CEO of an estate development firm, Sudheer sets a range of objectives for himself with which he has ultimately succeeded in making customers happy
Can you elaborate on the various services that you furnish as Real Estate projects? How do you evaluate the quality & efficaciousness of the services that you render?
As someone who works in real estate development, I have witnessed a lot of different scenarios and have only come up with one conclusion, customers get nothing but happiness and convenience from the products and services we provide. They escalate outstanding customer service, which I believe Goldenkey Ventures deliver to the best of our ability, and what distinguishes us from others is the risk we take. Apart from that, we continue to be a debt-free company, which is a tough feat to accomplish.
What are some of the new age challenges confronted by this market and how do you safeguard your clients/customers from these flaring challenges?
India is one nation where population growth is simply out of reach, more people are moving into the land, and only a few buildings exist. One of the most difficult things to do in India is to build an estate that caters to all of the people's needs, for instance, our proposals must first move through a slew of approval processes. In fact, there are more than forty of these systems, you would need an occupation certificate, a completion certificate, and a slew of other papers, all of which would push up the cost of construction.

In your professional journey so far, which are the milestones that bestowed you utmost satisfaction - both as an individual and as a CEO?
As the CEO of an estate development firm, I set a range of objectives for myself that I ultimately reached, I want my customers to be happy in their homes, and I am successful in achieving that. All of these things have simply helped me see things from different viewpoints, and not just my own. There was a period when I made a decision to rent houses in urban areas to the less privileged merely to see how happy they could be, and it worked!

Family plays an important role in every person's life. How has your family supported you in your career so far? Also, how do you manage to balance between your personal & professional life?
To be honest, my family has been a big source of support, they were always the ones to cheer me up when the government didn't approve our plans in a timely manner. They were there to cheer me up when I was having trouble attracting investors. In terms of maintaining a sense of balance, I confine my job to the confines of the workplace, and when I get home, it's purely home, nothing else.

Sudheer Kirthi, CEO
Sudheer Kirthi has completed his MBA from The Johns Hopkins University, and in 2019 he established Goldenkey Ventures, a real estate development company. Prior to Goldenkey Ventures, Sudheer operate Subway's franchise and a passion for real estate, motivated him to launch the company Goldenkey.

Location: Hyderabad