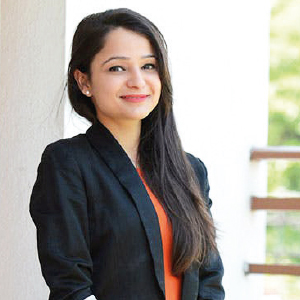 Although two-thirds of total population have medication prescription in-hand, approximately 50 percent patients do not take medicines – a phenomenon widely known as 'medication non-adherence'. Intentional and unintentional medication non-adherence has not only challenged patient's health improvement but also added another proviso to medical entities' Hippocratic Oath for making patients corporate with medication. Clearly, this unsolved setback demanded a breakthrough intervention, bestowing which is NewDelhi-based Gauri Angrish (Founder & CEO, Caredose)– an ace entrepreneur altering medication non-adherence facet into adherence by integrating cutting-edge technology with medication management, hence creating beneficiary amelioration for both patients and healthcare entities.
Determined to impact and alleviate multiple lives, Gauri decided to explore healthcare's business aspect and stockpiled extensive learning while employing at McKinsey (under pharmaceutical and medical device vertical). This prompted her to scoop on-ground experience and hence was the establishment of Caredose in 2016, post operating an independent retail pharmacy. Aiming to enable healthcare entities with Caredose's technology and robotic system, Gauri's persistence, entrepreneurial skills, extensive learning and willingness to multiply medication adherence catapulted the launch of first consumer dispenser by probing on 50 chronic patients across 11 ailments. Comprehensive, behaviorally interventional solutions and customer feedbacks helped the company finalize its sixth reiteration, receive patents and seed funding.
Innovating medication adherence like no other, Gauri gained spotlight at Forbes 30 Under 30 Asia list and earned 'Milestone Maker Award 2017'by NASDAQ. The following excerpt of an exclusive conversation of Gauri with CEO Insights underlines her life-altering entrepreneurial journey and seamless execution of profound practices for Caredose's elevation on larger scale.
What is the inspiration behind healthcare-technology integration and how do you ensure optimal service deliverables?
The genesis of Dolly, the sheep(first clone mammal)exemplifies break through reverberation in healthcare and technology industry. The mastermind behind the project, Professor Keith Campbell, inspired me to pursue biotechnology. However, my entrepreneurial instincts always propelled me to explore healthcare's business dimension. While in McKinsey, I scrutinized extensive lack of medication adherence amongst patients that affects complete healthcare spectrum. Although running a pharmacy made me face ground realities of entrepreneurship, but Caredose's inception gave wings to my aspirations and objectives for alleviating medication non-adherence. Right from root-level problem analysis and tech-advanced robots invention to formulation of comprehensive solutions and awareness creation, everything is developed in-house by deploying right talent and resources. Altogether, the process certainly changed my business operations perspective.

"Gauri's persistence, entrepreneurial skills,extensive learning and willingness to multiply medication adherence catapulted the launch of first consumer dispenser"

Besides a good plan, a great team defines company's success rate and makes a quantum difference. For me, the journey of finding my team and the journey after that has been completely transformational. The way I approach things involves in-depth analysis, comprehensive research and discovery of core problems, deploying which the platform for suitable solutions is developed. Right people and company's culture make a lot of difference; if you have a culture where everyone is focused on solving the problem, it surely adds volumes of momentum to company's growth.

"Gauri's persistence, entrepreneurial skills, extensive learning and willingness to multiply medication adherence catapulted the launch of first consumer dispenser"

How has been your entrepreneurial journey till date, right from ushering Caredose's growth to raising investment funds?
Being a non-tech womenpreneur, heading a tech-company was a little challenging, especially while communicating company requirements with tech team whose knowledge, you know, is way ahead than you. However, constant reading and learning bridged this gap and aced my skills to guide people. On the flip side, meeting with investors for raising funds was altogether a different experience that not only gave field exposure but also helped me master decision making skills. Sometimes, we get caught up in situational urgency, get emotionally overwhelmed and end up taking wrong decisions, but in an entrepreneur's journey, everyday and everything is urgent, which must not
hinder decision making process.

Being a CEO,you have multiple things to work on; instead of being overwhelmed, the time calls for prioritizing and compartmentalizing each problem at one time and taking extremely thought of decisions. Steering a startup from ground-level to targeted heights is no less a dream but being pragmatic, grounded, focused, hard working and adding a touch of perseverance befits entrepreneurial pace palpably, an approach I marshal throughout Caredose journey.

What is your mantra to strike right work-life balance and your strategy to sustain same growth pace in future endeavours?
Initially, striking the right chords of work-life balance was little gruelling but discipline is certainly the key to create equilibrium. Following a regimen, inclusive of revitalizing activities, official work and quality time with family, helps avoid stress and orchestrate schedules with liveliness. Reading motivational writers and be circled by positive friends is my mantra for invigorating constructive thinking and practical living. Besides, travelling like a local kindles connectivity with populace from all walks of life, leveraging which one can bring insightful modifications and build up credence. It's all about putting yourself outside the comfort zone and that's where the fun starts. Personally, persistence and perseverance has helped me arbitrate successful decisions in the past and will continue to assist for future endeavours.

Aiming to make Caredose a household name in multiple geographies, we are scanning opportunities for international expansion as the way we have developed Caredose, it is sure to transform medication non-adherence and empower healthcare entities through technology integration worldwide. Simultaneously, we are working with the Government of India, WHO and King's Health for tuberculosis patients in India and creating legit social impact along with alleviating people's ailments through technology, who otherwise fail to afford healthcare services. Besides employing maximal hardwork and dedication, the plan is to evolve into a global citizen with profound prospects.

Key Management:
Gauri Angrish, Founder& CEO
Gauri is focused to redefine medication adherence by integrating cutting-edge technology with medication management. Her persistent personality amplifies teamwork and is the key driver in Caredose's growth

Offices: New Delhi
Offerings: Medicine Adherence, Adherence Tracking & Communication through IoT, Data Analytics, Disease Management & Medicine management