Gautam Raj Anand: A Relentless Learner Believing in an Open Door, Impartial & Horizontal Work Structure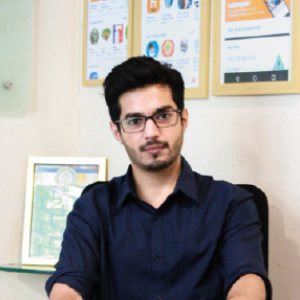 A toxic work environment suffused with rules and restrictions certainly deprives the flexibility to work among employees and might even adversely hinder their mental mien. Post his graduation in B.A (Hons) Economics, Gautam Raj Anand(Founder & CEO, Hubhopper) witnessed the same scenario when he was entangled in an incredibly cut-throat and hierarchical structure of a corporate bank. In fact, he could not withstand his every interaction and movement being supervised in accordance with a preformed code of conduct.
;In addition to this, the urge to bridge the gap between content creators of all sizes with the consumers in need of varied content enkindled him to lay the foundation for his own venture. It was in 2015 Gautam established Hubhopper, a highly managed and curated interface on the grounds of equality, collaboration, informality and passion along with an open door and horizontal structure for his people to interact with a united belief of common vision and not by fear. Indeed, Hubhopper today silhouettes as a true manifestation of his dream and as India's largest platform of podcasts and publishers with standardized online content that is completely agnostic to type, size and shape of content creators. To get enlightened more about the prowess of Gautam that led him successfully through his entrepreneurial journey, explore the following snippets of an exclusive conversation of him with CEO Insights.
Could you delineate on what triggered you to setup Hubhopper?
I realized the dearth of a platform for content creators to showcase their aptitude and hence came up with the concept of Hubhopper, which houses a huge library of content creators like writers, bloggers, vloggers and publications.
Our platform enables standardization of unorganized online content, updates feeds based on users' specific interests under a managed interface and changes the way they perceive content consumption.

Associations with Panasonic, Gionee, Vodafone, Apple and other well - established companies helped us raise three rounds of investments and we recently closed a pre-series round of strategic funding from Unit-E Ventures. Clearly built with a vision of making content easy, our platform demarcates as the Play Store of online content.

" It is good to take risks because unless you take the plunge and do it, everything might seem impossible"

Kindly walk us through the attributes that mould you, your people as well as your organization towards the zenith of success.
Firstly, I believe that there will be no scope of competition if each person in an organization does what he loves and stays true to himself. Secondly, never stop learning as it is highly crucial in the ever-evolving space today. Thirdly, it is good to take risks because unless you take the plunge and do it, every thing might seem impossible. In fact, learning on a daily basis about things out of my domain and comfort zone is what pushed me to build Hubhopper and I advise my team to do the same.

By working very closely with every member of my team, I ensure to completely invest my time in monitoring their daily successes and failures. To further make the team work as one collective unit towards a common goal rather than individuals working towards vertical-oriented goals, I urge them to be constantly aware of the hard work and progress of similar other teams.

How do you manage to coordinate &effectuate the workflow of employees?
I ascertain to effectively deploy work management tools like ASANA and JIRA to disseminate workflows, expectations and progress of each of our team members. Moreover, I conduct daily team huddles to address the overall company scenario as well as weekly vertical huddles to delve into the intricacies and nuances of their current scenario, week that's passed, week ahead and mid & long-term goals. These huddles are coupled with a
weekly MIS to evaluate the performance of each member and present them a crystal clear picture of their current scenario. Complementing these activities is our advisory board entailing luminaries like Michael J Skok (Founding Partner, Underscore VC), Sanjeev Bikhchandani (Co-Founder, Info Edge), Raman Roy (Chairman, NASSCOM), Deep Kalra (Founder & CEO, MakeMyTrip.com) and Devraj Sanyal (MD & CEO, Universal Music Group)who share their words of experience and expertise with the team.

What are your perspectives towards balancing personal and professional lives? Kindly cast some light on your achievements as well as Hubhopper's in the industry?
Balancing my personal and professional lives was never an issue because I stand as the exemplar of the phrase –"If you do what you love, you'll never work a day in your life". Work was never a burden as it was something I did out of love and supplemented with extreme support from wife, family and great set of friends,and every day exercising. Being featured in the coveted list of Forbes 30 Under 30 Batch of 2018 and nominated for Eco Times' 40 Under 40 and Business World's 40 Under 40 lists are some of the most imperative milestones of my life.

Apart from becoming the largest podcast and publisher repository in India, our firm has topped the iOS App Store nationally and has subsequently been inducted into the prestigious Apple Accelerator Program. Adding to these accolades is our firm topping Google's Play Store nationally, recently being ranked the 33rd Best Social Platform worldwide and holding an incredible rating of 4.8. Furthermore, we were rated 2nd in the Top 100 Startups in India 2017 by TiE & Exhibit Magazine, and named 'Problem Solver of the Year' by TheTechy.

Key Management:
Gautam Raj Anand, Founder & CEO
Featured in the Forbes 30 Under 30 Batch of 2018, Gautam is a perfect exemplification of his beliefs to only do what he loves and learn new things incessantly.

Office: New Delhi
Offerings:
•Podcasts
•Publisher Feed