Harshin Shah: An Agile & Innovative Leader Creating Value to Each Customer via Unique Advertising & Branding Solutions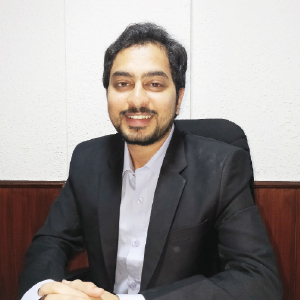 To cope up with the dynamism of this volatile world, employees in every organization ought to inculcate the primordial traits – continuous learning, unlearning and relearning. Clearly, the entire learning landscape has metamorphosed to a great deal in the last few years. Emphasizing more on seamless learning, Harshin Shah, Founder, Krafting Networks, outclasses as the epitome of a leader who always guides his team, assists them in the learning process, hones their rough edges and motivates them to not just be better professionals but better people.
In fact, Harshin follows a level-headed approach to conquer any sort of difficult situation, stays positive & focussed, never gives up, thinks steadily & fast even under pressure and constantly adds value to every single person around him. According to him, the owner of a firm must be accountable, a good man-manager and a good listener so that any person from inside or outside his organization should feel free to give feedback or approach them. Since the establishment of Krafting Networks in 2012, he and his team of hardworking, passionate and strong employees are living through ground rules like maintaining integrity & transparency, working smart and thinking ahead. The snippets of an exclusive conversation of Harshin with CEO Insights given here under expounds the inception story of his firm, his experiences in the advertising space and strategies followed to build the firm.
Kindly cast some light on your inspirations that helped in laying the foundation of Krafting Networks.
During my third year in engineering, I realized that it was not my cup of tea and I was deeply enkindled to pursue something unique. After a bit of a search, I got a job at a TV channel as a producer. It was
a steep learning curve where I learnt the importance of hard work, discipline and adding /honing skill sets. I then started my own advertising and branding solutions venture in 2012. One of the key things I've learnt and observed is usually, a good entrepreneur has been a fantastic employee as well. The basic traits of entrepreneurs and valuable employees are similar - ownership for their actions, responsibility for their work, healthy attitude and most importantly gratitude and care towards clients and co-workers.

"We believe that a team member works better when his/her ideas and strategies are being considered and evaluated"

Besides combating the challenges at your firm, how do you manage to retain a strong team?
With a capital investment of Rs.10,000, I built this firm. I've seen a lot of ups and downs including experiencing large losses & failures very early on. But it was a blessing in disguise, as I then undertook all kinds of projects, small or big, did most of the work myself across any sector of work and learnt each skill set along the way. This taught me that no job is small or big and made me comprehend the various challenges business heads face and also respect their time and money. Creating value, enhancing empathy, being transparent, enriching work quality, maintaining sustainable growth, monitoring each aspect of work and constantly striving for excellence are the prime goals of our organization to grow faster and better.

At Krafting Networks, we believe that a team member works better when his/her ideas and strategies are being considered and evaluated. Hence, we organize brainstorming sessions to encourage ideas from each member, allowing them to speak their mind and provide them the independence to work on their vision and speak to clients directly whenever required. In fact, we love employees who add value beyond what we expect from them. Moreover, we scrutinize each and every strategy through a strong quality check before it is planned and executed.

How do you leverage your experiences from the advertising space to help brands and what would be your key USP?
Advertising is all about blending the requirements of consumers and
end-users with the brand's vision. Having a hands-on approach early on while crafting creative advertising solutions made it easy for me to absorb the nuances of digital, ATL and BTL media..

Despite the focus on diverse advertising platforms as a full service agency, we ensure that each brand bets on the right advertising medium that would suit their needs. Most brands today are going Digital as it is the cheapest mode to reach largest numbers, is easily accessible to consumers and ensures consistent engagement with them. Also, the content we deploy for advertising is designed to be valuable, relatable or useful for the customers.

As the industry stays ever-evolving, how do you cope up with those trends? Kindly elucidate the strategies you follow to remain strong in times of professional or personal crisis.

With the emergence of many industrial practices, it is highly essential to be aware of, read, explore, experiment and master new mediums on a timely basis.

I don't really believe you need breaks when you're doing what you love, but I do spend time with my friends/family or take a holiday, travel, and read books to try and maintain a difficult balance between my personal and professional life. Always staying focused, positive, consistent and balanced is the key to success in both these lives. At times of crisis,I proactively share insights and ignite conversations with people in order to rediscover things and gain new perspectives.

Key Management:
Harshin Shah, Founder
After working as a TV journalist, Harshin sowed the seeds for Krafting Networks with a desire to succeed and also upscale the firm to its zenith.

Offerings:
• Creative Conceptualization
• Brand Campaigns
• Brand Consultancy & Identity
• Digital & Social Media Marketing
• Performance Marketing Solutions
• Video Production | Radio Production
• Influencer Marketing
• Media Planning & Buying

Office: Bengaluru