Global Centre For Entrepreneurship & Commerce: Striving To Impart Practical Grooming Rather Than Theoretical Learning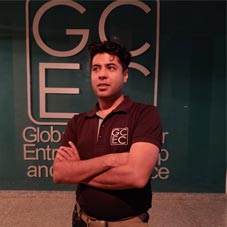 An education institution which runs like an open organization where the individuals can voice their opinions and are free to express their views. Global Centre for Entrepreneurship & Commerce works on a lean model where most of the faculties are business experts and are working on their start-ups or business alongside teaching at GCEC. The institution is always open to new ideas and constantly up for a change and improvement based on feedback.
CEO Insights interviewed Paresh Gupta (Founder and CEO), his brainchild is the institution GCEC.
What are the major aspects of your expertise & experience in the education industry that you would like us to highlight in the article? We would also like to have an insight into the way you run the company.
I have been working in the education sector for a quiet sometime now, I feel my experience outside the education industry has helped me do better because we can prepare students for the industry better. This is exactly the problem with the education sector in our country that people in the education industry do not understand the requirements of the corporate world and are producing candidates for archaic jobs which no longer exist. I have worked across the globe for over 10 years with top-rated companies and then as a startup consultant and mentor for another 8 years and this experience helps me to run GCEC better.
I never planned to be in the education sector. When I returned to India, I was surprised to see the education system at a standstill. As if life had paused and there was no change for the last 15 years. Our schools and colleges were only teaching one subject called history while the world around us had changed. I saw teenagers committing suicides, I saw students
feeling irritated with the system because it no longer makes sense and many students were struggling with their careers. I saw many MBAs applying for sweeper jobs, several of them were applying for trivial jobs which just did not make sense and that's how GCEC was born.
How has your company's journey been so far and what challenges did you encounter during this journey?
GCEC was born with a thought to teaching only 30 students initially but in a span of 3 years, we have managed to be 6 times oversubscribed. We created 100 percent internship placements in 1 week each year, almost all our students could get jobs and find their career paths before their graduation was completed, our pass rates are over 80 percent for professional exams and our students have been winning prizes across national level competitions beating students from top-rated colleges and even MBA graduates. We created over 14 in-house startups and many of them are successfully running for over 1 year now. There are endless success stories to share in this small journey.
The key vision and strategy of GCEC are we should follow our heart, follow our passion and if we convert your passion into our profession we would surely be successful
Challenges were plenty. Many people would call us fake initially, they would lament our qualification and teaching style, we were doubted on our curriculum, pedagogy, qualification and degree and more. We were the ones to start online exams, Google classroom and other technology-enabled learning methods which everyone is now using post covid19 and learning from us.
Kindly throw some light on the various education and entrepreneur program services that your company offers, highlighting on your flagship service.
We have 2 flagship courses and we offer both Undergraduate and Postgraduate courses in these 2 streams. The first stream is entrepreneurship which is integrated with CFP (Certified Financial Planner) US curriculum and other
industry practices related to startups. The second programme is integrated with ACCA (Association of Chartered Certified Accountants) the UK which is one of the best in the country. We also offer short term courses in entrepreneurship and finance from time to time to corporates and other business enthusiasts.

What opportunities do you foresee in the current education industry, and what are your strategies to make GCEC leverage the best of this business opportunity?
We do not need more books to teach today because Google has better content available free online, but what we need to teach is how to select the right books, how to select the right resources and how to do better decision making, which is not being taught in educational institutions. From limited information, we have suddenly moved to an era of overloaded information and we have not adjusted our education system to cope up with this problem. This is what we see as a problem/opportunity across the entire education system.

GCEC considers entrepreneurial skills as life skills. It is time we start teaching our younger generation survival skills, financial skills, technical skills and a lot of practical training beyond books. We integrate practical learning along with theoretical learning to create complete professionals. We all deserve to live a good life. We should follow our heart, follow our passion and if we convert your passion into our profession we would surely be successful. This is the key vision and strategy of GCEC.

Paresh Gupta, Founder & CEO, GCEC
Paresh Gupta topped the state in his 12th Board and completed his graduation from Shri Ram College of Commerce and cleared his CA exam in one go. Later, Paresh did his MBA from the London School of Business and Finance and a couple of other courses in Finance. Before his current position, Paresh has worked at HSBC as Associate Vice President for Payments and Cash Management Division, and have served his duties in companies like Adventity and Keypoint Consulting (Bahrain) and SharpEdge Learning. Today, he is a 6 times TEDx speaker and Brand Ambassador Rajasthan Government Youth and Sports Activities and a mentor and advisor to several organizations.
Office: Jaipur