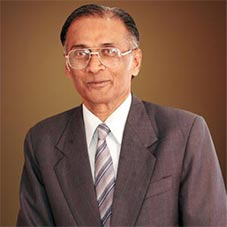 ICFAI Business School (IBS), Hyderabad is accredited by American Association of Collegiate Schools of Business (AACSB), USA a distinction achieved by only a few business schools in India. IBS, Hyderabad is also ranked 25th among the business schools in India by NIRF, Ministry of Education, Government of India. Other accreditations include South Asia Quality Improvement System (SAQS) by the Association of Management Development Institutes of South Asia (AMDISA) three times in the years 2006, 2013 and 2020.
About The Vice Chancellor Prof. J Mahender Reddy
Prof. J Mahender Reddy, currently the Vice Chancellor of ICFAI Foundation for Higher Education, a deemed-to-be university, located in Hyderabad. As the Vice Chancellor, he has significantly contributed to the development of a research culture and a good leadership which enabled the university to secure 'A+' grade by the National Assessment and Accreditation Council (NAAC). Prof. Reddy obtained his Master's degree from The Delhi School of Economics in 1964 and a doctorate in Economics from the University of Alberta in Edmonton, Canada in 1970.
He was a Fellow of the Shastri Indo-Canadian Institute, at Carleton University in Ottawa, Canada in 1985-86, and again, at the University of Ottawa in 1990. Prof. Reddy was a Fulbright Fellow, at the University of Boston, during the academic year 1993-94. He was the first Chair, in the Indian Ocean Studies, of the Indian Ocean Rim Association for Regional cooperation, located at the University of Mauritius during 1998-2000.
Prof. Reddy has taught in the Faculty of Business Administration, at the University of Alberta in Canada, Saint Peter's College in the United States, Administrative staff College of India, and at the Osmania University for over three decades, and won the Best Teacher award in the year 2002 from the Government of Andhra Pradesh. He has guided 14 Ph.Ds and 9 M.Phil scholars in Osmania and ICFAI Universities. Prof. Reddy has published forty research papers, and ten books, in the areas, of foreign trade and investment, business & economic forecasting, and applied economics.
Prof. Reddy is a Founder Member of the Governing Body of the Centre for Economic and Social Studies. He was a member of the High Level Committees appointed by the UGC, ICSSR, the Government of Andhra Pradesh, and the government of India, Association of Management Development Institutions in South Asia (AMDISA), and ICFAI. He was also a member of the FICCI Higher Education Committee and the Governing Council of the Association of Indian Universities (2015-17) located in New Delhi.
Prof. Reddy was Founder Principal of the ICFAI Institute for Management Teachers in Hyderabad which was established in the year 2002 and held that position upto 2008. He was the Vice Chancellor of The Institute of Chartered Financial Analysts of India University in Tripura, during 2004-2008. He was the Chancellor of ICFAI University in Raipur (2014-17) and was Chancellor of ICFAI University in Tripura (2014-18). The Golden AIM Awards felicitated Prof J Mahender Reddy, Vice Chancellor, IFHE with the 'Most Dedicated Vice Chancellor Award' in recognition of his professional efforts on 11th September 2020.
An Absolute Winner In Case Method Teaching
IBS is reaching great heights with exceptional education methodologies and quality faculty. IBS Hyderabad implements case method of teaching for providing experiential learning to the students.
During the two year MBA program each student would participate in around 500 case discussions which would hone his/her comprehension of business situations, analytical abilities, persuasive skills, decision-making skills and application of theoretical knowledge to business contexts. This forms a concrete part of IBS' USP. IBS Hyderabad has a globally renowned Case Research Center which has emerged as one of the world's top three case publishing schools in the world.
This Case Research Center has developed more than 6,500 case studies. They have been used at more than 1,000 institutions across 90 countries. More than 100 AACSB accredited schools regularly use these cases including INSEAD, Columbia University, New York, California-Berkeley, Johns Hopkins, London Business School, Oxford, Cambridge, HEC Montreal and SDA Bocconi.
IBS Hyderabad implements case method of teaching for providing experiential learning to the students
Since 2011, the most successful case winners have been Harvard Business School (with 31 awards), INSEAD (19), and ICFAI Business School (14). For the year 2019, the Business School emerged as the most successful institute in terms of total number of worldwide bestsellers, next only to Harvard Business School. One of the faculty members, Prof Debapratim Purkayastha, was declared as the Number one bestselling author of Management case studies for the 5th consecutive year by The Case Centre in 2016, 2017, 2018, 2019 and 2020 in a list otherwise dominated by Harvard, INSEAD, and IMD professors. (put the picture of Prof Debapratim Purakayasta).
Not Just Teachers, But Champions
IBS Hyderabad is enriched with such teachers who have achieved tremendous feats in their personal academic accomplishments. An educational institution is as good as its teachers. IBS recruits, trains, nurtures and retains quality faculty members for long term sustenance of its academic and research programs. Distinguished faculty members bring in innovative educational methodologies, creative course content and deliver curriculum with passion and commitment. Faculty members are also involved in intensive research work leading to publication of valuable research output in international journals. Like Prof. Debapratim, other faculty members too, actively participate in international and national conferences organized by reputed institutions. Various departments also conduct national and international conferences, colloquia, research seminars, workshops, etc. IBS Hyderabad conducts an annual doctoral thesis conference inviting research scholars from across India for showcasing their research work and for promoting research culture.
Besides, IBS Hyderabad offers a unique doctoral program that produces high quality research scholars and research publications. This program has vigorous course work, followed by PhD Qualifying Exam, seminar presentation in every semester before the faculty, PhD proposal Defense, Data Seminar pre submission seminar and final PhD thesis defense. Students are required to publish at least two or three papers in reputed journals and present papers in international conferences. This ensures the quality PhD. Some of them are absorbed as IBS' faculty and the others teach in reputed institutions in India and abroad. So far IBS Hyderabad has produced 75 PhDs.
'Igniting' Excellence In Young Minds
Talking about efforts of IBS Hyderabad to impart quality education, Professor Reddy says, "One of the objectives of teaching is to make students creative, innovative as well as problem solving. This is incorporated in the lectures which are highly interactive and student centric. To achieve this we have a competent faculty and that is the crux of the matter".
IBS has a strong industry interface through The Center for Management Development (CMD) which was established with the objective to promote executive education through customized and open Management Development Programs for industry. The CMD draws its capabilities from the vast pool of more than 370 faculty members in different functional areas of management, leadership, strategy as well as law and engineering.
Student Exposure To The Corporate Before & After Placements
Knowing that you will be guided after your graduation so that you land a job helps you feel secure. This is one of the core factors
students consider while choosing their alma mater. This is the reason why a number of colleges today have a dedicated placement cell that helps, guides, and advises students about the future. IBS Hyderabad has a track record of achieving excellent placements with top companies visiting the campus to recruit its students.
KPMG Global Services, Deloitte, Crisil, Cognizant Technology solutions, Wipro Technologies, CapGemini, ICICI Bank, HDFC Bank, are few of the regular recruiters for IBS Hyderabad.
Prof Debapratim Purakayasta, Pros, IBS Hyderabad & Co-Author - Amazon's Bigdata Strategy
IBS Hyderabad has adopted systematic approach towards building the career of its students through a Career Management Centre to plan and implement the placement activities. The career management personnel visit several top companies across the country every year and have developed strong relationships with them. This interaction with the industry equips the career management team to provide suitable career planning to the students. It also helps to increase recruitments and maintain strong industry contacts. The students are exposed to a series of syndicated learning courses from day one in their MBA program which prepares them for placements.
Besides, student co-curricular and extracurricular activities remain at the core of the philosophy of education. The Business School has 30 student clubs which provide a platform to the students to continuously hone their leadership, managerial, and technical skills. Students of IBS Hyderbad were selected in top corporate competitions like OYO Rooms, TATA Crucible Hackathon, Corteva's B-school Connect, McDonald's Research Project, Zyppys Challenge, and BLOC – Business Line on Campus Case study Competition, to name just a few.
"One of the objectives of teaching is to make students creative, innovative as well as problem solving"
ICFAI Business School, Hyderabad has won a plethora of awards, recognitions, and titles, nationally & globally. The B School has won 7 Case Research awards this year alone, adding to 11 more last year. It has been ranked 25th under the Management Category by The National Institutional Ranking Framework (NIRF) for the year 2020. IBS Hyderabad endeavors to create young and budding entrepreneurs by encouraging them to take part in incubation and innovation activities while they are at the campus. In the near future, continuing to focus on excellence in teaching & research, IBS is working towards enabling its graduating students to grow academically (IQ), emotionally (EQ), and spiritually (SQ) as they go for higher studies in India & abroad or placed in decent jobs.
ICFAI In Spotlight
• IBS Hyderabad received the AACSB International Accreditation in February 2020. It is the highest standard of achievement for business schools worldwide.
• In 2006, the B-School became the first in Asia to be accredited by SAQS.
• JPMorgan Chase & Co. – Creating a Next-Gen Banking Experience Powered by Digital Technology', the winner in the 'Finance and Banking' category, EFMD Case Writing Competition, 2019.Authored by Anil Anirudhan and Sanjib Dutta (IBS).
• Amazon's Big Data Strategy: Winner in Knowledge, Information and Communication Systems Management Category at The Case Centre Awards and Competitions 2019. Authored by Debapratim Purkayastha and Adapa Srinivasa Rao.
Programs Offered
• MBA
• BBA
• PhD
J Mahender Reddy, Vice Chancellor The ICFAI Foundation For Higher Education
An Academician and Champion in the education domain, Prof. Reddy has laid the foundation to a successfully thriving and growing University. Right from Indian universities to Foreign, from Indian educational councils to International councils, Prof Reddy has chaired a myriad of roles and positions to guide the education systems and culture of Indian based and global institutes alike.