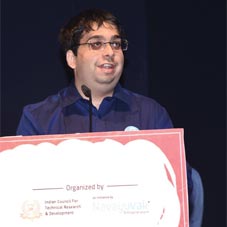 To be a successful entrepreneur an individual should have a strong basic understanding of all the parts of a business, be it finance, operation, or marketing. To comprehend all about business an aspiring entrepreneur will choose to have professional education. With a belief in real impact and value creation Navayuvak, helps the students with their training and education to bring out the best entrepreneurship ideas from within them. Their product development team, through thorough market research, ensure the latest methodologies, concepts, case studies and examples are taught and delivered by a team of leading industry experts using live-classes, virtual meet-ups, regular assignments thereby inculcating an overall productive and industry insight filled learning experiences effectively.
CEO Insights interviewed Gaurav Mishra (Founder and Managing Director), Navayuvak.
What are the major aspects of your expertise & experience in B School? We would also like to have an insight into the way you run the institute.
Navayuvak, since its inception, has worked with a young team aiming to change the world. Gaurav has been in the ecosystem with strong connections over the past 15 years, has enabled, stronger collaborations with universities and major stakeholders in the ecosystem. Our Board of Directors, Mentors and Club of Industry Leaders with their combined knowledge and domain expertise curate top-notch industry programs, events and networking to benefit the young leaders of India.
How has your institute's journey been so far and what challenges did you encounter during this journey?
With COVID widespread globally, we shifted all our operations online, allowing us to host 4000+ faculties, students, entrepreneurs globally. Launching Virtual Incubation for our Startups, allowed entrepreneurs to seek support and continue to work on their ideas across states and nations. The pandemic has proven to open doors of opportunities of enabling high-end labs, providing faster mentoring, stronger community support, global networking channels and better-
enabled facilities to elevate Startup hubs across institutions both nationally and internationally.
Kindly throw some light on the various entrepreneur programs that your institute offers, high- lighting on your flagship program. Also, how do you ensure to maintain utmost trust and transparency while offering these programs?
At Navayuvak, our major focus is to ignite, develop and enhance the entrepreneurial mindset among students at grassroots levels, which include higher secondary schools, under-graduation institutions and a few post-graduation centres, where through courses, training workshops, meet-ups, festivals, competitions and campaigns, we work on establishing a sound environment to nurture young entrepreneurs and Startup ideas.
The ABCDE-Anybody Can Do Entrepreneur ship a sought-after course, custom-designed for institutions in accordance to their timelines, providing months-long support with masterclasses, pre-incubation resources and for those eligible ideas, both incubation space and funding along with mentorship and other support from exclusive trainers and domain experts globally.
At Navayuvak, the major focus is to ignite, develop and enhance the entrepreneurial mindset among students at grassroot leve
The SED-Student Entrepreneurship Development is a community platform created to engage students, faculties, institutions, entrepreneurs, businessmen, investors and Startups together to strengthen the entrepreneurial scene of the nation. Benefits include access to short-term programs, strong community network, weekly mentorships, access to working capital on demand, among several other unique exclusive add-ons.
The Mumbai Startup Festival, Nagpur Startup Festival, Akola Startup Festival, hosted with the Government of Maharashtra gather over 16000+ budding entrepreneurs, 350+ Shortlisted Startups, 100+ Investors, 40+ Partnerships, 20+ crores of Investments and 15+ Speakers across Keynote Speeches, Panel discussions and more.
The Girlpreneurship program, Actionable Entrepreneurship program, e-learning courses and many others are under development. Our initiatives are delivered by both national and global industry experts, at cost-friendly prices, curated with regular-consultation with the institutions,
hence establishing trust and transparency.

What opportunities do you foresee in the current B School industry, and what are your strategies to make Navayuvak leverage the best of this opportunity?
One of our recent projects currently under-development focuses on providing highly affordable courses to be launched as a record globally of a private organization to launch an e-learning course across six countries simultaneously. We are super excited to launch such a platform, that allows global citizens to form part of a community of over 1M together, sharing resources, collaborating on ideas, learning in diversity and passionately delivering on the United Nations seventeen sustainable development goals. Our network of Universities, Colleges, Corporates and Businesses allow us to collaborate and reach newer communities, while stabling cross-communal, cross-continent hubs to foster entrepreneurship.

Since inception what milestones has Navayuvak achieved so far?
As the Founder of Chief Executive Officer at Navayuvak, Gaurav Mishra Impacted over 8000+ students, has been hosted at over 300+ events globally, invited to judge at over 150+ events, funded over 15 crores+ working capital, got Mumbai University, Pune University, and recently Parul University signed onboard as their Ecosystem Partners, apart from personally mentoring several teams of Startups.

What is the future roadmap set for your institute? How are you updating yourself with the latest trends in B School to make your institute reach its future goals?
With the community of entrepreneurs, investors, students and faculties all enabled with our upcoming platform, our vision at Navayuvak to enable 1000 Startups by 2025 has never been more essential. Establishing Startup Clubs, Fostering Incubation Centres, Research and Development Labs, Skill Development Centres and Growth Support give headway to the future unicorns of India.

Gaurav Mishra, Founder & Managing Director
Gaurav started his first venture at the age of 16. Since then, he is passionately working towards the development of the Startup ecosystem by helping fellow entrepreneurs and creating an impact through his talks. He has been Awarded the Karmaveer Chakra, Instituted by UN and iCongo for his tremendous passion and work towards entrepreneurship from the start of his entrepreneurial journey. He has since then inspired 8000 students and young budding entrepreneurs to follow their passion.
Office: Mumbai