Grand Columbus International School: A Well-Rounded Leader With A Strategic Business Management Bent Of Mind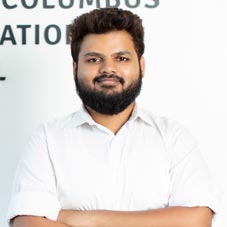 Our home is our first school, and school subsequently becomes our secondary home! Therefore, schools should be safe shelters for promoting the social, psychological, intellectual development of children. Ahead in the path of nurturing confident, responsible, and curious, and curious learners through a well-balanced curriculum amidst a safe environment is Grand Columbus International School.
In our country, students are mostly focused on scoring marks in the exams or crack competitive exams like IIT JEE, AIIMS and others. In such an education pattern, knowledge and kids' interests are largely forgotten. Still, year after year students are being taught to focus on the rote method and cramming to achieve temporary success. This has become one of the fundamental flaws of our education system, which is followed by the maximum of schools in the country.
Grand Columbus International School, however, stands apart from this crowd and aims to revolutionize the education system of India by offering the most efficient learning that elevates the potential of students. CEO Insights engages a conversation with HardikSorayan, Director, to know about his vision is to empower every student for self-learning and self-exploration, unique features of GCIS, along with the teaching techniques, education model, and more.
Throw some light on your educational and professional background. Also, explain your current role at Grand Columbus International School.
I did my schooling from GCIS itself. And, pursued my Undergraduate Degree in Information Science and Technology from Pennsylvania State University, USA, and Masters in Entrepreneurship from the University of Otago, New Zealand. I have worked as a production specialist for the College of Information Science and Technology. Currently, my position at GCIS is Director Admin. My responsibilities are all non-academic related such as
finding new solutions for existing problems, finance, budgeting, and implementing new technologies into the existing system. My major role also includes supporting the Principal of the school so that she can focus solely on the academic aspect of the school.
How has your journey with GCIS been so far and what challenges have you encountered during this journey?
My journey with GCIS so far has been full of new experiences. Every day, I learned something new from the challenges that I faced to be it on a management front to day-to-day operation. I learned that every little detail mattered a lot. I took those challenges as an opportunity to learn, I made mistakes but also learned from those mistakes. My management was supportive of it allowed me to make those mistakes.
GCIS envisions expanding the campuses into other tier1 and tier2 cities along with a franchise model
Where is Grand Columbus International School positioned in the current education sector of India and how are you leveraging the best of emerging education opportunities for the growth of the establishment?
Nurturing Future Leaders is our tagline. We believe that every student has a potential leader in them and all they need is proper guidance. From a very early age, we provide an environment for our students to explore different fields and find their true passion. We encourage our students to break free from the standard norms of going for Engineering or Medical school set by our society. To create that environment, we have developed LEGO robotics labs for students of Pre-Primary to 5th.
The lab teaches the students in a fun and interactive way, basics of robotics, mechanics, science, and coding. We have also developed Atal Tinkering Lab with the support of NitiAayog and the Government of India. Sports are also an essential part of our curriculum. We have a world-class Table tennis academy for our students. To encourage club activities we have started No-Bag Saturdays. Students come with no bag on every second and fourth Saturday of the month and take part in club activities of their liking, be it, debate, cooking, sports, gardening, or science. We have also started or R&D on the new education policy
and our dynamic and experienced Principal Mrs. Deepika Sharma has formed a team that is working diligently on implementing NEP.

Give us some insights on the admission process and various academic courses that you offer at your school along with the career and college guidance that you provide to your students.
Our admission process is entirely online. We don't believe in interviewing a student for admission. We take an assessment test of the student to assess the weaknesses and strengths of the child. It helps our teachers to focus on the child's weaknesses and work on them. We offer all four streams i.e. Humanities, Commerce, Non-medical, and Medical for 11th and 12th grade. We are also partners with universities that help students with career guidance both on-campus and online and help them choose the best option for higher education after 12th. The platform also helps students connect with GCIS Alumni.

Hardik Sorayan, Director Admin, Grand Columbus International School
Highlights
Infrastructure: GCIS has one of the best and latest infrastructure. The school is designed by keeping the student and teacher in mind, two essential elements of a school. It has the best in class classrooms equipped with modern technology for better learning. The campus is centrally air-conditioned and has natural sunlight as the main source of light during the day. The campus has a central Wifi network.

Human Resource: The founder and MD, Mr. Suresh Chander have always emphasized investing in good human resources, be it a teacher or a support staff. It has now become GCIS hiring philosophy to hire the best. They do not compromise on hiring the best. "We look for a resource who is willing to learn and adapt to this ever-changing educational industry," says Hardik.

Technology: GCIS has always been a leader in adapting to new technology. "We have always been early adopters of technology. During the COVID situation, when everyone was struggling to deliver classes online, GCIS was the first to successfully deliver online education to its students two weeks before the official lockdown. Our staff was well trained and equipped with the latest tech. During the lockdown, adapting to the needs, we provided each of our staff members with a laptop and graphic pad to recreate a classroom-like atmosphere for our students," he concludes.