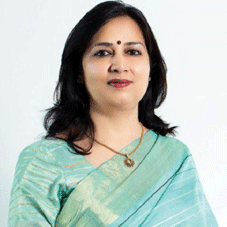 An educationalist with over 27 years of experience in the industry Deepika is renowned for her strong leadership skills and qualities. Prior to joining GCIS she has headed some of the best institutions like DPS Aravali International School and more as a Principal.
In the current education system of India, students are struggling to grasp concepts that don't pertain to the 'real world'. The need of the hour is a world class academic infrastructure, where students are given the opportunity to apply data and ideas in a realworld situation where they too play an active role. As the students interact with the information, it becomes real to them. Offering exactly the same and more while addressing the challenges of ever changing skills requirements and outdated curricula, Grand Columbus International School(GCIS), a Faridabad based educational institution, is surging ahead in the education sector with an aim to revolutionize school education in India.
While most schools focus just on churning-out a certain number of educated children every year, GCIS believes in creating mature, knowledgeable individuals who contribute and are an asset to this society. Strictly avoiding the rote and didactic learning styles that have dominated the education system since the industrial revolution, GCIS integrates more active learning techniques in order to attain the most effective learning experience for the students. Founded in 1994 and today offering pre-primary, primary and secondary education, GCIS is headed by Deepika Sharma, Principal and an educationist who strongly believes that education is a collaborative effort that involves professional administrators, committed teachers, motivated students, and mindful and cooperative parents. Explore the following snippets of an exclusive conversation Deepika had with CEO Insights to gain more insights on the
teaching methodologies and pedagogy of GCIS.

Tell us more about GCIS and the various facets that make the school a one-of-a-kind institution?
GCIS is committed to preparing future leaders and to fulfil that vision, we are focused on the all round development of our students. Moreover when we look at our school we see it as a place with a positive environment that brings happiness to everyone. Hence the entire effort is to make it a happy experience for both the students and staff. We give equal importance to co-curricular activities and academics. We strive to provide innovative, influential and relevant education to our students, which is driven by values, to create true leaders in various fields. Besides, we aim to build a community of reflective and life long learners who are passionate caring and responsible contributors to the nation and the world.

We have four departments PrePrimary, Primary, Middle and Senior. We follow the guidelines and curriculum as prescribed by CBSE. The curriculum is designed and subdivided in such a way that it becomes user-friendly and easier for the students to understand and comprehend without the feeling of stress and tension.

What are the different co-curricular activities that GCIS offers?How do these curricula foster best possible learning outcomes amongst all its students?
Talking about co-curricular activities, we have sports, music, debate art, drama, public speaking, robotics and many more. Adding to the facilities that are already available at the school, we've recently started the Global Institute of Table Tennis at the campus, which is a world-class academy. Every month, two Saturdays are being celebrated as Super Saturdays where students forget about the weight of their school bags and revel in various sports like skating badminton, basketball, throw ball, cricket, and indulge in yoga, meditation, zumba, as well as other activities as part of different clubs, which provide them an opportunity to do more outside the classrooms. We have also included foreign languages and soft skills training as a part of the curriculum. With all this, we aim to inculcate leadership qualities in our children.

Apart from academics, what are the different activities that your students are involved in?
We have an equal number of students in the Humanities section
as we have in our Science section. During the last winter vacation, our students and staff under went seven workshops, right from emotional intelligence to under standing student psychology and women's health.

We have a student council wherein students deal with community outreach programs and perform notable tasks like water conservation plantation drives, contributing to old age homes and orphanages, etc. Our students also go out and teach the under privileged children of primary classes.

What are the various college & career guidance you are offering?
At every interval of six months, we conduct an aptitude test for classes 9th to 12th. Besides, we offer lots of career counselling within the school to make them future ready. We have associations with a set of people who are going to handhold our students till they get admitted into colleges. We are also trying to tie-up with certain private and government organizations where our students can go for an internship post their 10th and 12th exams.

What are the other factors that you can boast about? Also tell us about the future roadmap?
We highly encourage flip-learning and project based learning, to engage our students actively. We leverage technology to offer the best possible teaching learning experience. We have smart boards in classrooms, and our teachers themselves create learning material for the students. Our students are one step ahead of others. Students from 3rd standard can create a brochure and poster.

Students at GCIS have access to computer systems and we allow them to explore and do whatever they want to do under supervision. Today, we can boast that our students from 9th standard are capable of creating a website.

Apart from that, there are a lot of things that GCIS is doing to inculcate more than 'just academics' in students. Our students participated in a summer camp last year, organized by Paryavaran Bhawan, which helped them understand the importance of energy conservation using technology. We also guide our students about ethical treatment of animals. This year, we are planning to introduce some key vocational courses like gardening, entrepreneurship, retail, artificial intelligence and more.