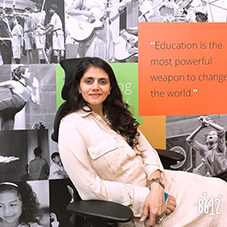 In the current era, the education sector in India is experiencing improvements by leaps and bounds. Schools nowadays are adapting new as well as effective methodologies for the betterment of the education system. Equipped with technological advancements and a thorough understanding of the psychology of students, education has become an ongoing process dedicated to the progress of life. However, education must focus on the child as a whole, which means the pedagogy must cater to the physical, emotional, social and cognitive development of children. Offering exactly the same is Edify International School, a Pune-based International Baccalaureate (IB) School that blends the most organized curriculum with effective research & inquiry-based pedagogy to help children develop holistically.
The school is managed by the Budhrani League of International School Services (BLiSS) foundation, which was founded by Chand Budhrani (Director, Edify International School) and her husband Gautam Budhrani (CMD, Edify International School). Today, with a strong belief that all children can learn and are entitled to relevant curriculum, Chand is leading Edify with an aim to offer the best education to all segments of pre-primary, primary, secondary and higher education. In an in-depth conversation with the CEO Insights, Chand speaks to us about the uniqueness and effectiveness of the curriculum followed at Edify.
Tell us more about Edify and the various facets that segregates the school from institution?
Edify's pedagogy is based on the world-renowned International Baccalaureate and standards, which ensures that students develop their own unique learning perspective. Edify believes in a holistic learning methodology, which encompasses sports, clubs, education tours, community services, and hobby development.
At Edify, our teaching encourages students of all ages to consider both local and global contexts making them perfect examples of global citizens. Besides, students are inspired to take responsibility for their own learning and understand how knowledge itself is constructed preparing them to ask challenging questions and develop research
skills proven to help them in higher education.
Tell us about your academic offerings.
We have three age groups to which we are offering International education – Foundation Years Programme (six months to 30 months), Junior School (nursery to grade five) and Middle School (grade six to 10). Foundation Years program is a unique program where the youngest age group of the school gets exposure to basic essential life skills. Social, personal and emotional development is very critical at this age and affects the positive growth of each individual. Good habits such as healthy eating, toilet training, self-help skills, dressing, hygiene, manners are critical in developing a positive sense of them and these skills are a prerequisite in their development in other areas of life and learning. This program is all about providing the young children with a nurturing environment and the right pastoral support to enable them to develop a positive sense of themselves. Children are given enough free play time indoors and outdoors along with a semi structured and open ended skill enhancement program to suit individual needs.
Our teaching encourages students of all ages to consider both local and global contexts making them perfect examples of global citizens
We offer IB Primary Years Programme (PYP) to the junior school students who are aged between three to 12 years. The PYP at Edify strives to build a culture of collaboration and continuous learning, both by the facilitators and the students alike and the programme lays ample emphasis on appropriate development phases in each learner. For the students who are aged between 11 to 16 years, we are offering IB Middle Years Programme (MYP), a framework of education that encourages students to become creative, critical and reflective thinkers. Moreover, it emphasizes intellectual challenge, fosters the development of skills for communication, intercultural understanding and global engagement that helps the students to build-essential qualities for becoming global leaders.
Explain how IB curriculum is effective and also give us some insights on the admission process followed at your school.
What differentiates us is our philosophy following which the young learners are encouraged to develop the habits of scholars. In order to achieve that, the school offers a broad, rich and challenging curriculum. Edify's IB curriculum
promotes a strong foundation in the academic disciplines, a broad exposure to the liberal arts, and selective opportunities to pursue individual interests. In addition to that, our curriculum is crafted in such a way that it becomes more flexible with the progression of the students through their grades and offers an array of electives beyond the core curriculum that helps them to get future-ready.

Edify believes in identifying the student potential before they join us, hence we assess them in a range of assessments including non-verbal ability test, English and Math so that the academics team is better informed of their ability and accordingly, personalize the program.

Apart from academics, what are the different activities that your students are involved in?

At Edify, we give importance to foreign languages and sports education. We offer French & German to all our students from Nursery onwards. Our aim is to prepare our students in such a way that they make a stronghold on the social front and communicate effortlessly with people from different origins building a strong connection due to the apt understanding of their language. We also encourage our students to play sports like basketball, football, tennis, skating, volleyball, swimming, cricket and more as it helps to boost self- esteem and confidence. Moreover, the initiative is to inculcate sports in the curriculum from Nursery onwards creating a healthier generation of children by involving all students in physical education and sports.

Apart from that we have incorporated co-curricular activities like music, dance, drama and visual arts as part of our curriculum. These programmes involve a significant amount of physical activity to keep the children attentive and curious. We introduced BLiSS Saturdays wherein first Saturday of every month is a working Saturday and students participate in activities like organic farming and graffiti.

Also, as our aim to make our children future-ready in this information-based and highly technological society, we at Edify offer STEM education and Robotics to them, which helps to creates critical thinkers, increases science literacy, and enables the next generation of innovators. The school also offers Ipad, Mac and windows labs to encourage learning with technology.

Key Management:
Chand Budhrani, Director

A professional with 15+ years of experience in the field of event management, marketing, communications, public relations and media planning, Chand aims to bring a change in the Indian education system through Edify.