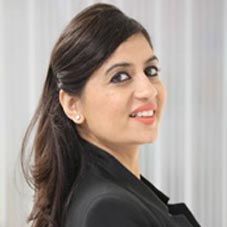 Jean-Paul Sartre once wisely quoted ~ "We must act out passion before we can feel it". Not many leaders today actually realize their passion and even if they do, live it to the fullest. Standing tall amidst this league of leaders is Gurmeet Chadha (Chief Human Resource Officer, National Collateral Management Services Limited (NCML)), a passionate HR maven. She has always been ardent about creating a culture of employee experience, co-creating an organizational culture and digital culture for the best experiences of employees. In fact, she believes that when one diligently understands the business, he/she will know exactly what HR models will work for the employees and what will not!
As an individual too, Gurmeet feels the happiest when she makes a difference in someone's professional life by helping them in their arena. Besides her current role at NCML as their CHRO, she has worked for behemoths such as Delphi Automotive Systems, Caparo Corporate Services, Sembcorp Green Infra Limited (An IDFC PE Initiative), and Ayana Renewable Limited during her professional journey. Being featured in EQ International Magazine as One of the Top 32 Women in Solar Sector stands as the manifestation of pride, satisfaction and encouragement in her career!
Gurmeet has further spoken in length about her professional as well as personal journey in an exclusive conversation with CEO Insights.
How has your educational and professional background helped you so far?
Studying at G.N.F.C School Mussoorie where majority of students were from America and Thailand and the rest from India exposed me to a multi-cultural environment, made me appreciate the cultural differences, and learn to navigate through them. Post that, I pursued B.Com from M.C.M DAV College, Chandigarh and MBA from B.V.P, Pune.
My professional journey began at Delphi Automotive Systems where I moved from a generalist role to driving culture-based programs at an Asia Pacific Level. I was also trained in Delphi Singapore to be a trainer and drive cultural transformation across PAN India level along with its key executive team while being an integral part of bringing-in a company-wide culture makeover. My further stints at startups in renewable energy sector involved building the HR function from the scratch with emphasis on complete leadership hiring as well as across all levels, thereby taking the organization to the next performance level. This couldn't have been possible without my extensive networking and understanding of the sector.
As an individual, I feel the happiest when I make a difference in someone's professional life by helping them in their arena
At Sembcorp Green Infra, I worked closely with the Singapore HR Team to fill the bridge between Sembcorp systems, processes and the already existing systems of Green Infra besides leading the entire 'change management' between both firms, addressing issues, concerns & fears of employees, and thus, creating a seamless transition.
Brief us on your roles and responsibilities at NCML.
At NCML which is on the journey of growth and transformation, I've been a strategic HR Partner who has developed and implemented HR strategies in line with business requirements. Most importantly, I've been a change agent along with the rest of the leadership team to ensure that all HR initiatives create a better employee experience and thus, yield better business outcomes. We are in the process of unveiling Strategy Maps across the organization and measuring those maps with the ongoing annual operating plans. We are also conducting regular Town Hall Meetings, organizing recognition programs to acknowledge employees' contributions and duly reward them. Open, transparent and honest communication has been the key principle and strategy all along.
Walk us through the diverse HR models that you have laid at NCML.
My current focus at NCML is on putting all HR processes, systems and procedures from merely operational side to strategic side to
see that they serve the interest of the workforce and keep them motivated. Some of our HR models include flexible compensation models, and goal setting model that focuses on meeting our financial targets and not overshadow our people, practices and customer needs. My core agenda has always been to improve digital ease across the workforce, especially post the onset of Covid-19 crisis.

How do you stay updated with the latest trends and advancements in the HR realm?
Lately, I've been planning to enroll myself for Leadership Coaching Program, which is something close to my heart and where I wish to develop myself further. I also ensure to stay abreast through online HR articles from Harvard Business Review, actively participate on LinkedIn to learn about new HR activities in Artificial Intelligence, and read avidly.

What is your take on managing work-life balance?
We need unity today and not balance. The organizations ought to realize that employees are individuals besides being professionals. The more care and compassion they show towards employees; the more employees will start uniting their professional lives with personal lives and vice versa.

Gurmeet Chadha, Chief Human Resource Officer, National Collateral Management Services Limited (NCML)
Gurmeet is an experienced HR Leader with expertise in the areas of strategic business partnering, driving change, leadership development, talent management, HR strategy formulation, career frameworks, diversity & inclusion, and employer brand management.

Favourite Hobbies: Trekking, Long Walks, Reading (obsessed with Brene' Brown's works), and Socializing with Friends & Family

Awards & Recognition: Gold Medalist for Best Public Speaker at School Level, Certificate for 'All India School Declamation', and School Prefect Badge

To the Budding HR Leaders: Just be a good human at work who knows his/ her job. Stand-up for what you believe in. Please be authentic and true with people because as HR folks we should be seen as a support system for employees while maintaining the system boundaries. Communicate, be transparent and true. That will earn you respect, and people will be able to trust you. Not the least; keep getting better at your work!