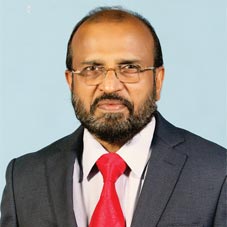 Someone once wisely quoted ~ "When people go to work, they shouldn't have to leave their hearts at home". It is HR leaders who must create such an employee-friendly environment at work along with transparent policies that would make work an enjoyable process for them. With the ongoing economic slowdown, the pressure has further been building on these HR leaders to efficiently utilize resources by deploying latest technology for recruitment, onboarding and performance management. Outclassing among this vast league of HR leaders is Dr.Satheesh Kumar Nair (Dy.Chief of HR, Air India Express), an adept HR professional with over 33 years of experience in HR & IR verticals. Over this journey, he has been etching his excellence in manufacturing, service and hospitality industries by accomplishing a wide spectrum of professional activities. Currently, Dr.Satheesh oversees the end-to-end HR operations at Air India Express (Estd. 2005), India's first international budget airline headquartered at Kochi.
To learn more about Dr.Satheesh and his inspirational journey so far, delve into the following excerpts of an exclusive colloquy between him and CEO Insights.
Cast some light on your professional journey so far.
Most of my professional journey revolves around manufacturing, service and hospitality verticals where I mastered the art of understanding variegated works and work culture of employees along with their attitude towards work and organization. These vast insights helped me a great deal in
performing better throughout my entire career. Besides, my conceptual knowledge, exposure and hands-on experience in diverse professions are highly practical. Most importantly, my professional acumen in HR & IR coupled with work experiences at corporate and business conglomerates has moulded me into a well-versed HR professional who can deal with any emergency situation and resolve it from the forefront.

What diverse roles have you been undertaking at Air India Express?
As a leader in any other organization, I lead from the front and inspire people to work with me. I ensure to proactively discuss about my visions for short-term and long-term projects or activities with the top management in my department. Once approved, I unveil the work plans for implementation and strive to achieve the preset goals. Based on the nature of project, I perform as a leader, visionary, decision maker and implementer.

Brief us on your success mantra.
One of the most imperative assets of any organization is its workforce. Understanding employees' strengths and weaknesses and inculcating a sense of belongingness in them, transforms them into a perfect team member who aligns with the organizational needs. This has always been my success mantra as a HR professional! Besides, my practical knowledge and insights on Organizational Heath Surveys and Organizational Health Audits & Analysis has helped me resolve employees' concerns from time to time. In a nutshell, I believe in 'Right man for the right job at the right time at a right cost' to raise the efficiency bar at Air India Express.

Walk us through the excellence of Air India Express.
Breathing the tagline – 'Simply Priceless', Air India Express is a wholly-owned subsidiary of Air India, operating as a low cost airline. Hence, the concept of cost control blended with uncompromising quality of services was fed into all levels of the organization right from the point of inception. Today, the organization's vast network extends to over 33 destinations and includes
over 649 services per week to the Gulf destinations.

Are you a trainer, mentor or speaker?
Yes! I've worked as a trainer and designed tailor-made programs in tune with the customers' requirements, and also as a motivational speaker at universities and professional colleges for infusing industry knowledge with academics. To add, I'm proud to be a permanent member of Aviation Society of India, and nominated to the Board of Studies of Department of Management of Central University of Kerala as well as the Academic Council of TKM Institute of Management.

How do you stay au courant with the industry's advancements?
I ensure to constantly learn about the business world as well as global perspectives in the HR industry to adopt, reject and reshape business models.

What bestowed you utmost satisfaction both as an individual and HR professional so far?
As an individual, I was satisfied when my business proposals or projects were accepted, turned-out to be successful, and appreciated by management and others. As a HR professional, I felt victorious when my own HR & IR tools and techniques were practiced and implemented for which I was well acknowledged and appreciated in the fraternity. At Air India Express, I take pride in receiving three appreciation letters for my commendable works on various occasions.

Do you have any thoughts on maintaining work-life balance?
Absolutely! I believe that good time management at work along with judicious planning and division of time will help in balancing at least 80 percent of personal and professional lives.

Dr.Satheesh Kumar Nair, Dy.Chief of HR, Air India Express
Armoured with Graduation in Physics, PG in Arts, MBA with specialization in HR and Ph.D in Management, Dr.Satheesh stands at the vanguard of HR department at Air India Express to upscale it to incredible heights.