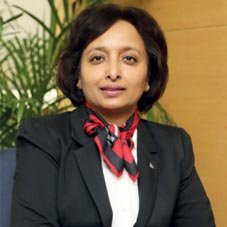 The HR Department undoubtedly plays a critical role in keeping an organization intact, thriving and future-ready. They hold the responsibility of channelizing the potential of the employees towards higher performance and more valuable contributions. Moreover, with the changing market dynamics, HR teams are expected to build agile & flexible organisations by ensuring competencies & capabilities that help shape sustainable organisations.
Speaking of which, Ms. Shikha Rai, VP and Head-HR & IT of Canon India has been one such leader who has played pivotal roles in the organizations she has worked with. Ms. Shikha is a mechanical engineer who graduated in B.Tech from IIT Kanpur in 1988. Her professional career started as a design engineer on the shop-floor of BHEL's transformer plant in Bhopal. Switching from engineering to IT, Ms. Shikha then worked for Bausch & Lomb as their MRP (Material Requirement Planning, the earlier generation of ERP) Project Manager.
In an exclusive conversation with CEO Insights, Ms. Shikha Rai presents some intersting answers to some insightful questions about the journey.
What makes you think ahead of the curve?
Being instrumental in setting up quality systems to build a robust framework for the company to manage the customer & employee experience. Later, additionally taking up the HR and L&D roles, my 'ability to learn' has helped me to manage such diverse roles successfully.
We laid a strong foundation of processes and systems in the initial years of setting up the business in the country. Way back in 2003-04, we introduced applications like 'iCan', a salesforce automation system for the direct salesforce; CMP (Customer Management Program) for our service engineers and for the dealers a platform called PEP (Partner Excellence Program) which eased out the order placing process and made the transactions simple & visible.
Talking about the Work-From-Home trend today, we certainly were pioneers. In its initial years in the country, Canon introduced the remote working concept called 'Virtual Working'. We gave our employees the needed tools to seamlessly work from home. In pre-COVID times too, about 40 per cent of its employees, sales & service, constituted the virtual working force – going straight from home to the field with no fixed workstation in the office. We have secure VPNs, communication platforms and reporting methods to ensure high productivity & engagement of the virtual employees.
My beliefs resonate with the organisation's corporate philosophy called 'Kyosei' – which is 'living & working together for the common good'. Canon's focus on long-term sustainability and care towards the environment & the communities gives the 1000 employees pride in their association with the organisation. Another guiding principle that holds Canon India together is its San-ji (Japanese term for 'three Self's') Spirit which stands for self-motivation, self-management and self-awareness. This principle reminds the employees to take charge of their own lives & careers to reach their true potential.
Canon has invested adequately in technology to enable accurate, fast & self-serviced information available to managers. Technology is being used to make work easy, to help improve productivity and to empower managers to make decisions wisely
Based on our ideology that 'people grow people'; Canon has launched a unique initiative around coaching.
We are creating a culture of coaching in the organisation. Around 4 years back, we began by training the senior leaders who are now certified, internal coaches. Each coach takes 2 coachees from different departments and helps them discover the path towards their individual goals. In the next phase, these coachees will be trained as coaches. By doing so, we aim to create a ripple effect in the organization and create a more listening organisation.
Tell us about Canon Striding's Next-generation Technologies
Canon has invested adequately in technology to enable accurate, fast & self-serviced information available to managers. Technology is being used to make work easy, to help improve productivity and to empower managers to make decisions wisely.

Core HRIS system makes the foundation of the HR department. Workflows have helped the organization to move towards a less-paper environment and help employees to function from anywhere and get work done faster.

Robotic Process Automation (RPA) is being utilised to move routine jobs to the robots and free time for the employees to do more value-added and creative work. An HR chatbot, MITR, helps answer queries on various HR policies making it easy for new employees to get assimilated into the organization and for the others to get updated on any changes on policies & guidelines.

Business Analytics & Intelligence gives real-time information to decision-makers.

Canon is using technology effectively in the space L&D too. Right from virtual classrooms, to mobile apps, videos for product training, using VR for making demos are helping the employees to polish their skills continuously to face the ever-increasing challenges in the market.

What message do you have for young HR professionals?
I am reminded of the following analogy made by our CEO – HR should be like the rivet of a Japanese fan which holds all the blades together for the fan to function well. The HR department holds this huge responsibility of keeping the organisation together – its vibrancy, its motivation and the very essence of its existence.

How do you unwind yourself?
A nature lover, Ms. Shikha, loves going on nature walks. She does tree spotting and chronicles her findings. Volunteering at the NGO Pragati, that works in the field of primary education for the underprivileged, helps her to unwind and also remain grounded.

Ms. Shikha Rai, VP and Head-HR & IT, Canon India
After working with different companies, Shkha joined Canon eighteen years ago in 2002. Since then, she has arguably been playing a key role in the success and growth of Canon in India.