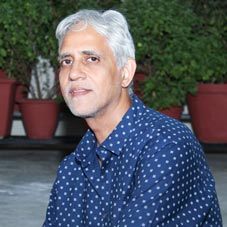 After witnessing a direct need of establishing an organized Art & craft business to serve the Indian consumers with a range of handmade craft supplies, Itsy Bitsy was established in 2007 by Harish and Rashmi Closepet with a simple goal of making the highest quality art and craft supplies accessible to everybody in India while inspiring creativity. Through Itsy Bitsy, Harish has not only been creating awareness of western art & craft DIY in India but has also successfully developed a chain of rural factories to empower rural women, about 3000 women have been empowered till date and continue doing so. With 36 stores across the country, Itsy Bitsy has made a prominent presence in the Indian art & craft industry pioneering Do It Yourself concept and exports the manufactured products to over 35 countries under the Little birdie brand.
Engaging in an exclusive interaction with CEO Insights, Harish Closepet shares about the inception and emergence of Itsy Bitsy as India's 1st Art & Craft manufacturing & exporting unit in Bangalore.
What Motivated you to Establish Itsy Bitsy? Tell us about your entrepreneurial journey.
My wife and I left Australia in 2004 to work in rural India and for the empowerment of rural women. We started making these beautiful handmade paper flowers and we started exporting them to UK, Australia, the US, and many more countries across the globe. We gradually built up a base by forging a particularly good partnership between retailers around the world and rural India. Focused on growing our employment in rural India, we have been continuing our philosophy of being a socially committed enterprise with rural-urban partnerships. Of course, COVID gave a bit of distraction, but we are back on track pretty much. Operating in this non-agriculture sector, we have been following a
successful model by making paper flowers, home decor items, jewellery, cards, fabric embellishments and so on, which people make in rural households, and we sell them through our network of stores. In rural India where the rate of unemployment is quite high, this rural and urban collaboration model can be adopted by other entrepreneurs as well.
What are the challenges that you encountered during your journey and how did overcome them?
We had lots of ups and downs once when we started our business. When we shipped our first order to Australia, before we could get our payment, our customer went bankrupt. That blow was severe as my wife and I had to sell our house in Australia and put all the money we had into this business. Although we reached a zero at that point, we battled out of the struggling phase. Soon, we received orders from our UK customers and started regenerating ourselves. Gradually in 2007, not only we witnessed remarkable growth, but also a lot of global recognition.
For me, our biggest achievement is creating an ecosystem between rural and urban India
Soon we had enough money to invest and test the domestic market and that is when we opened our first retail store. As it was a very new concept for India, it took us a while to create a lot of awareness among our customers because here the word Art and Craft means handicraft. But we were only producing semi-finished products for people to make their decoupage, scrapbooks, mixed media, card making and jewellery instead of providing finished products. This was a novel concept and for us, the biggest challenge was to get across the message to our customers that they can engage themselves create their masterpieces by using raw materials produced by us.
Apart from dealing with the misconception about art and craft, another biggest challenge which we encountered was developing a model to train thousands of women in rural India and getting the quality that is globally accepted. Now that we are supplying to countries like Japan and Korea, where quality is extremely important, we are maintaining the standard quality to
satisfy our international customers and upholding an amazing system which can contribute to this direction unperturbedly.

Highlight the milestones that bestowed you with utmost satisfaction in your professional journey so far? As the industry is changing dramatically, what are your strategies for the coming years?
For me, our biggest achievement is creating an ecosystem between rural and urban India. This milestone was created when we employed 1000 women in rural India, and it was such a happy moment for us. Our second milestone was achieved when we opened our 20th store. Also, our social media is hitting good numbers with more than 250,000 followers on Instagram and Facebook and growing on a rapid pace, and these are all recognizable milestones in my point of view. In this post-pandemic period, we have already started coming back to some level of normalcy. We have put together a various wide range of workshops in all our stores, which are going to kick in by July and we can witness more customer engagement.

What is the future road map that you want to follow for Itsy Bitsy?
We are working on new interactive concepts like the 'Hobby Centre', which we have done in Delhi. That is a new concept where people can come and do pottery-making along with few more things and shopping is completely optional here. We do not force people to shop but want to give them an experience more than just giving them products. Apart from this new concept to introduce as a retailer, we are planning to open 50 new stores in the upcoming year.

Harish Closepet, CEO, Itsy Bitsy
Co-founder and Managing director of India's largest craft manufacturing and retail chain, Harish has worked as a buyer in Singapore & Australia for retail establishments and is experienced in international trading of various products. He created a brand of discount confectionery Called Harry's for the Australian market and started the first Indian craft store in Singapore. Experienced in participating in the international shows along with setting up and running retail stores, he is specialized in understanding Indian & international markets with regards to art & craft. Passionate about travelling, Harish has travelled more than a million kms in India for sourcing and selling various products.