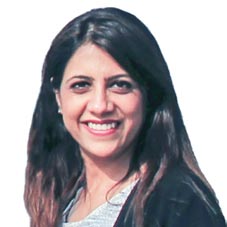 TJ&A Global Online was co-founded by Jigisha Grouver, with the vision of being a one-stop destination for a curated range of products – created from indigenous techniques and customized to suit the usage of the target audience at affordable prices. She & her cofounder relentlessly worked to understand the customer requirements from time-to-time through automated algorithms that identify trends and forecast demands – not restricted to a particular regional art. Some of her innovations entail blending traditional & contemporary weaving techniques and expanding into untouched or less-explored categories in the handcrafted space.
Under her aegis, the company is committed to revolutionizing the retail industry with a curated range of handcrafted products that not only celebrates the fabrics and techniques of India but also promotes sustainability and affordability along with employment to the artisans. Recognizing her as one of the top leaders in the retail space, CEO Insights engages an exclusive conversation with Jigisha, to know more about her journey.
Brief us on your educational and professional background.
I am a Commerce Graduate from DAVV University with General Management Program Certification from IIM Kozhikode and Diploma in Designing. I have over 18 years of retail industry experience spanning across retail operations, planning, buying, sourcing, and online category/brand management.
In the early years of my corporate career, I was a part of retail store operations and understood customer buying patterns. My further assignments included retail strategy and planning that strengthened the base for developing profitable business strategies. During my stint at Amazon, I learned how online retail works. The experience also helped me to improve my P&L management and digital marketing skills.
I have been fortunate to have an all-round experience during my corporate journey that provided a launchpad to believe in myself and start our enterprise. In my professional life, the value that I have most admired is - customer obsession. It is extremely important to think from a customer's standpoint. More often, they don't exactly know what they want. Creativity and innovation lie in understanding what they need.
What different roles have you been undertaking at TJ&A Global?
When Prakash Thawaani and I founded TJ&A, we were unanimous on the fact that we will keep our operational costs low. We wanted to be sure that our business idea indicated success before expanding the team. We truly believe that there is no such thing as too small for a person to play. As a team of 3, we practically involved ourselves in all aspects - from strategic matters to trivial issues. From being a strategist to being an inventory controller, and an administrator, I have multi-hatted roles. We worked from our home office for a few months to keep a check on our expenses.
Jigisha's vision is to create a customer-focussed and sustainable business by keeping creativity at the core and promoting the craft of our country across the world
Enumerate how your methods/strategies have transformed TJ&A Global's work culture and client relationships.
I am greatly inspired by Jeff's vision of maintaining a "Day 1" culture for the retail behemoth. If that can be true for a giant organization like Amazon, then why not for other organizations? It keeps the teams engaged, inspired, and close to the vision of the organization. We follow a true startup culture at TJ&A. We have a flat team structure. With a fast-paced culture, we keep ourselves nimble to pivot as per the customer preferences and business requirements.
What were the initial challenges at TJ&A Global that taught you some crucial lessons of company operations? Also, tell us about your achievements at TJ&A Global and
the business transformation you led via those achievements?
Every business faces a certain set of challenges while expanding. We have been no exception. Out of the many challenges, the most crucial were efficient supply chain and financial management.

For an online retail business to be successful in the longer run, it is imperative to have a robust supply chain that is capable of handling contingencies. We have learned that diversification in the logistics solution is the key factor. It has been extremely critical to buildding an effective solution in the US while being stationed in India during the pandemic. We learned new ways to transact during through the course and have been able to build a diversified solution.

Apart from Amazon fulfillmentfulfilment centeres, we have developed fulfillmentfulfilment solutions with 2 different 3PL facilities. This has helped us to reduce dependency on any one partner while ensuring inventory replication in about 5-6 locations within the US. This arrangement has enabled faster last-mile deliveries to customers and a simultaneous reduction in fulfillmentfulfilment costs.

TJ&A is 100 percent self-funded. Having limited funds to expand, we closely monitor the crucial aspects impacting financial factors. Our focus areas are optimized inventory turn cycles, cost reduction in logistics and fulfillmentfulfilment services, and low operating costs. We have been able to achieve an accelerated YoY growth rate of 5x while we continue to be a zero-debt company to date.

What opportunities do you foresee in the current e-commerce industry, and what are your strategies for the company's near future?
The E-commerce industry continues to be on a journey of explosive growth. Online retailing has provided access to global outreach at relatively low operating costs. Keeping in mind all the opportunities and challenges, we have designed our growth path. Our large part of the expansion strategy includes adding new marketplaces within the US along with tapping into new international markets. We also have chalked out the plan for developing our own warehousing and fulfilment facilities in our primary market during the next financial year. We further plan to build automation in functions across business analytics, warehousing, and fulfilment.