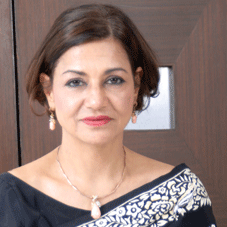 Gorbachev once famously said, "If you're not moving forward, you're moving backwards". Operating with the same belief is Harshbeena Zaveri, a celebrated technocrat and Vice Chairman & MD, NRB Bearings, a provider of customized friction solutions. Founded in 1965, the firm was a leading Indian manufacturer of needle roller bearings; fast forward 55 years and NRB has transformed into a provider of leading-edge bearing technology and a wide range of high precision friction solutions to some of the world's most prestigious mobility players. Harshbeena has been the architect of NRB's transition into the big league.
Pioneering the firm's foray into design engineering in 2000, Harshbeena has worked tirelessly to catapult NRB from being just a bearing manufacturer to becoming a complete friction solution provider. The judicious leader's vision has powered NRB's R&D capabilities, enabling the firm to supply to the world's foremost automotive and mobility companies, including global leaders Volvo, Renault, Audi, Daimler and Honda, and technology leaders like ZF, Magna and Bosch.
Other than powering NRB's rise to the top, Harshbeena is also a strong proponent of empowering youth through education. One of the first founders of the Ashoka University, India's first Liberal Arts University, the dynamic powerhouse is on a mission to create an inclusive world. In an in depth discussion with the CEO Insights team, Harshbeena gives us a peek into her professional and personal life.
What propelled you to initiate the tech transition at NRB Bearings? What strategy did you implement to make the shift from being a bearings manufacturer to a full-fledged solution provider?
Back in the day, when I joined the company as a trainee, my aim was to become knowledgeable as a shareholder and promoter before I returned to the US to study law or public policy. However, with digitization setting-in during the late 90s, I realized that technology was moving towards analysis and would become more software driven. I felt that we could leverage India's IT & mechanical engineering strengths and evolve into a friction solution provider instead of being just a commodity bearing supplier. We took a leap of faith to become technology independent. This propelled NRB to become a leader in disruptive technologies and a recognized leader in customized friction solutions.
The strategy is to compete at the most difficult level, designing bearings and allied products for the engines, transmission (not just the gearboxes) and axle applications for the most advanced future generation platforms of Audi, Honda, Mazda and Mercedes in the car segment and for Daimler, Renault, Scania and Volvo in the truck segment. From being entirely dependent on collaborators for technology, today, NBR functions as a design partner for high-end applications at the world's foremost mobility companies.
I believe one must invest time in commitments that matter; I have always been passionate about empowering youth through education and devote considerable time to this endeavor
Tell us about NRB Bearing's current capabilities as a friction solution provider. How is the company strengthening its capabilities under your reigns?
Product innovation is our biggest strength. We are constantly coming-up with innovations that focus on sustainability, offering higher fuel efficiency performance whilst improving life of the vehicle. Creative disruption combined with some of the best software and test bench equipment in the field drives our research and product development, strengthened with proprietary copyrighted analysis and design software. We have added new high precision product lines, including the supply of high surface finish shafts, planetary gear pins, and engine balancer shaft bearings. These are the highest precision engine components and put NRB in a position to expand engine applications in a major way going forward.
NBR's story is of David challenging Goliaths from the technology standpoint. This includes R&D, brand building, staying abreast of constantly evolving technologies, creating customer friendly processes, and training all team members to be aligned with our goal. We have recently expanded our R&D Centre and moved to a new expanded 20,000 square feet facility in Rabale, Navi Mumbai. This is an addition to our expanded Process Innovation Centre in Waluj.
Other than leading NRB Bearing's team to success what other passions do you pursue in life?
I believe one must invest time in commitments that matter; I have always been passionate about empowering youth through education and devote considerable time to this endeavor. I am an active member of the Wellesley Business Leadership Council and focus on achieving my Alma Mater Wellesley's vision on creating women leaders in business and science. I'm a proponent for building
an inclusive world which I believe is better for all and engage in enabling diversity in academia and business. I have often spoken about leadership & inclusivity and have been invited at prominent Universities such as IIT Kharagpur, IIT Mumbai and various International Business Schools such as ISB, Baruch College, City University of New York, IMD Business School and most recently at Cornell University's Johnson School.

I have also been a part of the early founders (and the only woman founder) of Ashoka University, India's first liberal arts university. I truly believe that a Liberal Arts curriculum helps broaden perspectives, building bigger picture capabilities; along with domain knowledge, this ability to think critically and analyze data within a theoretical framework will enable students to become problem solvers par excellence. Such women and men shall become leaders who can truly change the world.

Leading an organization is never a cakewalk and requires ample dedication & time. How did you find the right approach to balancing work and family life?
I strongly believe that leaders can never strike a balance between their personal and professional life. It is thus important for them to prioritize things. I realised sharing my challenges with my children helped motivate them and support me. Over the years, they absorbed the learning and the realization that resilience works helped them become more confident and focused on achieving their own goals in life. I have never segregated my life into compartments and my children were also engaged with my work; I even combined work visits with holidays during their vacations. I often brought my challenges home to them and we played games and role reversals so they could advise me on how to tackle my problems!

My husband and I rarely travelled for work at the same time when the children were young and the children had a routine. They would rest when they came home from school so that we could stay awake together late into the night while they studied by my side and I completed my work assignments. Rather than feeling neglected, my children became very independent and hardworking. We often cooked together, and as a result, my children learned to cook and are both formidable cooks. My husband has also developed a late love for cooking!

Harshbeena Zaveri, Vice Chairman & MD
An illustrious alumnus of the prestigious Wellesley College, Harshbeena joined NRB Bearings in 1987 and was appointed as the company's President in 2001. Other than spearheading the firm's foray into design engineering, she has established NRB Bearings' position as a global benchmark for quality and innovative design in high-precision friction solutions.