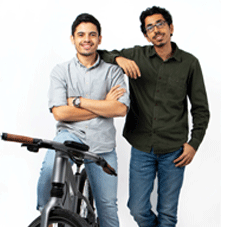 Let's recollect the most famous words of Oprah Winfrey ~ "Passion is energy. Feel the power that comes from focusing on what excites you". Being said so, it takes sheer mettle and determination for one to pursue their passion and not settle for anything less. Not many dare to take this leap of faith in their own potential and live their dreams. But the entrepreneurial journey of Nilesh R Bothra (Co-Founder & CEO, Calamus) is undoubtedly a beacon of true inspiration to this bracket of people. Nilesh has always had this deep rooted passion for automobiles and enhancing people's lives. Right from the point of being an adept Production Engineer at multiple Formula Student International Events to co-founding multiple startups to currently outshining as a well-versed business leader at Calamus, Nilesh always enjoyed the process and not just chased outcomes. Witnessing a spectrum of downs in his journey, he managed to soar high with utmost mettle and determination as a muse to his people at Calamus as well as to the budding entrepreneurs.
To know more about Nilesh's inspirational journey, delve into the following excerpts of an exclusive interaction between him and CEO Insights.
Walk us through your professional journey so far.
The biggest turning point in my life happened after the demise of my father in 2014. That's when I became serious about following my passion for automotive and taking it to newer heights. The predilection towards product design and development in automotive sprouted in me when I was part of various Formula Student International Events, wherein I learnt the mechanics behind executing projects as well as leadership skills for three years. We fabricated and designed Formula prototype cars that would compete internationally across Italy and Japan. It was during the second year of competition we outshined as the first Indian team to win an award at any Formula Student International event while I led my team to Japan during my final year. Meanwhile, I laid the foundation for my first startup – 12C Composites along with my seniors, which was oriented on advanced composite materials. Later, I also had a stint with Rolls-Royce Motor Cars for three months.
It was in 2017, Huzaifa Harawala (Co-Founder & CTO) and I established Calamus in Mumbai to
create the next generation of electric vehicles starting with the smartest, safest and the most beautifully crafted electric bikes for the global audience. To further support Calamus, I co-founded another startup called MomoThao, an authentic Nepalese momo food stall while also conducting personal science tuitions.
What were the major challenges that you faced as an entrepreneur so far?
During the initial phase at Calamus, we were posed with multiple challenges because of zero exposure to the basic operational & legal process, legal aspects, handling operations and building a global supply chain network. Being a bootstrapped company put us in an even tougher spot. I fondly remember working-out of a one bedroom apartment spanning 150 sq. ft. of area, which was further shared by two other companies. It was a hell of a task managing R&D, storage and other activities, and working out of such a small place, but that really helped build our resilience and made us learn to work in a lean manner with as little resources as possible. Yet, we managed to continue and grow at a steady pace to the point of being incubated. All through this pursuit, we learnt great lessons from failures and ensured to never make the same mistake twice. An eye opener to say the least was travelling to Shanghai in 2018 which bestowed me with major exposure to the world of electric bikes (e-bikes) as well as other industries.
The predilection towards product design and development in automotive sprouted in me when I was part of various Formula Student International Events
With these variegated learnings, we introduced our first bamboo electric bike, which was highly sustainable. But with passing time and learnings, we geared-up to innovate on designs that would appeal to the Indian market and also tune-in with the global market trends.
Brief us on the diverse roles that you undertake at Calamus.
The initial phase at Calamus taught me and Huzaifa to be trained on taking all kinds of roles and responsibilities. We stayed resilient, believed in our potential and enjoyed every single endeavour in our business, despite being difficult. I remember undertaking a breadth of roles right from automotive engineer, mechanical engineer, fundraising, managing finances and operations to hiring people and many more, while now, the team at Calamus is better at these individual tasks than I ever was. I try to align the team to our shared vision and open as many doors for them to be better and do better; that's my primary role here! Moreover without
the understanding and patience of Huzaifa, I would have never been able to do this on my own!

Today, we operate in a lean manner with minimal operational expenses and team strength. Each employee at Calamus holds extensive potential, ambition, passion, self-motivation, and willingness to learn, and delivers combined works of at least three people. Besides, we adopt a direct sales model, wherein we directly sell our products online and thus keep our expenses lower.

Share with us some of your milestones.
Some of our milestones include our first prototype – Calamus Zero being launched in the Indian market, serving our first customer from Australia after few months of launch, getting incubated, launching our first global e-bike with 100 percent preorder goal in the very first hour, and the milestone of hitting pre-orders of $500,000 in less than 12 months from 27 countries during last month.

What are your future plans?
To build a 100-year brand by on-boarding people with great minds, believers with a shared vision, inspire as many people as possible, create the ultimate Indian Hypercar, along with industry defining vehicles with technology that can be used for the betterment of lives in various industries, and make India as the go-to destination for top-notch automotives in the world! I want to create a sensation like Ferrari has – a brand that will always be remembered, recognized and cherished all over the globe.

Cast some light on your personal life.
I am fortunate and grateful for a beautiful family, amazing friends and well-wishers who have supported me and always pushed me to do and be better. Especially my mother, I think I owe all my achievements and success to her. She has been my biggest inspiration throughout my life. I have seen her struggle so that we could get everything we wanted. Her biggest teachings to me have been – give without expecting something in return, humility, generosity and consistent & persistent hard work will never fail you. My father greatly inculcated the passion for automotives in me; I really wish he was here. My uncle, who has been more than a father figure to me, siblings and my closest friends, have been my constant source of strength and support in the most difficult times.

Nilesh R Bothra, Co-Founder & CEO
Nilesh is a passionate team member, true-blue engineer, modest businessman, motivational leader, avid speaker and perfervid sports player who ensures to resolve global problems, believe in and inspire people.

Favourites:
● Hobbies: Racing, Sports, Reading and Networking with people
● Cuisines: Italian & Indian
● Travel Destinations: Italy, Germany, Japan & Ladakh