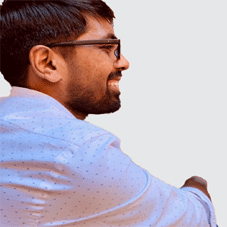 A customer-centric marketing professional with a strong bias for action, Hitesh Lalwani specializes in digital revenue generation and scaling of growing organizations. Owing to his exposure to multiple marketing professionals and agencies during his professional career, Hitesh could clearly identify the need for a good analytical yet creative advertising agency in India. He witnessed very few professionals having the needed ambidexterity to do justice to both of these facets of advertising which are practically essential for success.
As he pondered over his intention to bridge this gap, he soon realized how wonderfully poised he is with his experiences and connections to create a successful agency that excels creatively and analytically. And that's when he conceptualized his foray with his partner, the foundation of Walnut Folks was laid. Under his impeccable guidance and mentorship, Walnut Folks has gradually risen to be a digital marketing agency focused on growing businesses.
Engaging in an exclusive interaction with CEO In-sights, Hitesh Lalwani shares his journey as one of the top-notch leaders of the country spearheading a premium marketing agency.
What different roles have you been undertaking at Walnut Folks and how do you keep your team motivated to complete an assignment? What was the most comprehensive marketing strategy you created and executed?
I think when it comes to a new venture, CEO practically means Chief Everything Officer. Fortunately, though, I've been blessed with a wonderful co-founder and an even better team. They take care of more things than I do in a single day, which leaves me with more time to engage pragmatically in campaigns and create more value for our clients. I mainly divide my time amongst running analytics on big
accounts, finding growth drivers, ideating growth hacks for small accounts and improving our processes when it comes to advertising management. It's hard to choose between the amazing work we've been doing in influencer marketing and amongst our campaigns on Search Marketing. But I would definitely rank our campaign for Upstox as right up there – a holistic campaign across Instagram and YouTube. The campaign went on to win multiple awards but the best achievement of all was that Upstox reached 1 Lac+ monthly new accounts with this and it was a new record in the world of discount brokers.
I've always tried to keep my team at the forefront of my work and tried to invest time in knowing them and growing them
In your professional journey so far, which are the milestones that bestowed you with utmost satisfaction?
We've mostly focused on growing brands using Influencer Marketing & Search Marketing. I believe every agency has strong suits and ours have been these channels. We've worked with 100+ brands to grow them significantly on these channels and the journey continues. Last year our 2nd brand, Confluence was awarded as the Best Large Scale Influencer Marketing in India by Entrepreneur Magazine, which was a significant mile-stone.
Another was when we reached our 100 client's number and realized that we have been able to grow and successfully retain over 70 of them. Now that's a huge success rate in the agency world. Another more personal one but a very dear one for me was when I got into IIT back in 2007. It was a huge deal for me and the journey honestly did a lot to shape me into the professional I am today.
Have you ever had to overhaul your strategy in light of new business conditions? How did you do it and what was the result?
Oh definitely! Most recently in the light of the current pandemic, many of the brands we work with are digital startups and they all saw significant growth post-COVID. The numbers started climbing through the roof especially in the FinTech
and EdTech industries and we had to respond very quickly to capture this new growth that was coming in these industries. We scaled our campaigns significantly during these times and defined new normal for our clients with higher growth trajectories and better returns overall.

What are the most important attributes of successful leaders today and what are some of the successful mantras that can you recommend on leadership?
One of the best models of leadership I learned at my first job at Procter & Gamble was from my 1st 2 managers. Both of them were extremely hands-on and com-passionate leaders who spent time listening more than speaking. As their teams expressed their thoughts, they became better and kept making the manager's job easier. Ultimately you are as good as your team is and that's has remained in mind ever since. I've always tried to keep my team at the forefront of my work and tried to invest time in knowing them and growing them. I hope to give back to my teams what I got from my managers and then some more.

How will you describe your profession-al journey till now? What is your plan for the future?
As I look back on my almost 10 years of working, I find myself to be quite fortunate of the journey I've had across IITB, P&G, upGrad and now Walnut Folks & Confluencr. I feel like there are many achievements small and big across these 10 years that I can't talk enough about. But I do pray that the best is yet to come and that I can contribute a lot to the ecosystem in the coming years. And then hopefully the biggest achievement will be a Caribbean Island retirement.

Hitesh Lalwani, Co-Founder, Walnut Folks
An Engineer from IIT Bombay by education and a communications professional by choice, Hitesh Lalwani has been building his career in marketing and communications since 5+ years now. Although he started his career in Project Management, he soon realized that marketing was his calling and was keenly interested in growing brands using smart advertisements. With his educational background, he always had an edge in analytical thinking, which he used as an advantage to propel growth with sharp, analytical, insights driven advertising.