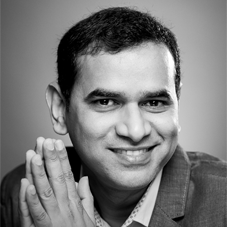 Digital marketing is facing a significant change as a result of a critical marketing process. In today's vast, social media landscape, accelerated online marketing engagement is evolving, and the use of these platforms to excel in their endeavours as emerging marketing developments make advertising agencies extremely profitable. Raja Pantham (CEO) of Digital Edze was interviewed by CEO Insights, and he enlightened us on the company's inception ideology and his primary objective as a leader.
An accomplished serial entrepreneur, with two decades of rich business and marketing experience, how crucial has your industry experience been in shaping your leadership journeys?
I assume that no matter where we are now, it all boils down to the decisions we made in the past, and my prior success in addressing multiple obstacles has helped me in defining my leadership skills. If you meet a business owner, they will tell you about their plans for the future. For example, an entrepreneur may intend to expand their business and open 10 new stores across cities, but they will struggle to achieve those goals due to a lack of team management skills.
The most difficult task for most leaders are managing teams; individuals do not trust their employees and the people with whom we begin our company will leave after receiving adequate training. But I've learned how to cultivate partnerships with the team, how to inspire them, and how to rapidly create new teams without disrupting company operations.
What inspired you to establish Digital Edze? Please share with us the inspiring story behind your company.
Along with being an inspiration, I can also state that I witnessed a significant challenge in the digital marketing field, which I solved by founding Digital Edze. The digital marketing industry is very crowded; for example, if you go to every city and throw a stone in the air, it will fall on at least ten people who call themselves digital marketing professionals; they are everywhere.
So, in such a crowded category, the difficulty that I encountered is that there aren't many digital marketing firms that offer services to SMEs. Due to budget constraints, these SMEs hire freelancers to do their digital marketing, and the bulk of these digital marketing freelancers are unconcerned with the results because they do not grasp how business models work or deadlines.
For me a milestone is empowering people and assisting them in growing; this is the primary purpose of my leadership journey
This is not to suggest that there are no decent digital marketing companies in Hyderabad; there are, but they just deal with the big names. They do have customers from all over the world, and the service costs for such agencies begin in the lakhs, making them unaffordable to Small and Medium Business owners. As a result, we wanted to target such gaps and fill in space with the necessary digital marketing services for business owners who can afford nominal fees and use them to expand their online presence.
What different roles have you been undertaking at Digital Edze and how do you keep your team motivated to successfully complete an assignment?
I as a CEO, my primary role is to steer the business in the right direction, I focus more on vision and inspire my team to accelerate, my role is to monitor, review, train and inspire, and when it comes to motivating the team, the first step is consistent communication; I communicate with my employees in a way that they understand, which is critical because I want my team to be aligned with the organizational
objectives. Furthermore, I believe in three things to inspire my team: continuous training, complete confidence, and total accountability.

We train them regularly, and not just in digital marketing; we train them to rise and achieve greater heights in their profession and personal life. We create trust between our workforces, we keep it transparent, and if I have to make a difficult decision as to their leader, I will make sure they are aware of it and enforce accountability around the team. In certain ways, this helps me win their confidence, because as a coach if you gain the trust of your team, they will stick with you for longer term, regardless of the circumstances.

In your professional journey so far, which are the milestones that bestowed you utmost satisfaction - both as an individual and as a marketing leader?
I believe that everyone should have a mission in life and work towards it, and what I consider a milestone is empowering people and assisting them in growing; this is the primary purpose of my leadership journey. And, in terms of assisting others, one of the most recent and memorable experiences I had was when I travelled to Dubai to give a session to NRI Women Entrepreneurs.

Imagine that in a country like Dubai, these women entrepreneurs have their own businesses and their husbands are also working, and after I delivered my session to them, they said, Raja, this is the best thing I have ever known, and we never realized that we can do a lot more things as women on social media and we never realized the importance of digital marketing, that is not just a compliment I feel it as my greatest accomplishment.

Raja Pantham, Founder & CEO, Digital Edze Business Solutions
Raja Pantham has completed his Business Management degree from Acharya Nagarjuna University and started his professional journey at a very young age of 20. Raja Pantham is a serial Entrepreneur and has established a set of companies like Vision Technologies, Liz Solutions, Digital Edze and SMART Club. Currently, Raja Pantham is leading two companies that is Digital Edze, a digital marketing service provider and Liz Solutions, an ERP Solutions provide.