Sai Kalyan Chakravarthy Anupindi: Influencing SMB's To Have Online Presence To Explore The Ocean Of Opportunities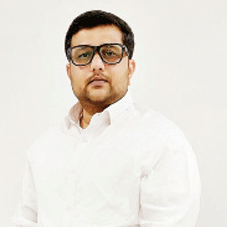 Most individuals these days spend most of their time online searching for certain goods on the internet. Maximizing the online presence is critical if the companies want to take advantage of this vast audience. And that is where the role of digital marketing plays a role. It's all about meeting the right people at the right time with digital marketing. To increase the consumer base, one must first provide an interactive online marketplace with ease of navigation.
CEO Insights interviewed SaiKalyan Chakravarthy Anupindi (Founder & CEO) of Filesie, wherein he enlightened us about his entrepreneurial journey and the challenges he overcame while establishing the company.
Give us a glimpse of your professional background before Filesie. Tell us about your skills and strengths that are unique from the other peers in the industry?
At the beginning of my career, I worked for a Singapore based FMCG business that sold its inventory in southern India. Interest in research methods and timing strategy for a large sale was piqued. This time served as a catalyst for me to seek higher education in the United Kingdom. Furthermore, as a marketing consultant for a Fortune 100 Japanese corporation in the UK in 2008, I gained a whole new perspective on work and how we handle our coworkers and subordinates.
With a small amount of experience managing teams and taking on leadership positions at a young age, I've developed a new perspective on the never-ending path that is the Entre preneurship Journey. Thanks to my wife Sowjanya Tata for her support and faith in me, my decision to become an entrepreneur in 2013 was a move that changed my life as a professional. What sets me apart is that I am not afraid of failure,
indeed, I believe it is a critical component of the experimental phase that leads to success.
What were the initial challenges that you faced during your leader-ship journey and how did you manage to achieve success in the later phase?
For a first-generation entrepreneur, becoming CEO is the most difficult job, particularly in an industry that had not yet gained traction. Hiring was a big challenge for us, and we struggled in the beginning due to a lack of exposure to digital marketing as a career choice also to convenience the customers to try digital transformations, on the other hand, seems to be a Mars project. The clients' risk appetite is too poor.
What sets me apart is that I am not afraid of failure, indeed, I believe it is a critical component of the experimental phase that leads to success
We resolved these difficulties by seeking inspiration in unexpected ways. The cooperative banks and their consumer acquisition model opened our minds to new ways of thinking, and we encouraged customers to try digital for a fraction of the cost. This culminated in the completion of over 200 projects in the first five years of our journey, as well as small victories that helped us to spark excitement, engagement, and creativity at work. Hire, Train and deploy the model for the new recruits worked wonders for us.
A Digital Marketing leader of a company plays different roles growth and success of the company. What different roles & responsibilities have you been undertaking at Filesie?
In my position as CEO, I assess my metrics to see how happy my employees are and how safe my company is. Spending time with my team allows me to assess whether we are having a positive effect on our clients' businesses, and I'm also building my personal capacity to help Filesie develop into an international brand. I also spend time talking to my staff, who are the most important aspect of my business. It's important for me to make sure their working climate is promising, optimistic, and welcoming, as well as spend time with the project management team
to learn how we are supporting our clients.

I spend time with my sales team, assisting them in closing high-value ticket deals, and I spend time with our clients to appreciate their long-term goals, desires, and needs. I mentor and educate students in the fields of digital marketing as a passionate digital marketer. I also manage the P&L accounts and re-port them to my Board of Directors, as well as creating a Filesie roadmap. Overall, it is my responsibility to ensure that Filesie is a fantastic place to work and that it has a global reach.

In your digital marketing approach, how do you balance inbound and outbound marketing? What do you think about the art and science of marketing?
Good conversations are close to successful marketing. Outbound marketing is much too pushy and fast, but it infuriates users, draining the marketing budget quickly. Inbound marketing is a pull technique that takes time to execute but yields excellent results in the long run. Combining inbound and outbound marketing strategies makes more sense since it is a cost-effective marketing technique for consumers that rewards customer service.

For me, the Art and Science of Marketing are it's as plain as it sounds: the right brain is responsible for creativity, while the left brain is responsible for logic (data, analytics). There are several discussions and controversies over whether left-brain or right-brain marketing executives are better. The ideal marketing strategy, in my opinion, is a blend of imagination, data-driven points, and emotions – the recipe for long-term marketing success.

Sai Kalyan Anupindi, Founder & CEO, Shoba Tata, Co-Founder, Filesie
Kalyan has completed his Master's in Strategic Business in 2008 from University of Portsmouth, UK, and is currently pursing MBA from Narsee Monjee Institute of Management Studies, Mumbai towards the journey of continuous learning and self-development. These valuable educational experiences helped set him to build the career in an in-demand and competitive industry. One area where Kalyan particularly flourished was in Marketing Management & Research methods, making him well-suited for leadership roles where he oversee marketing teams across Pan-India.

Location: Hyderabad