Sandipan Mukherjee: Constantly Striving To Provide High-Quality Digital Marketing Services At Affordable Price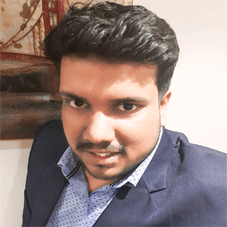 The value of digital marketing for businesses comes from its ability to choose a marketing strategy that suits their budget and reaches a larger audience at a lower cost. Having a product sold specifically for a small company was a difficult challenge even a decade ago. They had no choice but to rely on small-scale approaches with a slim chance of success.
CEO Insights interviewed Sandipan Mukherjee (Founder & CEO) of DigitalTab, wherein he explained his motto behind the establishment of the company and his journey over the years.
What inspired you to establish DigitalTab? Please share with us the inspirational story behind the establishment of your company?
When I first started learning about digital marketing tools and working with digital marketing firms, I walked into some challenges and gaps. When a company provides digital marketing services, I believe they must concentrate on the goals, analyze the process, and explain why they are providing these services to their clients. Every digital marketing professional will see such loopholes in the market, and as a result, they will create services to fill those gaps. In the same way, I foresaw a set of gaps in this digital marketing sector and in 2020 I launched DigitalTab.
Another important reason for forming this business is that digital marketing is a crowded field, and choosing a right company that provides high-quality digital marketing services is difficult. There are renowned companies that can offer quality but are very expensive and out of reach for most businesses, and there are medium-sized digital marketing service providers that may require clients to compromise on some aspects and will be of average quality. At DigitalTab, we provide quality digital marketing services at reasonable rates, which make my clients happy, and the majority of them have been with us since the inception.
What different roles have you been under-taking at DigitalTab and how do you keep your team motivated to complete an assignment?
I pay close attention to some of the elements because I come from a technical background and have handled technical aspects at DigitalTab such as SEO, Email Marketing, and Website Development. Second, I enjoy talking to my customers and learning about their businesses because if I do not know what our customers expect from our services, I will not be able to effectively meet their needs. I act as a liaison between the technical operations and the demands of the customers.
When it comes to motivating the team, I believe in operating in a friendly environment, and I am very open to all of my employees, so they can address any personal or professional challenges they might be having to me. Maintaining employee motivation is critical because a committed team that is enthusiastic about their jobs and positions can produce excellent results for the organization.
When a company provides digital marketing services, I believe they must concentrate on the goals, analyze the process, and explain why they are providing these services to their clients
What was the most comprehensive marketing strategy you created and executed? Tell me about a successful digital marketing campaign you've led and your management style.
My strategies are typically very simple because, as I previously said, I work closely with my clients and sit with them to analyze, understand, and comprehend what sort of digital marketing services they expect from DigitalTab. After learning about the client's needs, I will set their priorities as my goals to achieve, conduct extensive market research, and try to under-stand what my clients' competitors are up to.
Furthermore, some of the businesses may not be well-known brands in their respective industries, but to keep up with market trends, they will establish a digital presence. For such companies, my role is primarily to build a brand, even if it is not a national or
international brand; we even create brands at the regional level.

In your professional journey so far, which are the milestones that bestowed you with utmost satisfaction - both as an individual and as a marketing leader?
Most engineering candidates dream of getting a big job, but my dreams were completely different, and I embarked on an entrepreneurial journey that has provided me with the greatest satisfaction. The first mile-stone in my entrepreneurial journey that has given me the most satisfaction is when we founded DigitalTab with no financial backing, we come from different backgrounds and had no strong connections, but we somehow managed to turn the business around and make it profitable.

Second, even though I am a young Founder and CEO, I can pay my employees' salaries monthly without fail, and third, despite coming to digital marketing from a variety of educational back-grounds, you might say it was a career switch for us, we continue to provide high-quality digital marketing services to our clients. I am thankful to my Teachers such as Sangita ma'am, Sandip Sir and Deepak Kana-karaju Sir and also my Partners Sanjib and Abhishikta who are equally responsible for this success.

What are the most important attributes of successful marketing leaders today and what are some of the successful mantras that can you recommend on leadership?
Stick to your passion, don't be afraid to take calculative risk, believe me, at the end of the day it will give you a great satisfaction. The digital marketing leaders must also know everything there is to know about the industry, have a detailed understanding of it, and in the later stages, they must continuously engage with their customers to determine whether or not they are pleased with their services. Finally, the marketing professional must be innovative and think outside the box, rather than just following conventional digital marketing trends; he/she must believe in their imaginative marketing tactics and be able to put them into action.

Sandipan Mukherjee, Founder & CEO, DigitalTab
Sandipan Mukherjee has completed his Bachelors of Engineering in Computer Science from Nagarjuna College of Engineering and Technology (NCET), Bangalore. In 2020, he began his entrepreneurial journey by launching DigitalTab, and before that Sandipan has worked in companies like Hinduja Global Solutions and Btechnical.