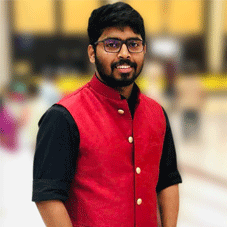 As India prepared to take centre stage on a constantly evolving global digital landscape, the pressing need was empowering brands to build a more robust, dynamic digital persona. Compelled by the rising demand for digitized marketing which could further fuel the growth of Indian industries, Sharath Chandra laid the foundation of 3DM which has emerged as a premium tech-driven digital marketing agency. Often referred to as one of the principal architects of the digital marketing industry in Hyderabad, Sharath Chandra has led 3DM to a new horizon by working with the finest of brands and enabling over 150+ businesses in over five and a half years.
Engaging in a focused interaction with CEO Insights, Sharath Chandra Pabbisetty talks of how his work in delivering results that defy norms and industry beliefs, has led him to be referred to as a "Game Changer" in the digital marketing domain.
What inspired you to establish 3DM Agency?
3DM Agency is the brainchild of Navneeth Gowrishetty and me. Apart from being childhood friends, we always had the zeal to achieve more. Our careers commenced with him working as a software developer in an IT company understanding consumer touch points & development lifecycle and me gaining experience in devising digital strategies for accounts from North America, Canada and the Australian e-commerce markets. At this juncture, we could observe a consistent shift in the Indian market trends, where the acceptance and evolution of Digital Media came with a huge skill gap that needed to be filled to catapult brands into the digital space.
We established 3DM Agency as a team of self-motivated and passion-driven individuals with the unique advantage of being able to bring both business and consumer perspectives to the table.
What were the initial challenges that you faced during your leadership journey and how did you manage to achieve success in the later phase?
When we began operations, the industry was still unorganized due to the lack of awareness and
acceptance amongst people, clients and, businesses. Not everyone who approached us knew what they wanted or what was a realistic expectation of an investment in digital marketing for their business. We helped brands understand their requirement and partnered to set an expectation for them in terms of what can be achieved, what can be expected and the direction this would give to the business.
We are a lean team; smart and aggressive. So, finding the right resources and talent has been challenging as well. So our hiring process is stringent and we focus on building leadership skills and teamwork in our employees. We have weekly mentoring sessions, where they're exposed to new ideas, methodologies, and marketing strategies. We believe strongly in building value within the organization helps in nurturing talent and encouraging out-of-the-box thinking.
Helping us stand out in the market; our forte is a data-driven approach to marketing and strategy that is devised from analyzing real-time behavioral patterns and a deep dive into business and industry trends.
How is 3DM Agency creating a disruption in the market with its unique solutions?
While our portfolio stands to be one of our major and significant assets, our experience of working with big brands and large infrastructures has added value to our areas of expertise invarious ways.
What makes us stand out in the market is our strategy devised from analyzing the data from real-time behavioral patterns.
Our target audience comprises funded start-ups, MSMEs and MNCs. We cover various verticals, including Entertainment, Real Estate, Food & Beverage, Retail Sector, Information Technology, Education, and Fitness & Lifestyle.
Starting from Digital Marketing and Communication Strategy, we assist our clients with Branding, Web Design, Graphic Design, Campaigns, Website Development, E-Commerce, Social Media Marketing, Search Engine Optimization, Search Engine Marketing, Content Marketing, Email Marketing, Media Planning & Buying, Influencer Marketing, Lead Nurturing, Online Reputation Management, and more.
What different roles have you been undertaking at 3DM Agency and how do you keep your team
motivated to successfully complete an assignment?
I understand all the nuances of this business. Digital Strategy & Execution is what I began my career with and have worked across all aspects to develop a holistic understanding of the industry and business.

Starting from implementing creative ideas to writing a copy, running an ad, and setting up a code for Google Analytics tracking; I've done it all. This has also been an advantage for me, as it helped help me set the right expectations from my team and the clients.

As a young team, who is hungry to learn and grow; we are motivated by challenges. We also foster a culture of learning and experimentation. We always look at every opportunity in terms of learning and adding to our growth, not just in terms of success and failure. We do not frown at mistakes but always focus on moving forward by analyzing faster, learning from them, and then getting to the right solution faster. Since marketing is all about probability, it includes doing a lot of experimentation and then arriving at the right solution or the right formula, which can work for different brands.

In your professional journey so far, which are the milestones that bestowed you with utmost satisfaction - both as an individual and as a marketing leader?
One thing that makes us proud is when we attract great talent in-house. When smart individuals choose to work with us and consider our organization to the next step in their career, it gives us immense pleasure. I believe we're setting the right culture in India and that's the reason why people recognize and choose to work with us. We have some of the most influential brands working with us including L&T Metro Rail Hyderabad, Phoenix, GMR group, Rajiv Gandhi International Airport, CII, Entrepreneurs Organization - South Asia, Bajaj Electronics and many more. All these are milestones for us as they not only boost our confidence but also help us in setting the right direction for our company.

Sharath Chandra Pabbisetty, Co-Founder & CEO, 3DM Agency
A Firm Believer in the Power of Great ideas, Sharath Chandra is experienced in planning and implementing end to end digital marketing strategies for several blue-chip clients across Search, Display, YouTube, Mobile, Social Media, Online PR & Programs. Catering to different industries such as Real Estate, Retail, Healthcare, Travel & B2B across the globe including India, US, UK, Australia, Colombia, Mexico and more, Sharath Chandra has delivered exceptional results through his brainchild 3DM Agency.