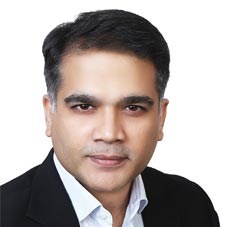 The Indian market is witnessing an unprecedented response to the 'Make in India' initiative from domestic as well as global organizations. HNI Corporation is one such organization that has been part of our country's manufacturing success story from the very beginning of its journey in India.
HNI Corporation is known for its unparalleled array of workplace products and services. Simplifying complex workplace needs into pragmatic, functional furnishing solutions has been the real distinction between HNI and its contemporaries. To know more about HNI, we had an exclusive interaction Karan Sachdev, Managing Director HNI India.
Tell us about HNI India what makes it leading workplace furnishing manufacturer of the country
HNI Corporation is one of the largest workplace furnishings manufacturers in the world and a leading seating solution provider. Founded in 1944 in Muscatine, Iowa (USA), HNI is a NYSE listed company that has servicing capabilities in over 50 countries. With over 350,000 sq. ft. dedicated to a state-of-the-art manufacturing plant in Nagpur, HNI exceeds the manufacturing footprint of all global furniture providers in India combined.
We focus on localizing international product solutions in India to deliver value to our clients by maximizing availability of the best globally designed solutions that meet international quality standards, while minimizing lead times and cost. One of our key strengths lies in our ability to listen to and understand our customer's unique workplace requirements, leverage our wide range of solutions, and customize efficiently to meet their needs. We have show rooms across all major metros and a strong dealer network, giving us a pan-India reach to flawlessly execute projects of any size and scale – for multinational organizations to local entrepreneurs.
How has your journey been so far with HNI India and what challenges did you encounter?
I have had a wonderful journey during my last 13+ years with HNI. I joined HNI in the Leadership Development Program at the headquarters in Muscatine, Iowa (USA)right after completing my MBA from Washington University in St. Louis, in 2007.A couple of years into this program I moved to HNI International which is responsible for all the business outside of North America. It was during this time that I started working on the India strategy. I moved to India in 2011 to be on the ground to evaluate the right entry strategy for HNI. We evaluated various options - greenfield opportunity, import distribution model, and acquisition model.
We finally decided to go the acquisition route as we realized that it would give us a head start and a platform that we can work and develop for long term. And the first big challenge came when I had to work on the integration of the two cultures. A few months into the acquisition, it was clear that to build a strong performance culture we needed the right people. The first couple of years were all about putting the right people, structure, and processes in place.
The second challenge we faced was lack of investments in new products and showrooms. There had been no investments done on the product front in the prior years, and clients were literally demanding more and better solutions from us. We moved quickly to upgrade our solution set and introduced many new products in a short time to catch up with the latest trends and market needs.
Thirdly, we closed many non-core verticals like institutional furniture, shop fitting, and even Government/PSU segment to focus
only on private clients. This meant that our revenues decreased drastically – so we had to right-size our organization to support these changes.
In 2014, I was appointed the head of sales and marketing with the aim to accelerate selling efforts by developing the right growth strategy and building a strong brand. Much of my time in the first year was spent on building the right team. The first couple of years were indeed very challenging. Most of my team was new; we had a new brand to build and were competing with an established set of furniture providers. That said, we were confident that we had the right strategy, clear value proposition and infrastructure to support the front-end team. I was fortunate to lead a team of passionate individuals who wanted to win in the market. And the fact that we have almost tripled our sales in the last 5 years is a testament to our relentless efforts and focused strategy.
HNI Corporation is a leading provider of workplace furnishings and residential building products. Ourrecognized family of global brands, namely Allsteel, HBF, HON, Gunlocke, HNI Lamex and HNI India are among the strongest, most widely known and respected in the industry
HNI Corporation is a family of leading brands providing products and services for the office and home. Kindly throw some light on your products and services.
HNI Corporation is a leading provider of workplace furnishings and residential building products. Our recognized family of global brands, namely Allsteel, HBF, HON, Gunlocke, HNI Lamex and HNI India are among the strongest, most widely known and respected in the industry. The capability of our manufacturing and the strength of our distribution enables us to provide the best workplace furnishings solutions to meet the needs of every customer.
We design solutions for all spaces in an office, which include workstations, seating solutions, collaborative furniture, and wide range of private offices and conference room solutions.
Each brand in our portfolio brings along a unique character to our offering including different styles, stories, and solutions. Allsteel for example is a workplace research driven brand, that specializes in providing modular office furniture solutions. Gunlocke on the other hand, with its unparalleled human craftmanship, has a history so rich it has even furnished the Oval Office and had eight US Presidents seated in the iconic Washington Chair. HBF is a brand that works with luminaries of the industry, making wood veneer and lounge products that are timeless, yet contemporary in design. HNI Lamex and HNI India are contract-driven leader brands in Asia known for customized office solutions.
Tell us about your manufacturing facilities along with their infrastructure and technologies/tools that you deploy.
At the core of our business strategy, we believe we are 'In India for India'. We are the only global office furniture manufacturer to have invested in the 'Make in India' policy from our very beginning. Our expansive Nagpur manufacturing facility has been operational for almost three decades now. This strategically located manufacturing facility uniquely positions us to serve our clients on projects of any size and scale.
HNI has made significant investments in the plant in the last few years to make sure we follow the same standards and processes that are followed in all other HNI plants around the world. Our plant houses leading-edge machineries that make manufacturing less manual and error-free. Most recently, we have added a nano technology-based finishing system that uses spray-to-waste technology. This is a first of its kind powder coating unit in our industry.
Almost all our major raw materials are sourced and manufactured in India.

Not just the infrastructure, but also the management techniques/tools that we employ are the best in our industry. HNI Corporation has been a pioneer in lean manufacturing. One of the tools we use across all HNI brands is Rapid Continuous Improvement (RCI). RCI uses a set of lean tools built on four principles: creating value, always starting with the customer, engaging our employees, and viewing problems as opportunities.

Another tool we consistently use across HNI is Complete and On-Time (COT). With the help of COT, we assess our production and delivery performance. All HNI's manufacturing facilities, including our facility in Nagpur, operate at 99.9% COT which means we help our clients eliminate any costs associated with project delays.

What kind of innovation/R&D is currently happening at HNI India?
The last few years have seen a secular shift in the composition of a floor plate in a typical office. Until a few years ago, open office or the workstations area was over 50% and collaborative areas were hardly5%. Now that has changed, and we see active collaborative zones going up to almost 10-15%. Therefore, our focus is also on introducing the right solutions for these changing needs and applications. Some areas we are currently working on are how do we make breakout areas more productive and functional, and not just sitting or relaxing zones. Secondly is designing for the integration of technology in furniture. As employees are given more options to work remotely, it will be even more important to provide the right tools to increase productivity. Third, we are working closely with our counterparts in the US who are putting in a lot of research into understanding the emerging trends post-COVID, its implications, and our response.

What is the future roadmap you have set for HNI India?
In the next three years, my vision is to make HNI India the most-trusted market leader amongst all its peers, be it Indian or International players. I believe trust is the foundation for everything. Trust in terms of providing the right solutions at the right price points, trust in terms of delivery and flawless execution, and trust in terms providing the best overall customer experience. Not that any of the above is missing now, but a successful brand must consistently do it right all the time. To provide a great customer experience, we are investing heavily in digital technology. We are leading with virtual reality to show our customers product solutions and host them through showroom tours. Our new e-portal has provided a platform for our customers to seamlessly shop for our products online, meeting the increasing demand of working from home.

As a market leader, we are continually on a journey to strengthen our thought leadership. HNI has a unique Workplace Advisory Team who immerse themselves in research, share trends, and help our global customers navigate through continual change. We have been actively holding various knowledge sessions within the industry in India to share our research and its impact with various stakeholders.

With substantial investments in a world-class manufacturing facility, experience centers across all metro areas, globally-designed products and flawless project execution capabilities, HNI India is strongly positioned to continue on its path to being one of the best Made In India brands.

Karan Sachdev - Managing Director HNI India
Karan Sachdev, Managing Director, HNI India Karan Sachdev joined HNI in their Leadership Development Program at the headquarters in Muscatine, Iowa (USA) after completing his MBA from Washington University in St. Louis, Olin Business School, in 2007. Following this, he moved to HNI International, which is responsible for all business outside of North America, and started working on the India strategy. Karan Sachdev moved to India in 2011 to be on the ground with HNI India and evaluate the right entry strategy. He works closely with leadership teams in the US and India to establish long-range strategies and growth plans.