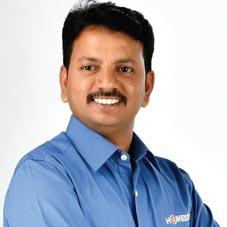 Homes247.in is a Proptech Portal that provides homebuyers verified and handpicked property options to choose from. It is also one of the few premium full-stack property portals in the country which gives out Round the Clock assistance from Search to Settle. Beyond streamlining the home buying experience, the services portfolio of Homes247.in also includes aiding in procuring Home Loans, Interior Designing as well as Tenant and Property Management. The portal enables hassle-free personalized and handheld services throughout the Housing Experience.
Hailing from a humble background, Priyatham Kumar is now leading a disruptive real estate marketplace. He has worked in diverse industries like Banking, Insurance, Real Estate etc.
Starting off, he faced complex challenges, and had to overcome every one of them. As Homes247. in is a fully bootstrapped and self-sustaining company, it had the initial funding challenges. With demonetization, the RERA Dilemma, and the GST complications coming in, buyers were confused which seriously hindered their decision to invest in real estate.
Nevertheless, Priyatham has leveled the obstacles and built the strength
inward to withstand any market jolts. In fact, amid the COVID- 19 pandemic, he still stands strong because of its dedication to its customers and ambition to succeed. "Our aspirations are our driving force", says Priyatham Kumar.
He adds, "I read about a survey regarding the start-up's success rate in India. Most of them fail within the first year, some of them move onto the secondary phase where they survive and a very few who thrive and become a brand in their own right. I believe we've reached the third phase amidst our limitations being bootstrapped, and it shows our resolve to reach for the stars!"
As a prime real estate aggregator, homes247 aspires to lead in the global real estate market, and as such, a key aspect of their services involves serving NRI clients
Bringing Forth an Innovative Real Estate Portal
Technology has taken over nearly all the industries. Most of the work has gone from manual to digital. It becomes essential for Indian real estate firms to adapt themselves to digitization and digital marketing.
Homes247.in – is a unique Real Estate Portal equipped with many Proptech innovations which provides home buying services. With a balanced, mixed approach of both online and offline, Homes247 do not just provide real estate websites but offers guidance to the customers throughout the entire home buying journey. Saving the customers from the confusing red tape and fraudulent practices in the process. This is especially true in case of the first-time home buyers.
Homes247.in engages the buyers with sellers across the country connecting them on a holistic realty network platform. The platform offers value added services such as Home loan assistance, Interior consultation, Property Rental management services, Reselling among many others.
In recent times, to counter the challenges posed by COVID-19, Homes247.in built a first of its kind online home buying experience called "BOOK A HOME FROM HOME". Apart from being a fully digitally integrated service, it also includes a dedicated fleet of relationship managers led by an
offline system called "Homes on Wheels".

From selecting the property to verifying them rather than getting hooked onto enlisting more irrelevant data – house hunting could prove to be a tiring journey. Homes247 offers handpicked verified properties that adds to the transparency and ultimately builds trust.

Aiming for Deeper Penetration into the Real Estate Sector
As a prime real estate aggregator, Homes247.in aspires to lead in the global real estate market, and as such, a key aspect of their services involves serving NRI clients. The company offers End-to-end assistance to the NRI clients relieving them of the bottlenecks that stand in the way of profitable property investments. Embracing technology at every end, they already have built an inhouse CRM system and a well-defined real estate digital marketing model.

"homes247.in engages the buyers with sellers across the country connecting them on a holistic realty network platform"

At present, Priyatham Kumar and his team are working on an innovative approach to building a unique prediction model, based on data science called "RED-AR". It is an attempt to diversify within the Real Estate from Digital Marketing to Data Analytics. The vision is to expand to all major cities in the country and at the same time diversify the services to provide a wholesome experience covering everything related to homes.

Awards & Recognitions
Over the course of the last few years, since inception, Homes247.in have received numerous awards and recognitions – some of the prominent one's are enlisted below:
• CommonFloor Real Estate Excellence Award - Real Estate Website of the year 2018-2019
• Quikr Homes - Emerging Realty Marketing Portal of the Year 2018-2019
• Frontier Valued Contributor Award 2018
• Purvankara Group- Outstanding Performer of the Year 2019
• Assetz - Highest Leads Generator 2019
• Ajmera Realty- Highest Leads Generator - 2019
• Sobha Ltd- 5 Year Excellence Award- 2020
• International Brand Equity –
• IBE 5th India Property Awards 2020-Real Estate Portal of the Year 2020 (South India)
• Shririam Properties- Extraordinary Performance During Lock Down-2020