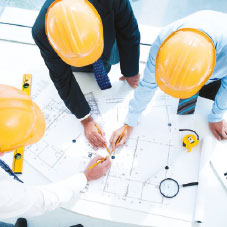 Power is one of the most critical components that makes an infrastructure project come to fruition; however, it is also one of the most complex. Therefore ensuring technical expertise and indepth industry experience becomes a key element that companies focus on while enlisting the helping hand of a pertinent electrical consultant. Living up to the expectation of industry giants from varying sectors such as PSUs, commercial, residential and IT among others is Hyderabad Consulting Engineers (HCE).
A premier name in the electrical consultancy world, HCE is the brainchild of M K Ramesh, Founder & Chief Consultant, who brought his vision to provide electrical and power engineering design and detail engineering services to life in 1997. Drawing from his 27 years of experience of working with Central Electricity Authority (A Govt. of India, New Delhi), Development Consultants (earlier KULIJAN Corp.,US) and TATA Consulting Engineers (Hyderabad), Ramesh has fostered HCE to become force to be reckoned with. In a conversation with CEO Insights, Ramesh explains the vast expertise that HCE possesses and the various factors that have helped the company stand the test of time.
What has been the underlying objective of HCE over the years and which industry verticals does the firm specialize in?
From the word go, our objective has been to render reliable and cost effective electrical engineering solutions/systems to all our clients. Over the years, we have amassed expertise in providing electrical consultancy services for electrical substations(from 11KV to 220KV) and power plants. Witha team of thorough professionals on board, HCE lends support to industries such as textile, food processing, pharmaceuticals, biotech plants, oil refineries and steel plants. We have also worked on several projects in the multi storied commercial complex, independent duplex township layouts with residential towers, IT companies, auditoriums, educational institution and hospital space.
Given the criticality and complexity
of electrical consulting, how does the HCE team approach projects in order to ensure safe and high quality delivery?
Our team boasts of possessing professional experience inthe areas of HT/LT electrical system design for power plants, fertilizer plants, polyester plant, textile plant, cement, food, electronic industries related to all power equipment's of 220/132/33/11KV switch yard, transformers, PCC, MCC, control panels and cables. Adept at helming project co-ordination for mobilizing the equipment to site, testing and commissioning of the total projects, HCE understands the complex nature of the projects that we undertake. Hence our team spends ample time to first understand specific project requirements.
From the word go, our objective has been to render reliable and cost effective electrical engineering solutions/ systems to all our clients
Oursenior management provides personalized attention to our clients to address all electrical safety issues early in the electrical design in order to arrive at the most effective solution to their problems. All the resulting electrical designs and calculations are carried out in accordance to the Indian and International codes of practice as per the project requirements.
What are the various consultancy and service capabilities that the HEC team possesses?
Our team of experts help clients with conceptualizing electrical system design & detailed engineering, making electrical feasibility studies & project reports, preparation of layouts & single line diagrams and electrical equipment sizing/ rating calculations. Our consultancy capabilities also include preparation of technical specification, bid evaluation, assistance in procurement and tendering. We aid clients with budgetary costing of the plant with all necessary drawings/ documentation related to electrical as per financial institutions and statutory requirements of NEC/TAC/IEEE/CEIG/CBIP. Our team thoroughly supervises electrical installations, testing and commissioning and works on planning & scheduling for external & internal electrification works.
Additionally, HEC's service portfolio includes system design and design criteria covering the power requirement, power supply, power distribution, plant earthling, and lightning protection for buildings.
We specialize in preparing detailed drawings for plant illumination and calculating fault levels & coordination of relay. We render complete technical support for submitting application to the state electricity board for power supply system/requirement and for procuring the equipment.

Our wide gamut of service also includes 360 degree support for preparation of tender documents giving the specifications, general conditions of contract, special conditions of contract and inviting bidders for finalizing the erection contractor. We review and scrutinize the GA drawings, power & control schematics & design details for the equipment and to check conformity with technical specifications. Additionally, the team also reviews and scrutinizes the layout and electrical engineering drawings for the submission to electrical inspectorate for substations.

The way it takes a village to raise a child, an organization also requires the nurturing support from various people in order to thrive. Tell us about the senior management at HEC.
The other two pillars of HEC are Syed Sirajuddin, Senior VP and M. Krishna Ravikanth, Associate Director.

Krishna has been championing client support for HEC and comes with more than five years of relevant industry experience. He enables one point coordination and possess the ability to strategize effectively to accomplish multiple tasks. Owing to his superlative interpersonal, analytical, interpretative & presentation skills and an unwavering commitment to build productive relationships, Krishna ensures client loyalty.

Complimenting Krishna's strength is Syed's vast industry experience that strengthens HEC's work expertise. Having spent 15 years working in the sphere of design, detail engineering and project engineering, Syed is a bonafied expert at working on residential, commercial, industries, IT company, hospitals and hotel complexes projects.

M K Ramesh, Founder & Chief Consultant
A true blue industry veteran, Ramesh has spent over 27 years in the electrical consultancy industry. Having previously worked with giants such as Central Electricity Authority, Development Consultants Pvt. Ltd and TATA Consulting Engineers, Ramesh brought the same level of professionalism and technical expertise to be HEC's badge of honor in the industry.

Offerings: Design, Detail Engineering and Consultancy Services
Offices: Secunderabad