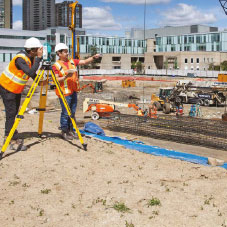 By 2022, India is projected to become the thirdlargest construction market globally, while it holds a requirement of investment in infrastructure worth Rs.50 trillion in order to promote sustainable development. In this fast paced and highly valued construction sector, companies ought to focus deeply on planning, control and implementation of the primordial parameters namely size, complexity, quality, productivity, completion, time and cost for all their projects. It is here the civil engineering consultancy firms stand as the saviours and linchpins for these companies, helping them achieve the best of these parameters in tune with their project's mission.
Thanks to IDAX CONSULTING & RESEARCH GROUP, a Civil Engineering Consultancy firm that has been adhering to an uniform approach of maintaining uncompromising quality, commitment to client satisfaction and personal attention to relationships with every stakeholder, since its inception in 2010. Poised in Bhubaneswar, IDAX is an ISO 9001: 2008 certified company with a dedicated Quality Control Laboratory, catering to prestigious clients such as L&T, Bait Logitech, Lanco, SaintGobain, Jindal Steel & Power, Nissin, ABB, Ratna Constructions, and many others.
The foundation of IDAX was laid by Deepak Kumar Mallick, a first generation entrepreneur with extensive exerience across consulting as well as construction of mega infrastructure projects. Deepak has explained in detail about IDAX and its core competencies, exclusively with CEO Insights. Here are the excerpts!
Walk us through your educational and professional background prior
to establishing IDAX.
I'm a gold medalist in Mathematics and a civil engineer from IIT, Kharagpur, holding profound experiences in Detail Engineering, Project Report, Feasibility Report, Tendering, Construction, Turnkey Projects, Contracting, Project Management, Quality Control and many other streams. Before establishing IDAX, I was a part of TATA Consulting Engineers, IL& FS Water, Sidharth Construction & Trading, Bait Logitech, and other companies. Moreover, working for mega infrastructure projects such as Bangalore Water Supply and Sewerage Project Stage-IV, Phase-II (BWSSP-II), and Urban Water Supply and Environmental Improvement Project, Madhya Pradesh (UWSEIP-MP), greatly add to my expertise.
We handhold our clients throughout the entire span of their project right from inception to installation of IDAX engineering equipment
With exemplary leadership, passion, hard work and discipline, I managed to mould IDAX from a small proprietor firm to a big corporate firm today that is truly committed to deliver phenomenal and cost effective services to clients.
Brief us about the excellence of IDAX in civil engineering consultancy.
We are a team of aficionados with deep rooted commitment to provide outstanding services to our clients. Basically, IDAX is a leading, multidisciplinary consulting firm offering a wide basket of services under the areas of civil, mechanical, electrical & environmental engineering. With civil engineering consultancy as our forte, we handhold our clients throughout the entire span of their project right from inception to installation of IDAX engineering equipment. Our scope of services under this bracket includes preproject activities, design engineering, procurement assistance, project management & coordination, inspection & expediting, construction supervision and commissioning support. This way, we undertake variegated roles like lender's engineer, owner's consultant, subconsultant to PMC, detailed engineering consultant,
project management consultant and many others to present our clients with nothing less than the best.

On the other hand, we are also a team of senior experienced personnel who are well versed and experienced in supervising and managing all types of clients' projects. Our project management consultancy services are primarily delivered across power & energy, housing complexes, IT parks, hospitals, apartments, buildings, hotels, highways, railways, bridges and other segments.

How do you ensure to seamlessly maintain uncompromising quality across all your offerings?
Firstly, we own an ultra modern Quality Control Laboratory, which is well equipped with highly advanced equipment, computers and software, to execute various projects across civil, mechanical, electrical and environmental sectors. Being an equal opportunity organization, all our team members work as a team diligently to accomplish each job right, while maintaining a long term perspective and integrity. This is our mantra to success! Besides team work, we emphasize on sustaining the best coordination between our team members and clients.

Some of our quality objectives entail consistently delivering quality products by adhering to the set specifications and also contractual,regulatory & statutory requirements. We also leave no stone unturned to achieve enhanced customer satisfaction through cost effective services and timely completion, besides motivating and training our staff for continual improvement of quality standards.

Noteworthy Projects:
•Testing of Soil Sample for AIIMS Project , Sijua, Bhubaneswar for Larsen & Toubro Limited (L& T ECC Division)
•500 Acres Total Station Survey (providing contour) near client's (Thriveni Earth Movers Ltd.) site near Nayagarh in Keonjhar for Shriram Fertilizers
•Testing of soil, aggregate, stone, murrom, sand & others for Cuttack Angul Road Project for M/s.Arpita Constructions
•23km Total Station Survey (Providing LS, CS & Volume)for SH-43 project from Govindpali to Malkanagiri for Sai Krishna Enterprises