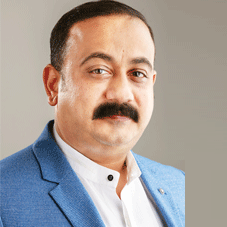 When Late Palloyil Janardhanan Nair (popularly known as Pee Jay, who was one of the first batches of pilots of the then Bharath Airways) moved back to India post a stint in Kuwait in the mid 80's to help people of his native to scale up their business activities in the field of agriculture and trading by the unique system of loans, the dream to turn the company into a client alliance was quite clear. He formed Indel Money and transformed it from serving couple of customers to today having 152 branches with an AUM of almost Rs.280 crore.
Today the company is an integrated financial services group and a well-known name offering gold loan (front line business) along with MSME loans including Traders Loan, Business Loan, Loan against Property, and Money Transfer facilities. Talking to CEO Insights, Umesh Mohanan, Executive Director & CEO, Indel Money, shares in detail about the company, its offerings, and the future plans.
Q. Tell us about the ethos of the company and also brief how uniquely is Indel Money positioned in the market.
A. Ours is a business connected with many aspects like emotions, dreams, gold, credit and money. We take utmost care while taking gold from the customers as it has a sentimental value attached to it. Our founder Late Pee Jay founded the company on the ethos of helping farmers earn from by having access to easy loans. The entire thought processes to enable our customers to pursue their ambitious growth strategies have been enabling us to stick on our commitments. Hence Indel Money has been an integrated financial service group offering a wide range of financial services to a significant clientele including HNI, business institutions, retail investors and the common man through our lending and financial solutions.
All our activities are based on certain values evolved from Indian ethos. Even the name 'Indel' is coined from Indian 'Elements. We as an organization are committed to the betterment of the society and are working on becoming a preferred employer. We practice certain values, which include surpassing excellence, and building trust & transparency, while considering the customer our king and service our queen. To inculcate these defined values in each
Indalians and to serve our customers on the same we have designed our Performance Management System based on Balance Score Card in alignment with the values and that enables us to extend unique financial solutions and to execute value creating transactions.
Our state-of-the-art core banking system ensures fast and flaw less process for the disbursement of loans, while our Indel E Connect helps make fast and secure online payments
Q. Kindly throw some light on your professional background. Also tell us how those experiences are enabling you to turn the company towards success.
A. I am an investment professional and have headed a multi billion dollar Middle East conglomerate at its executive level, spear heading its global operations for 12 years till 2016. I have also been engaged in diversified investment portfolios such as petroleum trading, trading of minerals, bullion and other commodities across geographies of the GCC and Far East.
At Indel Money, it is the responsibility of the Key Management team to identify the growth opportunities for the government and to nurture them to fulfilment. Alongside us, the multination accounting and managing consulting firm KPMG constitutes the CEO's strategic back office by means of extending their full time on site support on strategic moves and concurrent process audits of Indel Money.
Q.Tell us more about your offerings and the differentiation you bring to the table.
A. Gold is a highly liquid asset hence we have created a bunch of Gold Loan combinations, which the customers can avail based on their requirement and capacity. Each Gold Loan scheme is highly customizable and designed to suit every requirement of our clients. Additionally, we maintain an empathetic approach to what we extend towards our customers.
Our state-of-the-art core banking system ensures fast and flawless process for the disbursement of loans while our Indel E Connect helps make fast and secure online payments. We further ensure that our values are cemented by constantly introducing such innovative initiatives.
We are also spreading our wings to more places so as to leverage maximum business from the existing chunk of Gold Loans and
hence coming up with more competitive products and schemes. We are confident that these steps will enable Indel Money to easily acquire new customers.

We are also spreading our wings to more places so as to leverage maximum business from the existing chunk of Gold Loans and hence coming up with more competitive products and schemes. We are confident that these steps will enable Indel Money to easily acquire new customers.

Q. Your company is truly an innovative organization with focus on client centricity. Are there any innovations in pipeline to disrupt the industry further?
A. Yes, innovation is our culture. Hence we come up with innovative and customized products every quarter based on several aspects like Economy, Gold Prices, International Business Trends & Analysis and Customer Needs. We are flexible enough to make changes within the stipulated guidelines in the existing products. Infusing more customer friendly technologies to treat customers as King, is also in the pipeline. We shall be coming up with remote loan on-boarding software and digital apps in order to facilitate smooth interaction and transactions and allowing us to take the Gold Loan process to the door steps of the end users.

Q. What is the future blueprint of Indel Money?
A. Our journey started very humbly and today we are marching to set up 200 branches this financial year. We started with the rural market and currently stand with a strong presence in every district, rural and urban markets spread over Kerala, Tamil Nadu and Karnataka. We will soon expand to Andhra Pradesh Telangana and Maharashtra.

Our immediate plan is to cross overall portfolio to Rs.500 crore before the end of this fiscal year and to become a systematically important NBFC. We are also working on developing specialized Agriculture & Educational Loan and many other innovative products, which are unique in the Gold Loan industry.

Key Management:
Umesh Mohanan, Executive Director & CEO
An industry stalwart, Umesh holds over around two decades of extensive experience in the investment sector. An MBA Finance from American University, MBA in Financial Engineering from LSE and a CPA from the State of Delaware, US, he is the linchpin creating strategies and products/ services for the customers to cement the bond further.

Office: Mumbai & Kochi
Offerings: Gold Loans, Traders Loan, Business Loan, LAP (Loan against Property) and MoneyTransfer facilities amongst others