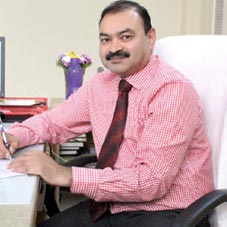 Better medical care is a reflection of a country's status. It is the need of the hour that we settle to nothing less than extreme quality in the case of healthcare services. But there is always a suspicion that high quality comes with high price! One company that breaks this myth and delivers a perfect blend of quality and affordability in the healthcare industry is Indivirtus – a leading Clinical Research Organisation that endeavours to deliverer cost-effective solutions, help healthcare professionals and industry to maximize their efficiencies in core competencies. This organization is the epitome of trust, consistency, high standards, and importantly PREMIUM QUALITY. Under the aegis of Dr. Upendra K. Jain, the company is deriving the route to offer the best for its customers at an impeccably economical price. It is leveraging the power of technology and futuristic methodologies to create a wave of revolution that will only facilitate the pharmaceutical manufacturers to produce high quality medicines for elevating the quality of life of humankind. The market leader believes that quality of care is the key component for the right medical services.
The Brain Behind Indivirtus
Indivirtus is the brainchild of the industry maven Dr.Upendra, who has served American Remedies Ltd., Tata Pharma Ltd., Merind Ltd., Wockhard Ltd., and Emcure Pharmaceuticals Ltd., for 15 years.
The expert professional pursued his M. Pharm in 1991 from Dr. H. S. Gaur University. He also earned Ph. D. in 2012. In the course of his professional journey, he worked as a professor at Technocrats Institute of Technology, Bhopal, Principal and Director at NRI Institute of Pharmaceutical Sciences, Bhopal and Chandigarh College of Pharmacy, Chandigarh. After serving pharma companies for 15 years and in the Educational sector for 12 years, he started Indivirtus
Healthcare Services Pvt. Ltd., a CRO, in Chandigarh. As the CEO, he is responsible for the overall performance and growth of the organization i.e., policy-making and implementation, recruitment, business development, delivery outcomes, finances, etc. The professional multitasking experience and staff management helps him to perform each task to near perfection.
World-Class Offerings
The company provides a wide spectrum of solutions to accelerate new insights and enhance the knowledge of the social, cultural, and biological factors that affect the population's health. It strives to facilitate better well-being by helping Pharmaceutical companies to improve the quality of existing products on one hand and introduce new medicines on the other hand.
In just two years of operations, indivirtus has served more than 70 domestic and 10 international pharmaceutical companies
The services and solutions offered by the company are towards the goal of advancement in clinical-stage processes and Bio-equivalence studies. Indivirtus offers many unique services that are rarely available with other CROs such as Pharmacovigilance, Calculation of Health-Based Exposure Limits (PDE/ADE, and OEL calculations), Genotox Evaluation, Health Hazard Evaluation, Clinical Trials, Formulation Development, etc. Its portfolio includes clinical research, consulting, medical communications, and technology for the medical devices, pharmaceuticals, and biotechnology sectors.
Stating about the worldclass services of the company Upendra the Founder & CEO says, "We at Indivirtus, have the state-of-the-art facilities and fully secured migration framework for Pharmacovigilance, Clinical trials, Toxicological Assessment, GxP and Regulatory Services and Bioavailability studies, Bioequivalence studies, thereby ensuring total client satisfaction. We have a highly experienced and dedicated team for complete documentation using high-end
hardware and software to provide speedy solutions."

While emphasizing the challenges incurred and strategies adopted to mitigate them he exclaims, "Having certified toxicologists with experience of preparing the PDE reports was a challenge. By using various social media platforms and my rapport with industrial colleagues Indivirtus quickly found out the right toxicologist. Today, Indivirtus is the only CRO in the country to have 6 toxicologists who are certified by the American Board of Toxicology."

League Of Its Own
Founded in 2018, Indivirtus is centric on helping healthcare stakeholders find the best solutions for their regulatory requirements to speed up the drug approval process. As a leading supplier of tech-driven clinical research, the company has a global footprint serving more than 80 domestic and international companies in a short span of two years. It has acquired the client base from India, USA, Europe, Middle East, and other South Asian countries for various services.

"In the first financial year 2018-19, the turnover was only 20 L. However, in 2019-20, turnover multiplied ten folds to 2.06 Crs. In the first two-quarters of current FY, Indivirtus has already achieved 2.04 Crs and it is aiming for 6.0 Crs by the end of the year," he concludes.

Dr Upendra K. Jain, Founder & CEO
Industry thought leader and expert who is striving to make healthcare services affordable with uncompromised quality.

Veena Kanwar, Founder & MD
Having more than 20 years of administrative experience, Veena is aiming to help humankind by helping the Pharmaceutical companies to produce better quality products.

Dr Rajendra K Jalali, Chief Scientific And Technical Advisor
Distinguished, eminent, an authority himself in the field of Pharmacovigilance, medical writing & Clinical Research, Dr.Rajendra K Jalalijoined Indivirtus as Chief Scientific and Technical Advisor. He has held various key position in the industry in last 35+ years and his last assignment was Global Head Pharmacovigilance and Head Medical Affairs & Clinical Research, Sun Pharma. Under his leadership, clinical trial operations are going to touch new heights in near future.