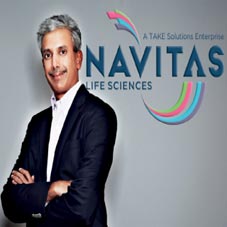 According to Grand View Research, the Indian clinical trials market is expected to grow at a compound annual growth rate of 8.7 percent from 2017 to 2025 to reach USD 3,125.16 million by 2025. The major driving factor in the growth of the clinical trials market can be attributed to the adoption of new technology in clinical research and rise in R&D to promote outsourcing.
Furthermore, digitalization has enabled streamlining of several trial processes such as data capture, regulatory compliance, logistics and supply chain management, among others. Riding this digitalization wave, Navitas Life Sciences, a TAKE Solutions Enterprise, based out of Chennai provides high quality, end-to-end, Clinical, Regulatory, and Safety services and solutions. Their offerings are backed by deep domain experience and unique technology expertise. They also have supported seven COVID-19 clinical trials that promise to bring effective therapies to market in humanity's time of need.
CEO Insights magazine is overwhelmed to converse with Srinivasan HR, Managing Director of Navitas Life Sciences, a TAKE Solutions Enterprise, who, before the conversation states, "Time and again, we have impressed our clients by our ability to deliver on time, enabling them to meet stringent deadlines and get to market quickly. This is because we augment our clinical capabilities with technology enablers to enable seamless execution and quick results."
What are the various challenges/pain points clients come to you with? How do you help them through these challenges? What are the major services you offer? Also, briefly explain your flagship offering. Name some of your clients, along with a case study/client testimonial that depicts the efficiency of your services?
We offer our clients the perfect blend of clinical capabilities and technology expertise to run virtual trials in these unprecedented times. We are a full-service, technology-driven Clinical Research Organization with global operations. We specialize in clinical trials,
regulatory affairs and pharmacovigilance; supporting innovator and generics biopharma companies to bring their products to market quickly and effectively.

Our clients are looking for a partner who supports them by increasing operational efficiencies and reducing cost, while ensuring high quality, regulatory compliant, outputs. Our clients range from top global pharma majors, to biotech organizations, to smaller companies with just one or two products in the market. We are proud to work with US federal government institutions like the Federal Drug Administration (FDA), the National Institutes of Health (NIH) and the Centre for Disease Control (CDC), to name a few.

Our proprietary OneClinical® Analytics platform provides near real-time data insight, enabling our clients to take proactive informed decisions through their clinical trials. Thus, we have enabled savings of up to 50 percent of the time in mapping complex clinical studies with a 50 percent reduction in trial monitoring costs for a client who went on to present a joint case study with us at an industry event in Europe.

In this highly intact & advanced clinical research field, what's the kind of impact that your company creates in the clinical research industry? Where are you positioned in the research market? Due to increasing competition, every organization wants to project itself uniquely in the industry as well as in front of the clients. Elucidate your unique selling points that segregate you from your competitors and help you to attract more customers?
Navitas Life Sciences is a leader in Life Sciences. For decades, we have hosted unique proprietary Life Sciences industry network forums where industry professionals meet on a common platform to benchmark performance, discuss trends, gain insights, and define the future of the industry. Today, we host 10 such forums across the spectrum of clinical research, regulatory affairs and pharmacovigilance. With over 120 member companies, our network forums are vibrant communities which foster innovation and accelerate growth. The insights derived from our networks feed into our services and enable us to develop industry specific IPs that keep us at the leading edge of the industry.

Over the past few years, technology has grown by leaps & bounds and the industry across the verticals are adapting it in a large way. Kindly throw some light on various technologies (existing/upcoming) & facilities leveraged by your company whilst offering various clinical trials services.
We have always believed in investing in the right technology, and our constant endeavor to strengthen our technical capabilities has helped us maintain business continuity during the pandemic. We are proud to have conducted multiple COVID-19 clinical trials as well as non-COVID clinical trials by leveraging our technology IPs. We hold eight Life Sciences focused IPs that are developed specifically to meet the unique needs of the industry. OneClinical® Analytics, our artificial intelligence-driven platform, enables virtual clinical trials to run efficiently. Our unique IPs developed for regulatory affairs and pharmacovigilance enable organizations to be compliant with the latest regulatory requirements. Our other IPs, traceREADY®, idmpREADY®, labelREADY™, rimREADY™, safetyREADY® and affiliateREADY™ each address a unique need of the industry, bringing in efficiency and reducing cost.

Tell us about your company's recent revenue growth, and the future roadmap?
Navitas Life Sciences is a TAKE Solutions enterprise, a 1500+ strong organization with 14 offices spread across 6 countries. Since 2000, TAKE has grown in the life sciences space through organic growth as well as acquisitions. In the last financial year, TAKE acquired US-based, full-service CRO company KAI Research, and DataCeutics, an American clinical data sciences services company, adding to our growing Life Sciences capabilities.

During the last financial year, TAKE Solutions reported revenues of INR 2,213 Cr, an 8.53 percent growth over the previous year, bringing our CAGR for the last three years to a healthy 18.09 percent. Revenue from Life Sciences has grown at 21.95 percent CAGR as compared to the overall growth in revenue of 18.09 percent CAGR.

Srinivasan HR, Vice Chairman & Managing Director, TAKE Solutions
Date of Establishment: 2000
Number of Employees & Office Locations: TAKE has 1500+ employees in 6 countries across 4 continents
Credentials:
550+ Clinical Trials | 1100+ BA/BE Studies | 20+ Therapeutic Areas
170000+ Regulatory submission | 300+ PV/Safety Consulting Engagements
10 unique, proprietary industry networks | 120+ network members

Awards & Recognition:
TAKE Solutions, has received multiple awards and recognitions for domain expertise, corporate governance and CSR activities. Most recently, they were recognized as a major contender in Everest's Group's Life Sciences Group's Life Sciences Clinical Trials Peak matrix assessment. Read more at www.takesolutions.com