Samahitha Research Solutions: A Quality Cro Augmenting The Clinical Research Via Technological Integration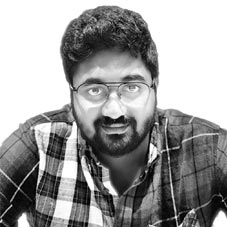 Projected towards comprehensive delivery, today Samahitha brings to table a full service CRO which includes Medical Writing, Regulatory affairs, Pre-Clinical Services, Clinical Operations, Clinical Supply Management, Clinical Data Management, Biostatistics & Analytics, and Pharmacovigilance. The organization is back-boned by a pool of skilled clinical professionals comprising a medical writer, expert regulatory affairs, project director, project manager CLINOPS, CRAs, data manager & biostatistian (all specialized in CRDM). Their dedication, expertise and compassion combined with the guidance of Sri Vatsa GS (MD) forge a tangible difference to the world of clinical research & solutions. With the objective of exploring more about the organization's vision and propositions, CEO Insights indulges in a conversation with Sri Vatsa.
Tell us about Samahitha as a CRO, mentioning its variable features that make it one-of-a-kind amidst its peers. Also, how has the journey from ideation to mass adoption been?
Likely, as the company's name 'Samahitha' means, 'to do good for all', the brainchild of Sri Vatsa GS (MD), Samahitha Research Solutions, entrenched in 2018 is pillared on the concept of collaborative approach, and thereby strives for the upliftment of each and every one associated with it, including healthcare and society. Here, we provide functional or end-
to-end clinical trial services to various Pharma, Ayurveda, FMCG, Biologicals and Medical device companies, carrying out the clinical trials for their products. We also render the site management services by associating with certain CROs and sponsors for the provision of clinical trial sites. Our another category of services includes education and training for certain university clients. Putting in our cent percent in each project, we strive for the quality deliverables.

Samahitha is an ISO & MSME certified company, and will soon be receiving TUV Certification also which would probably be imparting our brand a global recognition. Alongside, we are in collaboration with the Omega laboratories at Lonand & Satara which is an ISO certified laboratory. Here, we even deal with veterinary research and animal trials. With this we would be the pioneering organisation in Veterinary research under the guidance of Dr. Dayaram Suryavanshi. Alike, every other organization the journey has likewise been challenging for us in case of finding clinical trial sites, great patient pool, recruiting an enthusiastic PI and most importantly enlightening people (amidst healthcare and medical sectors) about the importance of clinical trials. However, its all thanks to the media and a lot of clinical research-oriented programs coming up, that is making people exposed to the space of clinical trials. Having been able to come up stronger facing all such challenges, we have witnessed a significant double-digit growth recently and are rooting for future.

You have had an impressive beginning of your career in the clinical research arena. Mentioning about it, tell us about your takeaway from the past work experiences?
Being a B.Sc CBZ graduate (Sri Siddaganga Degree College, Tumkur), I was always fascinated by the concepts like various ways of cultivating plants & plant tissue culture, applied biotechnology, R&D, animal cell culture, bioinformatics and a lot of biotechnological techniques. I even worked in several minor R&D projects, dengue vaccine research, some plant taxonomical research, and more during my studenthood. However, after completion of my degree, I took a break and did my internship at Indo American Hybrid Seeds. That was completely an area of my interest back then, however not long after I developed an interest in clinical research and CDM concepts. It was then I pursued Masters in Clinical Research and as a part of course completion stepped into the corporate world for onsite clinical research internship and became a CRC. After working for about an year as a CRC and gaining a lot of experience & exposure to the field, I gradually saw myself progressing as a Project Incharge, then Project Manager quite quickly. That was the turning point of my career and since then implementing the concept of learn-erase-relearn, today I am here as the MD of Samahitha Research Solutions.
According to the reports, the domestic pharmaceutical market is expected become worth $55 billion market by 2020. In your opinion, how has your company been gaining traction and what benefits are you leveraging to the clinical research industry?
Indeed, it's a great opportunity! However, I believe that it's our work and the approach that defines a company. And, at Samahitha holding a broader sense of expertise in the field we are primarily working towards contributing to society by providing high quality biopharmaceutical and clinical services in the framework of good clinical practices. Emphasizing on collaborative approach as the path to success, we have designed various symbiotic models and are implementing it across the country. We even have several end-to-end projects in pipeline, including a PEEP device for ARDS & COVID patients, and a herbal formulation for the treatment for COVID. Apart from that, we have few non invasive device studies for COVID and few studies for various other indications too in pipeline. We are also making our mark in the field of education & training with several MoUs in the universities for value added courses.

Pioneering the CRO industry Samahitha aspires to become the topmost Bio-pharma service provider globally. Hence, what is your take on innovation and what are some projects that your division is working on currently?
Digitalisation is evolving in the clinical research. A lot of automations and incorporation of AI, Machine language, Big Data and what not, have already cuffed the industry. Conclusively, we have also incorporated patient-centric systems, but, with the COVID-19 pandemic situation in place, the regular monitoring visits, patient screening and enrollment have all got disrupted in the healthcare segment. Henceforth, our AI-based health RADARS is a unique initiative at the time which helps for constantly monitoring our trial participants. We are also working on an AI powered database to ease the PI and site feasibility, patient recruitment and to build a strong network across the Clinical trial industry and the medical professionals. We have incorporated highly compliant EDC platforms and eTMF management systems. Maintaining the digitally transformed copies of all documentations, we save it all in our cloud based system.

Sri Vatsa GS, MD
An M.Sc in Clinical research, Sri Vatsa is a proactive and result-oriented professional who understands the nitpicks of clinical research industry and is responsibly leveraging his accumen to revolutionize the CRO arena in healthcare.
Office: Bangalore
Branch:
1) Clinical Research Department, Mallareddy Health city, Hyderabad
2) Lonand, Satara