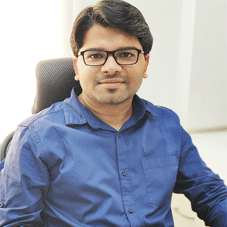 While most of the digital banking service providers in the past few years uprooted their physical presence to go completely digital, they often forgot the fact that Indian consumer market in the metro cities is just the tip of the iceberg. Meanwhile, InstantPay, a neo-bank, concreted their physical footprint with more than 1,00,000 banking touchpoints or Digi Kendras and simultaneously built a robust digital financial services infrastructure that today is quite appreciable in bridging the gap which traditional banks have not been able to since the inception of banking in India.
Spearheaded by a team of fintech enthusiasts, the company offers effortless banking services, value-added services and other useful modules all integrated on a single platform to businesses and individuals alike. Through end-to-end core banking integrations with the banks, InstantPay enables businesses to open a bank account or connect their existing bank accounts with its platform and have a birds-eye view of their collections, payments, and expenses. These analytics enable any small, medium or large business to have complete clarity on all aspects impacting their business. CEO Insights interviews Shailendra, the Young Turk who built the company from scratch.
What makesyour deliverables unique?
Our offerings can be segregated as Personal Banking, Business Banking, Inclusive Banking and API Banking. In terms of Personal Banking, we provide our customers with a digital bank account within a minute, enabling them to send, spend and save money. This is linked with a RuPay card for ubiquitous access across e-Commerce and physical stores. Apart from this, an individual customer has access to all the products and services provided available on our platform from utility payments to applying for loan and insurance.
Business Banking implicates a smart all-in-one business bank account for MSMEs and large enterprises. MSMEs are often neglected by the core banking structure pertaining to the low transactional value. We have tied up with multiple banks across India to provide Current Accounts to these businesses. Moreover, unlike the banks, the account opened with us will be zero-balance current account. Alongside, the added benefits include expense, cash and vendor management, while also enabling them to track the complete transactions (payments & collections). End of the day, organizations are enabled to credit the salaries of their employees with a single click to bank accounts or prepaid cards. For large enterprises with a huge customer base, we offer tailor-made banking solutions in the form of API Banking to deeply integrate their ERP systems with InstantPay's open banking platform.
If we talk about our transactional infrastructure, we at InstantPay comply with the same set of strict security standards as traditional banks in India follow
Under Inclusive Banking, we are acting as a Corporate Business Correspondent of various banks and enabling Financial Inclusion by delivering mainstream banking services to Indian consumers. We have more than 1,00,000 banking touchpoints across India which we call the InstantPay Digi Kendra. Our consumers can avail various services from these touchpoints, including anything from remitting money to with drawing cash, utility payments to travel bookings and even basic BFSI services like applying for small loans or getting an insurance policy. In addition to every thing, our Personal & Business banking customers can avail these touch-points for assisted banking services.
The security threats are looming over different transactional infrastructures systems. How do you take care of this aspect?
If we talk about our transactional infrastructure, we at InstantPay comply with the same set of strict security standards as traditional banks in India follow. For customers
each and every transaction is secured by two-factor authentication and all the data stays encrypted. In other words, talking from a security standpoint, the customer's account with InstantPay is as secure as an account with a traditional bank.

What are the opportunities that you foresee and what's your future road map?
Our long term vision is to become a Small Finance Bank and we are working towards achieving that goal. Having joined hands with the major wedge of the BFSI stake holders to avail our customers with comprehensive services, we are currently integrating with more and more banks. Through our touchpoints, right now we are creating a combined physical digital interface. Going forward our vision is to convert these 1,00,000 touchpoints into full-fledged bank branches.

Key Management:
Shailendra Agarwal, CEO
Shailendra has over a decade long experience in fintech working on large transactional systems having processed billions of transactions. He incepted InstantPay in 2013 and had appreciably developed the company over the past seven years.

Amol Sonbarse, Business & Strategy
Amol has over two-decade-long experience in payments and fintech. He plays an instrumental role in driving business growth and the overall strategy at InstantPay.

Ajay Upadhyay, Operations & Risk
Ajay also has over two-decade-long experience in payments and fintech. At InstantPay, he oversees the A-to-Z of operations and risk practice.

Offices:Delhi(Headquarter)& Mumbai

Offerings:
Personal Banking
●Send & Receive Money
●Cash Withdrawals
●Utility Payments
●Insurance
●Value-Added Services

Business Banking
●Banking Accounts
●Payments & Collections
●Expense & Cash Management
●Integrated CRM

Inclusive Banking
●Money Transfers
●Cash Withdrawals
●Citizen Services

API Banking
●Payouts
●Collections