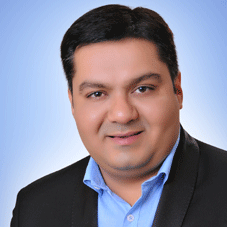 Post the demonetization in November 2016, the mobile wallet in India got a new lease of life. On the other hand, the internet revolution that the launch of Jio introduced in the country added fire to the wings, giving access to people to cheap but quality internet services even in the rural areas. This is why Statistica predicts that India's mobile wallet market is projected to reach Rs.1.5 trillion by 2022. Spearheading from the front and making its mark in this growing market is the Desiborn MasterPay, a product of Champion Software Technologies Limited (a Rajkot based ISO 9001:2015 certified one-stoptech and IT solution provider).
The company is one of the fastest growing online recharge B2B portals that provides bucket of services in a single wallet. CEO Insights interacts with Jigna Patel, CFO & Director, Champion Software Technologies Ltd., to know more about the company and its offerings.
From a humble beginning to serving customers through thousands of distributors and retailers, how has been the Company's journey so far?
We are Champions! And champions keep playing until they get it right, and it is with this spirit that we work. Hence, 'MasterPay' is a journey of the team of Champions that started in 2014 with the vision of 'Transforming transaction processing to empower every Indian'. Hence, MasterPay empowers urban and rural Indians to avail various services through a mobile wallet. Needless to say, MasterPay has won the trust of over 7000+ distributors and more than 175,000 retailers. We have also emerged as one of the largest IT Networking companies in India in such a short span of time.
What are the various B2B payment services that you offer? How are these services above the rest available in the market?
MasterPay provides multi-recharge for mobile and DTH recharge solutions, DMR solutions, Indo-Nepal Money Remittance, AEPS, Utility bill payments solutions, hotel bookings, flight & bus bookings, B2B
Wholesale Bazaar and a lot more all through a single wallet. In fact, it offers a variety of services through multirecharge distributorship from its all-in-one recharge app. This helps our distributors and retailers earn handsome margins by using these services, while providing the services/products to their walk-in customers.
MasterPay has put in place a specialized in-house team of software developers & security experts who ensure that the application is regularly updated with new features and take care of troubleshooting bugs and other cyberattacks
These offerings are further backed-up with a dedicated 24x7 customer care service for their customers who are mostly mobile shop retailers and other small retail outlets.
Security is the crux of survival in the payment industry. How do you look at it and making your platform more secure?
To ensure customer satisfaction and excellence in service, MasterPay has put in place a specialized inhouse team of software developers and security experts who not only ensure that the application is regularly updated with new features, security programs, and security patches, but also take care of troubleshooting bugs and other cyberattacks. Additionally, we also have an abstract testing team to conduct regular tests for keeping their retailer distributor safe from any kind of attack. To support customers, PayPal India marketing portal is made available on each and every region.
What opportunities do you foresee in the B2B payment space in India, and what are your strategies to leverage the same?

The potential is immense. Looking at the endless opportunity that the sector provides, we are adding various products /services in our MasterPay Wallet to give the small merchants an additional source of income with best user experience.
Innovation is the elixir to survive in this volatile market. Any innovation that we can see from MasterPay?
True! Hence, we are coming-up with
innovations and upgradations to simplify he digital transaction processing for our clients through the best products at great pricing, along with outstanding customer service that a user can ask for.

Crafting such innovative product needs a team of aficionados. Could you throw some light on the team and its expertise?
Headed by me and Nirmal Savjibhai Patel (Managing Director), our organization is a combination of experts from various industries. While our marketing/sales people have over 20 years of experience in the Telecom industry, our tech team is a blend of experienced and young people who bring-in innovation and best user experience. Further, our finance people hold over 15 years of relevant industry experience. We also have a complete inhouse team and department of well-trained people in our customer support section.

To summarize,we have a'Team of Champions!' We do not call them employees or staff members, rather we work as a team and call each one of us as Champions, as we see a Champion in everyone.

What blueprint have you created for the organization?
With a very focused vision and under the able guidance of Nirmal, Karan Vaid (President - Operations) and me, MasterPay has emerged as the leading brand in the industry and is all set for its next mission to become the biggest platform in India for B2B e-Commerce where the retailers can buy and sell their products over the application.

Key Management:
Jigna Patel, CFO & Director
Thorough topper in academics, Jigna is an IIM Calcutta alumnus in Finance and Fintech. She brings innate administrative ability to run the organization smoothly.

Nirmal Savjibhai Patel, Managing Director
A self-starter and highly motivated serial entrepreneur since his college days, Nirmal has done the engineering and MBA in marketing. He has worked across categories such as food industry FMCG and e-Commerce.

Offices:Headquartered in Gujarat, with branch offices at Mumbai, Delhi, Punjab and Jaipur.

Offerings: Multi recharge for mobile and DTH recharge solutions, DMR solutions, Indo-Nepal Money Remittance, AEPS, Utility bill payments solutions, hotel bookings, flight & bus bookings, B2B Wholesale Bazaar and more