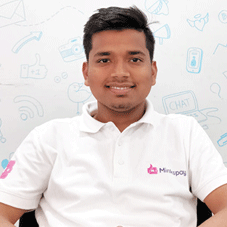 Very soon, you can pay through Unified Payments Interface(UPI) anywhere in the world, as it has already entered the mainstream! In fact the number of transactions via realtime payment systems like UPI has greatly surpassed the number of debit/credit card transactions over the past few years. But in the B2B ecosystem, the wave of UPI payments hasn't hit that hard. Most of the B2B players today find it hard to pay the huge Merchant Discount Rates (MDR) levied for payments via debit/credit cards and net banking. Hand holding these B2B players is Minkspay,a one-stop-shop that is transforming small retail stores into digital outlets by enabling seamless payments between the retailers and their distributors through UPI as a platform. The company has been enabling retailers right from local kirana stores, stationeries, pharmacies to any offline store to deploy its UPI payment platform and thus turn completely cashless.
Sanket Shendure,Co-Founder& CEO, Minkspay, further speaks volumes about his company along with its fortes with CEO Insights.
How has your company's journey been since its inception?
Minkspay was established in 2017 by me and my cousin, Sanmati Shendure (Co-Founder & MD). Hailing from a joint family that dealt with distribution of FMCG products across 500+ stores in North Goa for almost three decades, we wanted to address the pain points faced by companies in the B2B ecosystem. That's why Minkspay was born! We started-off as a mobile/DTH recharge & utility bills payment platform for retail stores and today proudly offer top-notch user experiences to small scale retailers in India, thereby enhancing the financial inclusion of Bharat as a category with India.
So far we have been engaged with a lot of payment banks to solve
Aadhar banking, cash deposit and money transfer problems in rural areas of India by integrating their products with our platform. This way, we have moulded them into mini banking outlets! The journey has been phenomenal from on boarding 20 merchants in 2017 to over 8000 merchants today from more than six states.
We leverage diverse encryption technologies to secure every single transaction, thereby building a bigger trust factor among the B2B players
some light on your company's idio syncrasies.
Since day-1, Minkspay has outclassed as a Bharat focused Fintech company that is greatly inspired by the vast FMCG distribution networks in India. We are solving end-to-end problems in an FMCG distribution pipeline by synergizing our payment platform with their products. We intend to achieve this by increasing our partnerships with the FMCG distributors rather than just standing-out amidst the competition. Today, we offer products for IMPS, NEFT, AEPS and other services in just a plug & play format to retailers. Most importantly we are striving to digitize all B2B payment systems with UPI as a plug & play platform.
What are the various methodologies that you deploy while building your products? Also, how do you secure each transaction?
Since mobile phones are capable of solving multiple problems today, we adhere to a mobile-friendly approach while building our products. All our products are built over RESTful API platform, which can be easily integrated with any kind of product that retailers use.
Security is at the kernel in our every endeavour. We leverage diverse encryption technologies to secure every single transaction, thereby building a bigger trust factor among the B2B players.
Tell us about your team of experts at Minkspay.
We are currently an 18-member team, where in the management
board includes me handling marketing & distribution activities and Rohit Pratap Singh (Director-Operations) who takes care of end-to-end operations. Besides we have a six member tech team while the rest handle operationsand marketing activities. All of us ensure to stay abreast of the trends and advancements in the B2B payment space through training sessions once in every quarter or six months. We also indulge in an internal meeting every month to make sure that the products we develop are advanced and in tune with the emerging retail stores in the market.

Are you coming-up with any innovations across your portfolio?
Our main aim has always been to help the swarm of FMCG distributors in India with regards to collection and reconciliation of payments through our UPI platform. This way, we aspire to stand-out amidst other payment gateway companies by unveiling innovative solutions for diverse problems that the distributors are posed with.

We are coming-up with a unique, pocket sized Micro ATM device that can let people in rural areas to just walk into a retail store, swipe their card and withdraw cash. Thus, we are not just minimizing the cash crunch in rural areas but also incentivizing the retailer for every transaction made through the device. On the other hand, we are building partnerships with FMCG distribution companies in India to create an invoicing platform that can be easily integrated with their products so that the retailer can pay by just tapping the UPI link. Further, being recognized among the Top-5 Financial Inclusion Companies in India 2019 by Reliance Jio, we believe that the digitization of offline retail stores will occur at incredibly faster rates in the coming years.

KEY MANAGEMENT:
Sanket Shendure, Co-Founder & CEO
With a rich background in product development & technology Sanket currently spearheads Minkspay as its Business Head along with Product Development Strategic Alliances, and Fundraising.

Location: Goa

Offerings: UPI Payment Acceptance, Domestic Money Remittance, BBPS, Mobile Recharge, Aadhar ATM or AEPS, QR Payment Acceptance Services, Micro ATM & Card Payment Acceptance