Montimers is a paradise itself in the delivery of Architectural services and commitment that comes with quality assurance and creativity. The company has executed more than 1000 projects across verticals like Residential, Industrial, Apartments, Offices, Schools, Colleges, Churches, Hospitals, Medical colleges, and Interiors, which includes GE Thermometrics & KVG Medical College. The Bangalore-based company owns another office in Kochi and handles projects at Pan India Level.

The Bangalore office is headed by Ar. Jacob Chacko and Ar. Shimu Jacob and the Kochi Office is led by Ar. Nikhila Jacob and Ar. Rohit Ninan. The leaders are not just experts in what they do but also good humans who held hands together for giving back to society. Although they are busy with professional work, they find time to visit many hospitals every day to buy medicines and blood for the underprivileged. They are working on many institutional projects. Most of them are projects for mentally challenged, orphans, HIV affected, blinds, cancer patients, destitute, geriatric, and palliative care patients.

These projects enlightened them to serve the underprivileged and they got involved in many NGO activities. "This, has transformed our lives to understand that we are only stewards of our time, talents, and treasures. God has given us many occasions to serve him through the NGO - Dream India network," says Jacob Chacko, Owner & Chief Architect. Appreciating Montimer's successful journey and the leader's sense of commitment towards being socially responsible, CEO Insights engages an exclusive interview with Jacob Chacko.

What different roles does Montimers undertake in delivering a happy home to the clients?
We try to make a difference in the lives of all those who are involved in our projects. We make sure that we give the best to our clients. We focus on guiding the clients to build cost-effective sustainable projects. Our consultants, our office staff, contractors, vendors, and workers
enjoy working on the project not only for their benefit but also for other's benefit. Also, we support the poor workers who are worksites to grow in their lives.
Tell us about the journey so far and what are the challenges that you encountered.
The initial challenges were to get good projects from clients. It took us around five years to build up our firm. The next challenge was to short list honest and efficient contractors and vendors.
What are your thoughts on the Interior design industry in India and how you're moulding your company concerning the same?
The interiors design industry is growing at a frantic pace in India, since many clients understand the need of employing Architects and Designers. We are adapting to the trends and making huge difference in the aesthetics, utilization of the space, and efficient use of materials.
Team Montimers listens to the needs and wishes of our clients rather than emphasizing the ideas they have learned in design school
What are the various processes by which you manage your projects efficiently?
First of all, we get the requirements of the clients and design according to their needs. We finalize the design, detailed drawings, and specifications before handing it over to the contractors. We try to select very honest contractors and vendors so the project is executed with world-class standards and delivered on time. All that we want is client satisfaction in terms of quality of the project and timeline.
What are your strategies to add for the next year's role as the Businessperson as things are changing dramatically?
The best strategy is to change the
design concept with the market trend, use everything efficiently and take everyone involved to a better comfort zone.
In your professional journey so far, which are the milestones that bestowed your utmost satisfaction - both as an individual and as a Business Person?
The best experience is the projects for the underprivileged and connecting the affluent community to them. All our clients are happy about our coordination with contractors, and vendors.
Are you engaged in any sort of mentorship programs outside your organization?
We mentor interns and students. We teach values and ethics through our lifestyle. We strictly request all vendors and consultants to keep up with all great standards and ethics.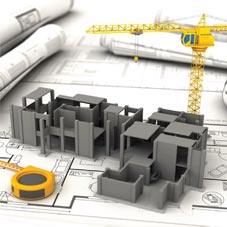 Family plays an important role in every professional's life. How has been the support & inspiration from your family in your journey so far? Also, how do you manage to balance between your personal & professional life?
My family especially and my wife Shimu Jacob support me a lot both at home and work. Some amazing people support me in the projects and our NGO activities. Our challenge always is to use our times, talents, and treasures for the benefit of others rather than self-centered life. However, it is tough to give time to the underprivileged with our busy schedule in our work.
Jacob Chacko, Owner & Chief Architect
Hobbies:
Reading
Interests:
Serving NGO, foster homes, destitute homes, shelter homes - for the marginalized.