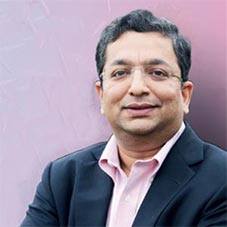 Transition to clean energy is not just another option but has become a necessity for long-term strategies, keeping in mind the energy security of our country and the environment at large. Renewable energy sources are inexhaustible, harmless to environment as well as human health and are becoming increasingly more affordable. Being more labour intensive vis-à-vis conventional energy sources, there new able energy industry also enhances employment opportunities and curbs economic losses, since they provide better price stability and hardly require any transportation. Realizing this, India targets to ramp up its renewable energy capacity to 40 percent by 2030.
Being the fourth largest greenhouse emitter currently, India is estimated to account for 25 percent of the world electricity demand by 2040, which is projected to increase by 70 percent. Hence, the country is keen on encouraging investment in clean energy solutions in an attempt to improve energy productivity and provide energy for all of its citizens. In fact, the United Nations Agenda 2030, urges the world to expand their infrastructure and upgrade technology to accommodate clean and more efficient energy. Tremendously contributing to these sustainable energy development goals by continuously evolving and expanding its solar power capacity at a phenomenal rate is Jakson.
Comprehensive Services Pan India
Recognized as a market leader in the diesel genset industry in India for decades, the Jakson group has metamorphosed into an Energy Solutions Company providing expertise in the fields of Distributed Energy, Solar Power, EPC and Defence Solutions. It is the company's extensive presence throughout India (three manufacturing facilities, three Independent Solar Power Plants, a global training centre, over 40 sales offices and a wide network of channel partners and dealers) that makes it one of the top Distributed Energy & Solar Power Companies in India. Whereas, its impressive Solar EPC projects portfolio of 1 GW cements Jakson's position as one of India's leading solar players.
Determined to keep its products and services a cut above the rest, the company offers end-to-end solutions right from manufacturing of diesel generating sets, solar modules, solar products, defence power packs to EPC solutions, solar rooftop solutions, Storage and hybrid solutions, O&M services, substation solutions as well as T&D solutions. "We have carved out an integrated business model which offers products and energy solutions right from fossil to renewables backed up by contracting capability. This business model has entry barriers as we have built organisation capability and credentials over several years," remarks Sameer Gupta, Chairman & Managing Director, Jakson Group. The solar products business deals with innovative solar products like mobile solar generators, solar water purifiers, solar inverters, batteries, off-grid and on-grid kits and so forth. These products are of superior quality, manufactured with zero defect and sold through a wide dealer network present countrywide.
A Pioneer In The Truest Sense
Established in 1947, Jakson is a 75 years old name in the industry, which has earned the trust of its loyal customer base. "Our customers trust us for our commitment towards them, which is backed up by our strong after sales network. We partner with our customers to bring down their energy costs, which differentiates us from our competitors," avows Sameer. Not one to rest on its laurels, Jakson upgrades the features and specifications of its products frequently which makes them world-class. A pioneer in the truest sense, the company has launched many products and services ahead of time to have the first mover advantage.
For instance, when the central pollution board came up with a policy to reduce noise pollution, Jakson was the biggest beneficiary as it already had gained an advantage in acoustic technology. It was the first diesel genset manufacturer to invest in state-of-the-art computerised numerical control machines. Such initiatives helped Jakson maintain high-quality at par with international products at
low overheads. These gensets also met the requirements of customers who needed their gensets to be within the limits of 75-A weighted decibels and equipped with reduced carbon emissions. Its diversification and success into allied businesses in the energy sector like Solar and Electrical EPC in the past decade serves as yet another example of its pioneer ship.
Jakson has further strengthened its brand reputation as a trailblazer by executing several prestigious and trendsetting projects in both land-based and rooftop categories. A few of its notable achievements include India's Solar Train Project for Indian Railways, The Solar Port Project for Vishakhapatnam Port Trust, The Solar Powered Highway at Delhi-Meerut Expressway in Delhi and India's first Canal Top Project in Uttar Pradesh.
Committed to create a better future through clean and more efficient energy, jakson is in the process of developing innovative products to be manufactured in-house. Its battery-based energy storage systems will be real-time and dynamic systems
Being one of India's leading Solar Independent Power Producer (IPP), Jakson's Solar IPP business unit focuses on setting up land-based solar power plants which sell power to State & Central utilities under long-term Power Purchase Agreements. As a part of its distributed energy business, the company has powered major airports, stadiums, airbases and ISRO. It continues to make forays into Energy Storage Solutions through the use of efficient and innovative technology. A proud member of the Society of Indian Defence Manufacturers, Jakson's Defence Solutions Business Unit provides customized products and solutions that meet the stringent quality requirements of the Armed Forces.
Customer Is God
Complying with all government regulations, Jakson has ensured that its Solar PV Modules are tested & Certified as per IEC & BIS latest applicable standards and manufacturing plants are ISO and OHSAS certified. Vesting keen emphasis on its employees' Health and safety, the company regularly organizes HSE (Health, Safety & Environment) programmes across its plants and EPC sites. "Our in-house design and engineering teams have over the years established our reputation as an innovative organization. Our innovative culture has given rise to high-quality services & solutions that are durable and sustainable," declares Sameer.
Headquartered in Noida, the company employs over 6000 people, has business interests in countries like Bangladesh, Nepal, Singapore, Dubai, middle east and the African Sub Continent and has alliances with the Hospitality, Education & Infrastructure Sectors. "The core leadership purpose is to keep learning, investing in people and collaborate so as to build long enduring relationships on principals of trust and transparency," proclaims Sameer.
Customer centricity being its core value, Jakson leaves no stone unturned to exceed customer expectations. Its service quality levels and standards are uniform for all across its customer base. "Customers can depend on us on 24 X 7 basis and the key benefit from us is that we are always in solution mode – we sincerely believe that the customer is God and we exist because of our customers," asserts Sameer. Customers can connect with Jakson through its website, customer care helpline, sales and support teams directly for their requirements.
New Mountains To Climb
Committed to create a better future through clean and more efficient energy, Jakson is in the process of developing innovative products to be manufactured in-house. Its battery-based energy storage systems will be real-time and dynamic systems exclusively designed for C&I customers for a wide range of applications like frequency response, reserve capacity, load management, peak management and supporting 'self-consumption' of rooftop solar power. It is also topped up with additional features such as a hybrid system equipped to take smart decisions for optimal and efficient power utilization.
Jakson understands that fossil fuels over long term would be abate and a solution needs to be developed to find a suitable alternative which will
essentially be operated from using clean fuel. Hence, it is working on adopting hydrogen-based fuel cells and providing a solution that will be eco-friendly helping the reduction of carbon emissions. Jakson is also enhancing its existing plant's capacity by investing in new and advanced machinery which will be capable of producing solar modules having power output capacity of at least 500Wp, thereby providing better efficiency and thus reducing LCOE (Levelized Cost of Energy).

Thanks to this innovative spirit, this 2500 crore rupees company is poised to double its revenues by 2022. Apart from India, Bangladesh and Nepal, the company is exploring Middle East and African markets and has already been awarded with contracts in these regions. It also intends to expand its international presence geographically, particularly in Asian and African countries. Having reinvented itself as a Distributed Energy, Solar Modules and EPC Solution company, Jakson targets to reach a module manufacturing capacity of 1 GW (which is currently is at 70 MW) by the end of the financial year 2020-2021.

The company has charted out a roadmap to launch storage solutions like ESS and Hybrids by October 2020 and distribute them in Indian and International markets within a year of their launch. Plans are afoot to take its IPP portfolio (currently at 300 MW) to up to 1 GW by 2022. Jakson would also backward integrate and foray into the manufacturing of solar cells as well as storage solutions. Taking such long strides, Jakson seems all set to create a cleaner, brighter and better earth for the future generations.

"being one of India's leading solar independent power producer (IPP), jakson's solar IPP business unit focuses on setting up land-based solar power plants which sell power to state & central utilities under long-term power purchase agreements"

Sameer Gupta, Chairman & Managing Director
During his successful ride of three decades as an entrepreneur, sameer has spearheaded the transformation of jakson from a small generator manufacturing company to an eminent power solutions company. Recognized as a visionary leader in the industry, sameer has served as the chairman of confederation of Indian industry (2019- 20) and continues to be the chairman of Indian green building council. Sameer is a member of the cii national committee and is involved in many committees at the cii national and regional levels. He is also a member of the up investment promotion board and world economic forum. A harvard alumnus, sameer is deeply committed to various CSR activities of jakson group which are based on the three pillars of education, environment and community services.

Offerings
End-to-end solutions right from manufacturing of diesel generating sets, solar modules, solar products, defence power packs to EPC solutions, solar rooftop solutions, storage and hybrid solutions, O&M services, substation solutions as well as T&D solutions.

Locations
Noida (Headquarter), New Delhi, Hyderabad, Bhubaneshwar, Kanpur, Kolkata, Mumbai, Agra, Allahabad, Bareilly, Jhansi, Mathura, Moradabad, Meerut, Varanasi, Haridwar, Patna, Guwahati, Tirupati, Vizag, Vijayavada, Dubai, Nepal, Bangladesh And Singapore

Awards & Recognitions
• Achievement In Renewable Energy Utilization In Railways 2020
• Uttar Pradesh Brand Leadership Award 2018
• Uttar Pradesh Solar Energy Leadership Awards 2018
• Innovative HR Practices Award At Asia Pacific HRM Congress Awards 2018
• CII Award For Customer Obsession 2018
• Solar Energy Leadership Award 2018
• Outstanding Solar Projects Award 2016 At Intersolar Germany 2016
• Solar PV EPC Company Of The Year Award During India Solar Week Excellence Awards 2017
• Outstanding Performance For Installations In Solar Photovoltaic Projects By Crest – 2016

Jakson in Spotlight
• The First Company In India To Launch A Solar Train For The Indian Railways
• Has Powered Major Airports, Stadiums, Airbases And ISRO
• Its Extensive Presence Throughout India Makes It One Of The Top Energy Companies In India
• Upgrades Its Products' Features And Specifications Frequently And Has Launched Many Products And Services Ahead Of Time To Have The First Mover Advantage
• Is Committed To The Communities It Operates In