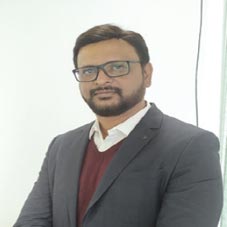 The Energy & Utility solution providers are in constant pursuit of partners who could commission turnkey projects with felicitous expertise, sincerity, commitment, dedication and cost effectiveness. Ticking all these boxes meritoriously is Yash Group, thanks to its manufacturing excellence, design brilliance and operational skillmanship. For its clients, it's not surprising that Yash Group is one of the youngest (established in 2016) and fastest growing organizations in the hydropower industry. The Gurugram-based group has a dedicated facility in Bhopal, manufacturing Turbines, C&R Panels and Auxiliaries powered by proven European technology. This enables the four dedicated companies under the group to cater to the most demanding Water to Wire, Electro Mechanical, Engineering Procurement Contracts, Service & Rehab, Civil and Hydro Mechanical projects.
Spearheaded by Dinesh Rajput (MD & CEO) with a vision to create an enterprising pathway in the world of renewable energy, Yash Group's operations today are spread across India, Nepal, Vietnam and SEA countries. The group is also in the process of setting up its own hydro & solar power generation plants, as CEO Insights engages in an exclusive talk-session with Dinesh.
Your company has been growing tremendously in the past four years. What do you do differently in this competitive industry?
Well, we are the only entity in India to offer complete water to wire solutions in the field of small hydro-power. While most of the companies cater to the piecemeal requirements like machines or civil construction, we offer turnkey solutions - from concept to commissioning. However, our ace is, of course, our facility in Bhopal, which manufactures turbines, mechanical auxiliaries, and Control & Relay Panels. More than 60 percent of the critical components are manufactured in house. This
enables us strict quality control and to offer competitive pricing, and combines with our after sales support infrastructure to provide our clients with the single window advantage for the entire project.
On the other hand, our inhouse teams comprise seasoned professionals, having decades of proven experience and collaborative access to European Technology. We are always driven by our mission to establish a work culture where impeccable professionals are transformed into remarkable human beings with skill and intelligence.
What is the kind of technical expertise that we are talking about?
When it comes to the manufacturing process in hydropower, everything boils down to the technical expertise only. We take special pride in saying that technically, we are second to none. The turbine manufacturing team and its ancillaries like design and procurement teams are armed with state-of-the-art machinery with many aces on its chest. Our experts are fully equipped and capable of transforming any discerning requirement into an engineering marvel while keeping the bottom-line as the final yardstick. For instance, Schimmer has the best infrastructure to provide the best of all types of turbines (Kaplan, Pelton & Francis) for small hydropower plants with distinction.
We are daring to dream of a YASH INDIA.. .wherein the footprints of Yash Group turbines can be mapped all over the world
How do you ensure providing a holistic experience to your clients?
The group's foundations are based on establishing humanism in this competitive world. That's how we have become the preferred choice of small hydro project developers. Simply because, here in this industry, building a bond, developing trust and believing in the dream are the most vital prerequisites. In small hydro projects, the developers have access to only limited resources (money & manpower), while they are required to somehow complete the project at a Godspeed. As a contractor/ supplier, it is of paramount importance that we must be experienced and resourceful enough to be flexible and able to accommodate surprises during the execution. Every project
comes with distinctive difficulties like natural calamities, delay in interconnecting transmission lines, statutory clearances, and whatnot. We combat this through our robust Project Management network, comprising go-getter professionals and breakthrough specialists. That's also the reason why most of our undergoing and proposed projects are either repeat orders or word-of-mouth recommendations.

Innovation being the only way to stay ahead of the current dynamic industry landscape, what kind of innovation and up-gradation is currently happening in your organization?
Yes, innovation and up-gradation are the keys for any organization to always keep pushing the envelope. We strive to establish milestones every day. Recently, we added 'Products feather' to our manufacturing repertoire with style. We have a ready-to-install catalogue of Micro Turbines waiting to revolutionize the world of hydropower engineering. Further, we are expanding to manufacturing of all types of panels as well.

What is the future roadmap set for your company?
We are daring to dream of a YASH INDIA., wherein the footprints of Yash Group turbines can be mapped all over the world. The micro turbine revolution concocted by us called MIGHTUS, which is set to redefine turbine installations without disturbing the ecological balance and with minimal civil work, will be spearheading a culture of self-reliant rural India with pride. The self-generating power plants will be enlightening every nook and corner of the country. In other words, YASH INDIA means a self-reliant India in terms of renewable energy.

Dinesh Rajput, MD & CEO
Armed with an engineering qualification, Dinesh has a track record of being associated with premier hydropower companies in the world for more than 25 years, which moulded him as a complete hydro professional with a vast network of resources and an in-depth knowledge of what a Developer needs down to the finest details. He has hands on experience of handling some of the most prestigious hydro projects in India and in neighboring/South East Asian countries.

Office: Gurugram Manufacturing Facility: Bhopal
Group Companies:
• Schimmer Energy
• Neon Energy
• Schimmer Infra
• Yash Horizon