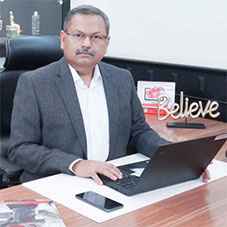 I have not failed. I've just found 10,000 ways that won't work". These aesthetic words by Thomas Alva Edison, the greatest inventor of America, have been resonating over the past 100 years, inspiring entrepreneurs to constantly learn from anything and everything around them from success and failure alike. Belonging to this breed of leaders who constantly learn and unlearn with respect to the challenges they are faced with is Jayanta Mukherjee, Managing Director of fischer Fixings Middle East & Africa(a 100 percent subsidiary of fischer fixings, Germany), which is one of the globally leading companies providing Fixing Solutions in Building Materials
An electrical engineer who kick-started his career from one of the busiest factory shop floors in Kolkata, Jayanta never stopped learning, and his stellar academic career that spans across leading universities' campuses (including IIM A and Stanford Business School) in five countries is merely an example. A great people person, he has been instrumental in setting up fischer's operations from scratch in the Middle East during the mid-2000s - based out of Dubai. Over the past decades, something that has grown along side Jayanta's enthusiasm towards learning new things and on-boarding new challenges is fischer's footprint across the Middle East and Africa. CEO Insights engages in an exclusive interaction with Jayanta to explore his journey over the years as well as the latest endeavors.
You Started Your Career 27 Years Ago. Did You Foresee That This Is Where You Would Be When You First Started Working?
My first job was as a shop floor engineer in one of the factories in Kolkata. The shop floor dynamics is nothing like anything else. Most of the people I was working with were above my age and had tons of experience. Quite early in my career, I learned the fact that `one may arrive as zero, but no one stops you from learning and setting a higher target for yourself'. When you point one finger at someone or the environment, my father used to say, three other fingers are projected right at you.
Professionally, it has been a short journey of 27 years. I did not foresee then that one day, I will reach here. But, at the same time, I don't know where life will take me in the next 10 years either. I believe that I have used only 35 percent of my capability in personal and professional life.
What Are The Values & Ethos That Make Fischer One Of The Best Companies In The World? Also, As An Entrepreneur With More Than 27 Years Of Multidimensional Professional Experience, How Do You Leverage Your Proficiency & Experience To Yield Favorable Outcomes For Fischer?
fischer strongly believes in the core values of Innovation, Accountability and Reliability. With double digit growth year after year, a workforce of 5200+ worldwide, 49 subsidiaries in 35 countries, 10 production units across seven countries and over 1500 Intellectual Property rights,
fischer as a group strives to pioneer the fixing industry.
fischer MEA is headquartered in Dubai and oversees the entire region with evenly spread local offices. Our journey in the Middle East began during 2006 when our owner trusted me to start the foundation as a one man show and set-up our subsidiary of the German parent company in Dubai. Today, we are a large team of professionals spreading our wings and constantly expanding horizons in the Middle East and African markets with deep footprints in all major projects and the trade market.
The achievement has been possible due to three reasons an incredibly supportive board, a team coming from 12 countries with a 'let's-do-it attitude', and finally, the grace of almighty. We believe that the customer's confidence and trust are like glass; once broken cannot be rebuilt. So, we try to live `humble, caring, and grounded' for internal and external customers. This reflects in our business as well as the recent `Great Place to Work' recognition we received (2019-2020).
I think you should neither 'manage' nor 'direct' people, but be with them when they need you as a coach or a mentor. We are a `one team ­ one dream' organization
How Would You Define Your Role As The Managing Director Of Fischer MEA?
There is a famous saying, 'what brought you here will not take you there'. I believe that the journey of learning and unlearning is a continuous task for any leader. My designation as a Managing Director is just a name for the role that I play. I think you should neither 'manage' nor `direct' people, but be with them when they need you as a coach or a mentor. We are a `one team ­ one dream' organization.
What Is The Most Crucial Leadership Skill That You've Learned From The Business Recently?
The pandemic taught me the real meaning of the term `VUCA'. I realized that, probably like many, I was a great manager of the `good times'. Doing business amidst the pandemic is however more interesting. Life is easier if you have your team with you. In the beginning, we went to the `war room' and invited all of our employees to suggest how to keep the company floating. We did 100 percent of what they said. The result? In the last year alone, we founded three showrooms, won several prestigious construction projects and paid 100 percent salary to all the staff, including their bonus and increments. God cannot be every where ­ so he gives you a `good team'.
Failure Is Part & Parcel Of Leadership Roles. How Did You Learn To Overcome Setbacks And What Are The Strategies/ Methods You Put Forward To Align Your Organization With Your Vision And Mission?
I would never say that I learned to overcome failures. We can avoid failure and setbacks only when we choose not to start. But if we don't start, we will not enjoy the journey. Failure still drives me crazy at times and mindfulness often doesn't work. But my only strategy is to ask every day `why' and `why not a plan B?'.
How Do You Balance Being A Family Person With The Stress Of Being A Busy Entrepreneur? From Email To Meetings, How Do You Organize Your Day?
These days, with a bunch of
fantastic technologies around, managing time and life is a lot easier.

My business is my family, and every employee is a family member. Talking to my family members is the biggest stress buster for me. Travelling is my next stress reliever. I have traveled to 58 countries till date, either for business or vacation. People and places are the most significant teachers in life.

In Your Professional Journey So Far, Which Are The Milestones That Bestowed You With Utmost Satisfaction - Both As An Individual & As An MD?
There are many milestones in my life that I cherish. I am a people person. Numbers motivate me, but if I see that my people are happy, I feel a lot happier. In every interview, I ask the candidate, `what is your dream in life, the wildest dream?'. I have seen many of them achieving it in their life. It makes my professional journey enriching. One of the countries I have visited is the Philippines, and I visited the Philippines because one of our employees told me that she wants to build her 'own house in her hometown'. I said, "Venelyn, I will see you there when you reach the milestone". And we did.

"In the last year alone, we founded three showrooms, won several prestigious construction projects, and paid 100 percent salary to all the staff, including their bonus and increments"

How Do You Keep Yourself Updated With The Current Innovations Happening In The Logistics Industry? What Are The Steps That You Take To Stay Industry-Ready?
Professor Klaus fischer makes sure that we as employees continue to learn and grow. However, the best way to learn is to read, read and read more. It is such an exciting time with the amazing use cases of AI and ML. But to me, AI has two meanings `artificial intelligence'and 'always improving.'

What Is Your Favorite Way Of Socializing Outside Organization?
I work with children who can't afford education or good life. I try to share my 'failure stories' to make them feel they are not the only ones. This is also an area where I am planning to dedicate the rest of my life.

What Habits Help You To Be Effective With Your Productivity? Tell Us About Your Success Mantra
Success mantra? I don't have one. I am still `goods in progress'. I have `miles to go before I sleep'.

Jayanta Mukherjee, Director ­ Fischer MEA & Strategic Advisor Fischer(India)
An electrical engineer, Jayanta boasts a stellar academic career that spans across leading universities' campuses in five countries. He is an alumnus of IIM-A and Stanford Business School. Having kick-started his career as a shop-floor manager in one of the factories in Kolkata, the exceptional leader today possesses close to three decades of experience.

•Outstanding Contribution in Design & Delivery­ by CBNME (2021)
•Great Place to Work ­ 17th place (2019-2020)
•SuperBrands 2020
•fischer Middle East elected as a `Superbrand of the Year'(for the second time ­ 2018)
•fischer Middle East voted as `Supplier of the Year'(2018)
•fischer FZE was selected as a 'Superbrand of the Year'in the UAE(2017)
•Highly Commended MEP Supplier of the Year (2016)
•Facade Design & Engineering Middle East Awards by IQPC ­Facade Solution of the Year'
•BNC Construction Innovation Awards 'Supplier of the Year'­Runner-up
•Launched three fischer experience centers in UAE