Praveen Jaiswal: Recognized For Providing The Best Possible Service To Customers At The Most Affordable Prices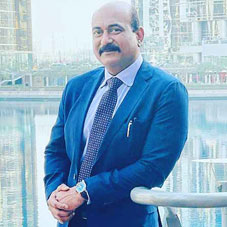 In an exclusive interview with CEO Insights, Praveen(MD)enlightens us about his professional expedition and the challenges faced while reaching the heights of success.
As an experienced Industry stalwart, how do you leverage your proficiency to yield favorable outcomes for Axiom Global? What roles have you been undertaking at the organization?
One of the positive aspects of my employment at Indian Oil and Lanka IOC was that I was trained in several departments ranging from operations to sales, industrial sales, foreign trade, HR, and so on, which has greatly aided in developing a holistic view of a business.
Also, during my prior assignments, I had the opportunity to establish operations from the ground-up in Sri Lanka, Fujairah, Iraq, Egypt, and Indian ports, which greatly aided me in establishing our setup.
What is the most crucial leadership skill that you have learned in the business? How do you generate great value for your organization?
Human resources, in my opinion, and practice, are the most valuable assets. Skills and other resources such as finance and business will follow if we have a team with the correct mentality. "You don't recruit for talents; you hire for attitude," according to Simon Sinek. Skills can always be taught". Because I believe in this attitude, my peers and I have
travelled together in the past and will continue to do so on this voyage. Apart from the aforementioned, one should be transparent, ethical, and concerned about society, which will aid the organization's growth to a higher level.
What are the major challenges you faced during your leadership journey and what lessons you learnt which gave you success in the later phase of the business?
For startups like ours, we have a team with skills, experience, and contacts, but lack the necessary financial resources. Also, being in the oil business, any amount of capital is always less. Yes, initially we faced difficulties in mobilizing finances, however, I would like to quote in hindi: "Main akela hee chala tha jaanib-e-manzil magar log saath aate gae aur kaaravaan banata gaya". Which basically means, though I was not alone in the journey, I am lucky to have peers who are like-minded and have dreams to make this company market leader in whatever business we are into.
I had the opportunity to establish operations from the ground up in Sri Lanka, Fujairah, Iraq, Egypt, and Indian ports, which greatly aided me in establishing our setup
How did you learn to overcome setbacks and what are the strategies/methods you put forward to align your organization with your vision and mission?
One of my early bosses at Indian Oil once told me that making a mistake meant he was working or attempting to accomplish something. "A person who never makes a mistake never tried anything new," Albert Einstein reportedly stated. Nobody makes anything if they don't make any mistakes.
Also, throughout my time with the Adani Group, Gautam Adani had a saying that he preferred entrepreneurs to employees. Adani did not terminate an employee who lost millions as a result of his decision (s), but he was encouraged to work to correct the faults and eventually recover the losses, according to a narrative that circulates in HR circles.
How do you balance being a family person with the stress of being a business person? From email to meetings, how do you organize your
day?
Yes, this is a difficult assignment at times however, because we have a team that is focused on a similar objective and everyone understands their role and responsibilities, challenges on the work front are controlled. There are days and times when we are faced with a difficulty that we must address as a group.

I am a firm believer in time management; I get up early and try to remain closer to the office, which allows me to manage my work-life balance more effectively.

In your professional journey so far, which are the milestones that bestowed you with utmost satisfaction ­ both as an individual and as a CEO?
On our entrepreneurial path, we experience everyday gratification as we see our efforts pay off and the company achieves the milestones that we had hoped for.

How do you keep yourself updated with the current innovations happening in the logistics industry? What are the steps that you take to stay industry-ready?
We are members of the industry's main organizations, such as the IBIA, BIMCO, Chamber of Commerce, and others. We also have subscriptions to prominent publications and encourage our employees to advance their careers by enrolling in new courses, attending conferences, and networking with industry leaders.

Do you take part in any mentorship programs or deliver keynote speeches at conferences and seminars to share your professional knowledge with yourpeers?
Yes, I have lectured in training programs sponsored by IOC, Lanka IOC, and HPCL on occasion. I have been a regular writer in the energy sector for several years and have several published articles to my name.

What habits help you to be effective with your productivity? Tell us about your Success Mantra.
Always be open and honest, and stick to a plan and schedule. The day's tasks, whether fitness, work place work, or social, should all be finished that day.

Praveen Jaiswal, MD, Axiom Global
Praveen has completed his MBA from Motilal Nehru Institute of Research & Business Administration and Diploma in Shipping from Institute of Chartered Shipbrokers. Before establishing Axiom Global, Praveen have been part of some prominent companies like Indian Oil Corporation Ltd, Chemoil Adani, Gulf Petrol Suppliers and AI Iraqia Shipping Services & Oil Trading.