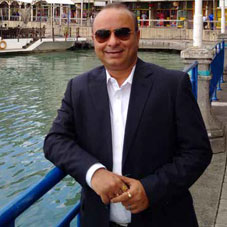 KH Chemicals is a worldwide renowned company in the Chemical industry. Focused on serving the needs of customers and aligning with major global producers.KH Chemical has experience of almost 27 years in Chemical trading and distribution. Known for its service, KH Chemicals has its offices across The Netherlands, Russia, China, North America, Middle East, and Ukraine, run by a team of skilled professionals who are equipped to meet the objectives of the firm. The company's major products consist of chemicals which include in the four major categories, Acrylates, Solvents, Plasticizers, and Monomers. Successfully led by Ronojoy Ghosh, Managing Director, K H Chemicals ME FZE (Dubai Office) has come a long way since 2015.
Engaging in an exclusive interactive session with the team CEO Insights, Ronojoy Ghosh shares his experiences and journey as the one who plays a significant role as the MD of KH Chemicals ME FZE. He is a positive force towards the company, suppliers, and customers.
Tell us about your educational and professional background. How have you been leveraging your knowledge to bring out the best of K H Chemicals?
My schooling was completed at La Martiniere for Boys, Calcutta, and graduation from St Xavier's College, Calcutta, and MBA from the University of Melbourne, Australia. In 1992, I had started working in the Gulf and always wished to have a long-term career in the region. I did foresee a career and worked on to understand the IMEA Region. Gained immense experience along the way and made lots of friends across the region.
Our company is into trading and distribution of chemicals. KH Chemicals ME FZE was started as a greenfield in Dubai in 2015 and through the support and teamwork from Netherlands and all our global offices, we worked pragmatically in finding our niche in the region. I spearheaded the growth and developed our team, supply chain from GCC and Indian Subcontinent and market all around the IMEA Region. As of today we are still learning but have set our basic
infrastructure right in order to serve customers and support suppliers in a practical cost to serve model. We can cater in drums/flexis/bulk as per customer requirements.
What are the challenges you faced during your leadership journey and what lessons did you learn which gave you success in the later phase of the business?
Focusing on the regional relations and adjusting supply chains to match the local market needs of each country was the primary objective.Operating for more than 27 years as a company from the Netherlands, the local presence in this region was relatively low. However after our expansion in Dubai, we are in a stage where KH Chemicals can react instantly for value addition to our global objectives from the region and use arbitrages.
Being surrounded by people having different perspectives helps me make logical decisions. Taking failures as an opportunity and learning from the mistakes has always helped me with the learning process. Also believing in teamwork and having the right person in the right place helps to face any parameter or situation in this ever changing world.
Whatever a human mind can conceive it can achieve. Keep on working smart towards your goals.
What is the most crucial leadership skill that you've learned in the business? How do you generate great value for your organization?
Establishing relations with suppliers and customers in the region and maintaining it throughout helps our company for acquiring global growth. Staying focused and structured, working as a team, being humble in good times, leading from the front, also being positive in tough times keeps up the relationship with the customer and suppliers to grow and stay strong. If your work is your passion, eventually everything falls in place.
In your professional journey so far, which are the milestones that bestowed you with utmost satisfaction - both as an individual and as an MD?
Today at KH Chemicals we are creating careers for so many people directly and indirectly. Dubai office of KH Chemicals has now developed into an integral part of the company. I thrive in green fields which gives me immense satisfaction to develop and lead regions for a company. Likewise, the same was done by me for almost 7 years with Pidilite in Egypt. This had
been a huge growth as an individual from a single person to a team of 70 people and a factory in Egypt for the North/ East Africa market and Southern Europe. It gives me satisfaction in building sustainable organizations for long term growth and developing careers of employees.

Please mention the awards and recognition you have received in your journey to date and what habits help you to be effective with your productivity?
The Best Regional Sales Manager in the GCC was the first recognition I received in three years of starting my career. Recognitions in Pidilite on various occasions and have received several appreciations from clients and partner suppliers for the dedicated support and excellence of performance. At KH Chemicals we are one family and our slogan is "Its all about people". So appreciation and support has been always there.

Planning well, structured short or mediumand longterm objectives, to complete all the assigned tasks, are some of the habits I follow which lead to achieving success. Aspects of my professional journey include being open to learning new things, working with ethics and integrity, never ever giving up, staying positive, developing good relations and delegating responsibilities etc.

How do you balance being a family person with the stress of being a business person? (maintaining work-life balance) From email to meetings, how do you organize your day?
My wife Dipanwita has been my pillar of support and without her it would have been impossible to go through the ups and down of my career. We have two wonderful sons. Rohan who graduated from Purdue University in industrial Engineering in the US and going for his Masters in Business Engineering to KU Leuven in Belgium this September and my younger son Ronit studies Materials Engineering at Mc Gill University in Montreal, Canada. My Family has always understood and supported my business obligations, long business trips ,etc. However saying that as family we have travelled to more than 35 countries together which has enabled us to spend quality time together.

Ronojoy Ghosh, Managing Director of KH Chemicals ME FZE
Ronojoy Ghosh is the Managing Director of KH Chemicals ME FZE, who has more than 20 years of IEMEA experience in International Business Development. He completed his schooling at La Martiniere for Boys, Kolkata, graduated in B.com (Hons). Commerce from St.Xavier's College, Kolkata, MBA from the University of Melbourne.