Kamran Khan: Facilitating Strategies To Set Benchmark For Quality Products & Services In Coffee Industry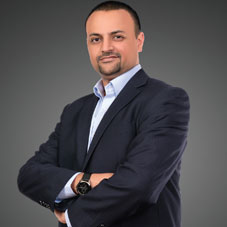 When the Kingdom of Saudi Arabia revealed its Vision 2030 to build a thriving economy with reduced dependency on oil, it was clear that the country's focus in the coming decades will be on creating a strong ecosystem of professionals who will help achieve this vision. With that said, the Middle East market has opened opportunities for the world, and our own Indian mavens are being able to make a mark in the Middle East countries. Kamran Khan, the CEO of Bonnon Coffee is one such leader who is bestowing a wave of pride by climbing the success ladder in the Arab market. Under his leadership, Bonnon has started gaining a strong foothold and market attention in the Saudi coffee industry.
In an exclusive interview with CEOInsights, Kamran shares valuable nuggets on his journey and his endeavors as a leader at Bonnon.
Highlight about your educational and professional background.
I did my Bachelors in Science from Aligarh Muslim University(India) and then pursued MBA from Central Queensland University (Sydney, Australia). I humbly say that one of my strengths is my versatile experience in the Food and Beverage industry. With more than 20 years of experience, I have been fortunate enough to work for some of the best international and local brands.
What different roles have you been undertaking at Bonnon Coffee? What is the most crucial leadership skill that you've learned in the business?
As a leader, you have to have the right mix and balance of various hard and soft skills but the most important indicator of success is if your team looks up to you for guidance and believe that they will grow as well.
Until the time your team doesn't see their own personal and professional growth, you have not succeeded as
a leader. Let them share the Vision you have, let them feel your compassion, let them see a coach in you, let them feel the energy with you. If you want to succeed and want the company to grow, then empower the team and watch what happens.
Salem m. Binmahfouz (founder principal & consultant) of bonnon has played an important role in instilling the culture and values at every level of the organization from the beginning
With your vast experience, how do you align your organization with your vision and mission and bring value to the company?
Vision is a dream that you want to make real and mission is what you do to achieve that dream. To begin with, align these two and furthermore align them with your team.
Make your team believe in the Vision and Mission and let them have a stake in it. It sounds simple but it takes a lot of serious and genuine efforts to align your team. Let them see it from where you see it. In Bonnon, our values are Quality Criteria, Commitment to Excellence, Moral Environment, Honor Traditions, Passion, and Enthusiastic.
How did your methods/strategies transform Bonnon Coffee's entire work culture and client relationships?
Bonnon is all about its culture and values. We want all our stakeholders (employees, vendor partners, customers, and owners) to feel and live our values at every step of our business process. We have put some serious efforts into coming up with our values and then implementing them as our culture.
What strategies do you follow to over come various challenges of customers and meet their requirements?
We listen to our customers and take their feedback very seriously. To give you a small example, when it comes to new product development (in our menu), we don't blindly follow the market trend. We develop product options (in our coffee lab facility) and then involve our customers to participate in our
decision making process before finalizing the product. After implementing several steps, only then a product can qualify to be on our menu. Providing technology solutions is another way of facilitating our customers. Our business is all about 'Convenience' and that is where technology plays a big role as well.

How do you stay innovative and keep your coffee business running successfully?
Innovation in any business is key but I also firmly believe that you shouldn't reinvent the wheel just because you want to. As I said, it's all about convenience in our business. For us, the success equation is simple.

Being a dynamic and result oriented persona with rich experience in different industry verticals, what's your success mantra in business?
Self-discipline, planning, keeping your team motivated, and being abreast with technology are some of the key ingredients for success in today's business.One of the very important lessons of my early professional life is that never refuse a task or an opportunity to participate in a project even if it's not directly related to you because this makes you more of a 'powerful all rounder'.

What are the most important attributes of successful business leaders today?
Ethics and compassion take you a long way. Though these two attributes are not valued in today's business environment,I strongly believe that as a leader if you lack these two basic and most important traits then you can never be a successful leader. Let your team be a part of your success as well as the challenges.

Recently, I launched a program in Bonnon called 'You are CEO Today'. Every management team member individually assumed the role of CEO for a day. They had real powers, responsibilities, decision making, and perks. Even they had a different office, salary for the day, and several key tasks to achieve. They also had the opportunity to have a one-on-one meeting with all management including the current CEO(myself)and discuss their plans, priorities, etc. Every member not only enjoyed the day but also realized the challenges that a CEO has to face on a day-to-day basis. Overall you make them see both opportunities and challenges in becoming a leader.