Manoj Bhatnagar: Leveraging His Industrial Expertise & Extensive Domain Knowledge To Craft Innovative Solutions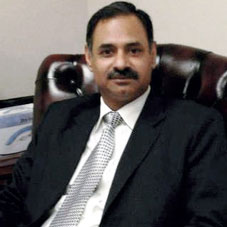 Abu Dhabi has always been a premium destination for Indian Leaders who want to explore their limits and imprint their identity across the global podium. Channeling the diversity of various business dimensions as an eminent trade and investment platform for global leaders, Abu Dhabi is currently operating as a premium hub for determined and entrepreneurial personalities hailing from India who are responsible for some of the most successful UAE based enterprises in operation today. One of such personae is Manoj Bhatnagar, who has emerged as a prominent Indian professional and impresario carrying on efficacious businesses in the UAE. Leveraging his industrial expertise and extensive domain knowledge to craft innovative solutions, Manoj has introduced many ground breaking concepts through the Implementation, Integration, and Support of IT. A result oriented professional lauded for taking key initiatives in the opening of hotels by acclimatizing to swiftly changing milieus of the industry, Manoj has solely handled and resolved mission critical issues to ensure noteworthy successes throughout his professional career. Proficient in developing & streamlining systems with proven ability to enhance IT infrastructure operation, Manoj is currently meeting the operational goals of Al Ain Cooperative Society within the cost effective, time limit and quality parameters.
Engaging in an exclusive interaction with CEO Insights Manoj shares the nuances of his journey as one of the renowned Corporate IT Manager, navigating the hotel Industry.
Tell us about your professional journey so far. When you first started working? Did you foresee that this is where you would be?
Starting from setting up networks, configuring servers, workstations and vendor coordination, my extensive and exclusive knowledge across hospitality IT systems makes me a prolific industry stalwart striding in this domain. After completing my graduation in Commerce from Meerut University, I commenced my career in 1991 with the Holiday Inn Crown Plaza of Delhi, which now goes by the name of The Lalit, as a Programmer. There was no looking back after that, as I voyaged forward in my career and got myself associated with many prominent brands including The Claridges Hotel, Radisson Hotel, Shangri La, Ramada, Sheraton, Marriott and more. Throughout my journey, I have been very much instrumental in opening the new properties for the hotels, including the hiring of IT Managers for new and existing properties. I was pragmatically engaged across every project, and all these experiences played a key role in sharpening my skillsets. Apart from numerous awards and accreditations in my career, I have also received a recommendation letter from FHRI, highlighting my proficiency as a project as well as an operation person.
I soon left for Qatar as Director IT for La Cigale Hotel, where my sphere of action encompassed the ruler's property. After a year, I found myself with One to One Hotel and Resorts, Abu Dhabi, where I was working as Director IT and looking after Corporate as well and opened couple of properties for them. My enthusiasm compelled me to navigate through Lebanon on deputation and then came back to Bahrain as Corporate Director IT with Gulf Hotels Group. As I piloted further, I joined Sheraton Hotels & Resorts, Abu Dhabi and witnessed the conversion of Sheraton to Marriott, along with extensive training and procedures for migration to happen.
In 2019,I ventured into Al Ain Cooperative Society(Al Ain Coop)in the Retail industry as Corporate IT Manager, taking charge of the
Corporate IT strategy of the group along with the deployment of SAP for business efficiency with an added value to the current business process. Now, as Corporate IT Manager with Al Ain Cooperative Society, I am taking care of Hyper market, Supermarket, and other sister concern business units. Al Ain Coop is one of the first Cooperative Society in the UAE, and today,Al Ain Coop has around 50 retail stores in the region which includes 29 branches in Al Ain plus the premium stores of Earth retail in Abu Dhabi and Khalifa Foundation stores (a government entity working under ruler's directive for distributing subsidize products for local communities) in Dubai and Northern Emirates.
For a better future, Al Ain Coop believes that digital transformation is essential in bringing end-to-end transparency at all levels of decision making
The transition to the retail industry after thirty years of expertise in the hospitality sector was a drastic change and a big challenge in my career. But soon, I realized Al Ain Coop's vision of becoming the 'first and best' customers choice in the retail sector and the management's desire to move forward with new branding ideas and new projects. The realization that I could implement many new concepts in the field of technology motivated me to take-up those challenges.
Al Ain Coop is the largest chain of retail store in Al Ain, serving more than six million customers each year, and is recognized as one of the best generous companies in supporting local government entities and social communities. It's an honor for Al Ain Coop in collaborating with the Khalifa Foundation and the Al Ain Municipality to deliver subsidized products to local communities. The integration of security, administration, and digital conversion into real time backend ERP systems greatly facilitated this task.
Al Ain Coop's strategy focused on achieving the organization's long term value based positioning strategy with the slogan 'Best value every day' to create a long term brand image in the market. Keeping pace with technological changes in the financial, purchasing and sales processes is essential for achieving that goal. Al Ain Coop has always embraced the best trends and innovations in technology to facilitate day-to-day operations.
What roles have you been undertaking at the organization? How do you leverage your proficiency to yield favorable outcomes for Al Ain Cooperative Society?
After joining the organization, I have been tasked to upgrade the IT Infra structure to the latest technology wherever is required to meet the current market trend along with customer satisfaction. Along with changing and upgrading the system, I'm currently guiding my team to overcome the challenges imposed by COVID 19. We have witnessed some major turn of events owing to the pandemic, and I am currently eager to implement some novel and innovative aspects across the company's operations.
As Corporate IT Manager, the IT infra structure of Al Ain Cooperative Society and sister concerns has been revamped as per latest IT standards enforcing secured environment. Pragmatically engaged in making decisions over cost cutting, manpower cutting or enhancing my current saving operation, I go for demonstrations involving the management team to reach a conclusive phase. As IT professional, I am defined within the limits of my job role and collaborate with administrative team to implement a solution for the benefit of the group.
As a highly competitive sector, retail businesses today are looking for ways and means to adapt a change in consumer preferences in a flexible way.Therefore, it is essential to implement and distribute working solutions within the shortest possible time. As a team, we were
able to implement many innovative ideas and technologies in the retail business to make day-to-day activities easier. I also implemented a paperless office environment by improving enterprise mobility, functionality and employee productivity.

For a better future, Al Ain Coop believes that digital transformation is essential in bringing end-to-end transparency at all levels of decision making so that all business lines are fully aware of all major decisions at various segments. I also help to identify significant savings based on the departments, costs and operational efficiency ofthe organization.

During the past two years, Al Ain Coop and its sister concern have opened more than 10 new branches and geared-up operations in 15 Khalifa Foundation stores. Al Ain Coop is the first retailer to introduce an innovative concept of a mobile supermarket in the region. Al Ain Coop recently shifted its logistic operations to new Central Warehouse in Abu Dhabi as a major distribution center for the entire Emirates in UAE by implementing the technology of Warehouse Management System (WMS). Also, a new e-Commerce platform, Customer Relationship Management (CRM) and loyalty programs are under process to provide better and smooth services to the customers.

As Corporate IT Manager, I was able to guide the organization in improving operational efficiency by investing in automation, enterprise mobility, standardization of applications, interfaces, and more. It is a gratifying experience to be at the forefront of all this with the management and operations team providing all the necessary assistance in the IT sector.

What are the major challenges you faced during your leadership journey, and what lessons you learned which gave you success in the later phase of businesses?
Rerunning the budgets has always been a challenging job for me. Before 10-15 years, IT Infrastructure used to be considered as an expense but now, it has been termed as 'Invest in Technology'. Although earlier there used to be in general 300-400 staff depending on the size of the hotel, now, by the virtue of improved technology base and introduction of automated systems, the workforce has been significantly reduced. Due to COVID, the business across the world has gone down and they are reluctant to opt for huge investments. So, at present, one of the biggest tasks is convincing the owners and educate them about saving their expenses rather than shying away from investing.

In your professional journey so far, which are the milestones that bestowed you with utmost satisfaction both as an individual and as a CorporateDirector?
My journey till now has been an impeccable one in which I have witnessed numerous milestones, and they all gave me a lot of satisfaction. In different organizations, I faced lot of operational challenges, and by implementing solutions, I achieved my goals with utmost satisfaction of our esteemed clients.

I always tend to identify the factors which can sabotage the standing of the hotel in the market and fix them at the earliest. Having worked in so many hotels, I have come across a lot of good vendors as well. My professional journey is closely knit with my own dedication as well as the contribution of my team, which is an achievement for the customers as well. Now, these are the satisfactions that can be termed as milestones for me.

Manoj Bhatnagar, Corporate IT Manager, Al Ain Cooperative Society
With more than 30 years of demonstrated cross cultural career success in developing and executing operational strategies, Manoj is known for promoting organizational growth with optimum utilization of evolving technologies.

Quick Facts
Hobby:Traveling
Favourite Cuisine:Sea Food
Travel destination:Bali, Singapore, Malaysia, Thailand, Hong Kong and many more.