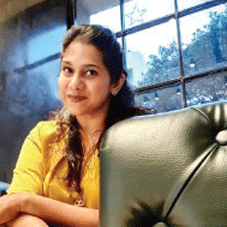 The modern consumer is spoilt for choice. With a plethora of brands cropping up in every segment, a consumer's options have become infinite which has made it much tougher for brands to build a loyal consumer base. Every single interaction that a brand has with a prospective consumer, no matter how small, has become an opportunity to grasp their attention. Consequently, branding and marketing have become integral business functions without which companies cannot thrive. Leveraging even the smallest communication in order to build lasting brand recognition for clients is Kimaya Balki, Co-Founder & CEO of Write Design Deliver Advertising (WDD Advertising), a marketing and advertising agency.
A woman of less words and larger impact, Kimaya's creative energy is directed towards delivering quality content and designs that help communicate a brand's integral value to the right audience. Aiding her in her endeavor to build powerful brands is her decade long experience in the corporate sphere and a love for the creative aspects of life. Having built a strong organization that has delivered a wide range of successful campaigns, Kimaya's achievements have stacked up, making her a formidable role model for her daughter and aspiring marketers alike. In a candid conversation with CEO Insights, Kimaya speaks about her journey to founding WDD Advertising and her take on the marketing landscape.
Take us through your educational & professional journey that led to laying the foundation of WDD Advertising.
Growing up, science and math were my strongest subjects and I aspired to become a scientist. I pursued a degree in biotechnology and became a researcher. It was then that I understood that my need to fulfil my creative side was much stronger. Marketing communications and branding
always held a strong appeal for me, thus I enrolled in an MBA program at University of Newcastle, Australia with marketing as my primary focus. I have since gathered a decade long experience in the corporate world and have worked in varied sectors such as finance, hospitality, education, real estate and healthcare. Upon gathering ample working experience working with Versace Home and Marriott Group, along with a team of like minded, passionate people with amazing skillsets forming WDD Advertising felt like a very obvious and organic step to take.Thus I embarked on my entrepreneurial journey by establishing WDD Advertising in 2017.
When you're a marketer, every waking moment is a learning in process for the brands and businesses that you work for
Where does the Indian marketing industry stand today and what are the industry challenges that you are looking to solve through your services at WDD Advertising?
We currently live our lives being surrounded by digital influences. With the advent of time and technology, digital spaces have become smarter. Given that we have the technological tools that can precisely track and predict customer behaviors and interests, digital spaces and tools are now immensely powerful. However, the industry is sadly full of people posing as experts without actual skillsets. Several of our clients who approach us have had unpleasant experiences in the past and are thus highly skeptical about the effectiveness of creative, communication or digital campaigns. Our objective of founding WDD Advertising was to take away this element of skepticism and add value with effective and bespoke marketing communications.
In your opinion, what is the key factor that helps WDD Advertising churn out one successful campaign after another?
WDD Advertising was formed by the coming together of a team with fantastic creative and business rapport who shared a similar ideology. Given that the quality standard of our work is quiet high therefore we cannot compromise on the talent of our team. We believe that unskilled employees costs way
more than the costs saved. However looking out for the right team is akin tosearching for a rare diamond in different shades just as difficult and just as rewarding.

Over a period of time and after toiling hard, we have built a team of cross-domain knowledge experts and gifted artists who work together to create compelling visuals and impactful communications. Leveraging our team's proven skill set allows us the luxury to indulge in experimenting with creative and strategies.

With marketing emerging as a crucial industry there has been an upsurge in the number of marketers. In your opinion what makes a strong and effective marketer?
Marketing and advertising is a balanced mix of creative and logical aspects. Aspirants often assume marketing to be a highly glamorous job, which it is definitely not. Relevancy is very short and subjective in this field thus it is important to keep on reinventing yourself and keeping up with different markets. When you're a marketer, every waking moment is a learning in process for the brands and businesses that you work for.

What steps do you undertake in order to stay on top of the industry trends?
As I had mentioned earlier, staying updated and being relevant is crucial in the marketing industry. I have built an ecosystem of fellow marketers and entrepreneurs around me which acts as my primary source of information and support. Additionally, my phone is full of resources and swipe files. The best step that I took was to replace all entertainment apps on my phone with EdX and Udemy that give me access to courses and study material on the go. Also, social media is my primary source for observing trending content. Although I have to constantly be on my phone for work, but I prefer writing physical journals and reading old school hardbound books.

Key Management
Kimaya Balki, Co-Founder & CEO, Write Design Deliver Advertising
A dedicated marketer, entrepreneur and mother to a lovely daughter, Kimaya is the quintessential modern Indian professional. Armed with an MBA from the University of Newcastle, Australia and a decade long industry experience, she is striving towards creating impactful brand stories.