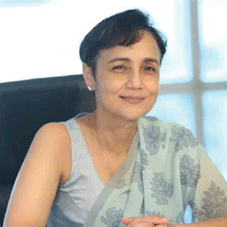 Give us brief details about your professional background & education.
I started my career around three decades ago. My experience is a mixed bag – one with Agencies, Marketers and Media organizations in South East Asia, London & Asia Pacific. I have won and led mandates for large Indian and global businesses and consider myself spectacularly fortunate to have worked with clients, partners, teams and organization from a diverse set of cultures.
Board Director on Dentsu Advertising & Media Services and Chief Executive Officer, dentsu X India, since 2011.
I have also served multiple terms on the Media Research Users Council Board and continue to work very closely with the organization. I currently am the Chairperson MRUC Radio Committee.
I have recently accepted serving on the Jagran Prakashan Board as an independent director.
I have also completed the Global Program from Dentsu Management Institute, Dentsu Inc. Tokyo and the Senior Executive Leadership Program 'Disruptive Strategy with Clayton Christensen' from the Harvard Business School, both in 2018.
Explain your current roles and responsibilities at dentsu X?
The mandate is to establish dentsu X India as one among equals, in the highly competitive Indian market. Our greatest challenge to build might and momentum, in a rapidly morphing communication landscape, is yielding results.
dentsu X India won nine key businesses in 2019. Business has grown at 32 percent revenue increase over last year. This comes on the back of a scorching pace over the last 4 years – a 6X turnover, 3X revenue, 4X profits boom over 2016.
In 2019 we launched three agency sub-brands and four capability stacks in India, under the dentsu X India umbrella. This was done to harness the growth opportunity arising out of competing marketers reposing their faith in dX's offerings. Not just new business, dX closely partners its existing clients, and proudly boasts of a 100 percent retention record.
How do you view your achievement against your known set objectives?
We are on course, a little ahead in fact.
First, transforming the business deliverables itself – be it delivering on business outcomes, improving operational efficiency, and implementing substantive change. I have ensured dentsu X moved upstream, partnering clients solve real business problems. We delve deeper into consumers' needs, motivations, pain-points and together solve how brands address, communicate these meaningfully,
via delivering an overall brand 'experience beyond mere exposure'.

Forrester Wave, a global research firm, covering India as a key market, has recognized dentsu X as 'One of the most significant media agencies in 2019'.

Second, growing the new business exponentially, dentsu X pitched and won marquee clients such as Honda Cars, Oppo Mobiles, Principal Mutual Funds, OnePlus, among. 2018-19 also saw dentsu X India winning significant media mandates and retain 11 existing businesses. COMvergence (an independent international report) recognized dentsu X India as 'The No.1 agency on the New Business Barometer, 2018' and Adweek pegged dentsu X India among 'The 100 Fastest-Growing Agencies in 2019'.

What are the strategies that you are looking to leverage in coming years to further strengthen the performance of dentsu X?

Our focus has been on strengthening our vision and innovation in building brands. This spirit unites us as one organization, focused on delivering first-class results, and is underpinned by a clear set of values and behaviours that guide us in everything we do.

We begin with our Motivation & Attention Planning 'MAP' process, which keeps the consumers at the center. This roadmap is basis our core beliefs:
• Experiences beyond Exposure
• "Why" beyond "What"
• People beyond Proxies

Tell us about your participation, and contribution to the industry.

Let me divide your question into two parts –
• Leading, participating in industry programs
• Recognition
LEADING, PARTICIPATING IN INDUSTRY PROGRAMS:
• Since the past, many years, I have been on the jury of various awards. These include the Emvies and the Cannes Media Awards, and member of boards. A detailed walkthrough is as follows:
- 2019-17: Chairperson, MRUC Radio Committee, Championing Radio
- 2019: Jury duty at Dainik Jagran CSR Awards
- 2017: Judging, International News Media Association-INMA Global Awards
- 2017-2014 & 2010-2006: Served on Media Research Users Council Board
- 2016-2015: Joint AAAI & ISA BARC-Peoplemeter Working Committee
- 2016 & before: Jury duty at Cannes Media Lion in 2004, Jury duty for Emvies for six years, Member IBF-AAAI Joint Industry Body and Served as Board Member MRUC in 1999-2003, Technical Committee on Product Profile Linkage & Readership Measurement since MRUC's inception

2. INDUSTRY RECOGNITION – I am also grateful for the number of recognitions the industry has bestowed upon me:
- 2019: Agency Leader of the Year, Mumbrella Asia
- 2019: Agency Head of the Year, exchange4media
- 2019: CEO of the Year, Indian Agency Awards
- 2019: Most Significant Media Agency, 'The Forrester Wave'
- 2018: #1 in New Business Barometer by COMvergence
- 2018: Campaign South Asia Agency of the Year – Bronze
- 2018: Discovery Women Achiever
- 2018: Campaign A-Lister in Media, Marketing & Advertising
- 2017-2012: Top 50 Influential
Women in Media, Marketing & Advertising, each year for six years
- 2016: Conferred Women Leadership Achievement Award, World Women Leadership Congress
- 2016 & before: Participation by invitation on Gender Diversity at the Board, Egon Zehnder; Voted among top 8 women professionals in the media industry; Finalist Cannes Media Lion for Colgate Fresh Energy Gel in 2002; Silver Emvies for Best Innovation, Television; Business Today's list "8 women who could become CEOs"; Gold Media Innovation & Creative Excellence, DYR; Abby "Innovation & Outstanding Media Usage" Unilever; Planner of the Year.

Where is dentsu X positioned in the current marketing industry and what are your thoughts on the present scenario and future of this space?

dentsu X is well poised to grow from strength to strength across size, stature and repute. Breaking into the top three league, our reputation has preceded our size. The Brand Equity Agency Reckoner is researched among senior professionals to rank agencies that
- provide the best ROIs
- are proactive
- offer a broad spectrum of services
- effectively partner elements of marketing communication
Pegs dentsu X at number 3 in 2019

What are the strategies that you leverage to ensure best client retention & relationship?

I am incredibly proud to share; we boast a 100 percent client retention rate in the past seven years. We are passionately vigilant of maintaining the energy, focus and obsessive attention to existing clients. That is the very raison-de-etre of dentsu X's success. The reasoning behind this is our Client First Culture learnt and practised the way Japan does!

• Deep Partnership with our clients
• Outcome focused. Our client's success is our success
• Initiatives and Innovations which scan the horizons for path-breaking trends
• Consistent quality products. Our deliveries are consistently appreciated and lauded by clients

We believe in leading from the front in partnering clients and delivering the dX experience! Clients don't just give us high TRR scores; they align their new business with us without pitches and actively recommend us to their networks!

Family plays an important role in every person's life. How has your family supported you in your career journey so far?Also, how do you manage to balance between your personal & professional life?

Like everyone, my family is extremely close to me. I am a product of my upbringing. I seek to strike a balance between personal & professional life by merely taking hard calls and then being at peace with those calls. I can tell you it is not easy and has come with a bit of practice. Of course, there are times when one takes precedence over the other. As we mature, we know how much and when to prioritize what.

Tell us about your hobbies, favorite cuisines, and travel destinations. Also, how do you update yourself with the latest technologies and trends in the marketing industry?

I am passionate about animals, love feeding them, when & where possible. I am a great fan of home cooked food. And love reading and just hibernating on weekends.