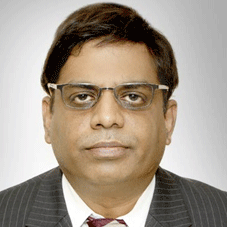 After having accomplished Chartered Accountancy (CA) from University of Calcutta in 1994, Lalit's professional career kick-started almost immediately as he joined the Arvind Group, Kolkata. He climbed up the ladder quickly as his ability to coordinate with other departments made an impressive impact. Hence, when the company started a manufacturing facility in Jaipur, they sent Lalit to look after the operations. When he left the company after 14 years, he had become the VP of Finance of Arvind Group. Lalit moved back to Kolkata, joined SPML Infra and worked there for a decade, looking after a lot more functions than just finance. After the 10-year stint, he left the company as a well-established and reputed CFO.
After a short stint in the EPC segment with McNally Bharat for a period of three years and with a wealth of experience on his side, Lalit joined Ramkrishna Forgings in 2018. CEO Insights engages in an
exclusive conversation with this exceptional CFO and leader.
You have an unparalleled reputation of being a multitasker and for 360 degree contributions. How did you earn such an exclusive reputation?
That in fact is the way I molded myself from the very beginning of my career. For instance, throughout my stint in Arvind Group, I looked after not only the financial matters, but also the company's legal affairs, and commercial matters(like marketing, procurement, labor, and even the plant operations). During the tenure, I also had some international experience as they had a plant in Dubai.
I always belief that I can come out with a solution from any predicament I am thrown into
With SPML Infra, I started with finance and then slowly started looking after other areas like projects, contracts and much more. I gained priceless experience through Hydro projects, Thermo projects, Waste management, a coal mine project in Indonesia, and the company's trading arm in Singapore. I had huge exposure and most importantly, I handled them successfully.
With a dynamic business world around, what are the most challenging aspects of being a finance head?
Convincing the lenders and finance providers is always a huge challenge. In my previous stints, I often had to create new financial structures suitable to the needs of the business and then convince the lenders and investors. I have successfully done that. Being able to mobilize the required resources in tough times as well as raising the required funds on time has also given me a lot of satisfaction in terms of tackling the challenges.
Financial function is known for the stress-factor involved in it. Being a CFO, how do you manage your professional and personal lives? Your family must have played an important rolein this success as well!
Stress is real. But I stick to the basics. The way you manage your professional stress and life is really dependent on your thought process. I always belief that I can come out with a solution from any predicament I am thrown into. Every problem has a solution. Hence, if you think straight and invest efforts with keen focus, you will hardly find yourself in a stressful condition.

To be honest, I am able to manage my professional and personal lives without much difficulty. When I go home, I switch off my professional world completely. After nine o' clock, it's home time. I live in a joint family, and every member, including my mother, brother, and wife, has been supportive. Even the kids are very supportive. There have been many demanding instances at workplace and my family has ensured that I don't get any added pressure.

Besides leading the entire financial function of a big organization, you also lead an NGO. What made you a successful leader?
A leader can only be successful through exceptional teamwork. Behind every successful leader, there always is a team that made it possible. I handpick my team and keep them together. I groom, handhold and motivate them. It's a never ending journey. You have to develop and constantly maintain a good team, which eventually leads to the success of the organization. You also need to constantly interact with and learn from people. In addition to doing so, I also read a lot.

Yes, our family runs a small NGO that cares for children with autism. I am a parent of an autistic kid and our NGO is supporting around 20-25 autistic kids.

Key Management:
Lalit Kumar Khetan, CFO
Lalit graduated from Goenka College of Commerce and Business Administration, Kolkata, with a first class in the year 1989. He is also an FCA from University of Calcutta.

Favorites:
•Hobbies: Watching Games (especially Cricket) & Movies
•Travel Destinations: Singapore, Switzerland & New Zealand
•Cuisines: Indian (homemade)