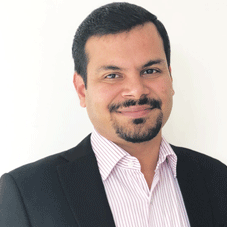 While the textbook definition of a CFO is one who handles financial matters at an organization, today's CFO's role entails so much more. Mukesh Surana, President & CFO, Garware Technical Fibres Limited believes that other than being effective at core finance functions, a CFO must employ a strong influence beyond finance function and drive strategic growth initiatives. Backing his belief by the role that he plays at Garware, Mukesh is responsible for handling accounts, MIS, finance & treasury, M&A, taxation, IT, commercial and procurement functions.
A true industry veteran with extensive experience across companies such as Asian Paints, SRF, Noble Group and KPTL, among others, Mukesh thoroughly understands business, works in collaboration with business units and is thus facilitating a financially healthy organization. In an extensive conversation with CEO Insights, Mukesh shares his journey, expertise and lessons learnt on the way.
You have enjoyed an extensive and illustrious career in the finance sector. Can you take us through your professional journey before you came on board as President & CFO of Garware Technical Fibres Limited?
I passed CA with All India rank (8th in Final & 3rd in Inter) and began my professional career with SRF as finance head of two of its business units. I then moved to Asian Paints in the Internal Audit department, where I initiated and headed the centralized process audit of the centralized organization. Therein, I progressed to become the Finance Head of International BU with responsibilities encompassing finance, strategy, business plans, funding requirements, M&A, IFRS consolidation, MIS, Capex reviews, internal controls, group policies and procedures, risk management, compliances, treasury and IT.
In the year 2010, I joined Noble Group's India operations as the VP - Financial Controller, where I
managed finance, MIS, accounts (Indian GAAP and IFRS), audit, IT, credit controls, risk management, corporate compliances and direct & indirect taxes of all business divisions. I then joined Kalpataru Power Transmission in early 2012, where I headed finance, MIS, accounts, commercial, taxation, procurement authorizations and stores of India & SAARC countries. After about 4.5 years, I moved to Dubai as the Group Dy CFO of ETG Group with $3.5 billion turnover and 150 subsidiaries globally, where I was heading the group and nine SBUs' finance, FP&A, financial control, taxation, internal control functions, investor relations, IT & ERP, legal and secretarial functions.
Workaholics are not the best longterm performers and leaders; I believe that if your work cannot get by without you for a week, then you need to get a better team
Having worked for various Indian and global stalwarts, what drew you to join Garware Technical Fibers? What role do you play at the firm currently?
During my interview, I interacted with Vayu Garware, CMD, Garware Technical Fibres Limited; his sharp business insights and break-through approach amazed me. I also had a positive interaction with Shujaul Rehman (CEO) and Ravendra Mishra (HR Head), post which I realized that coming on-board Garware would provide me with a great opportunity to associate with some insightful business leaders. I also perceived an equivalent perspective from the organization in hiring me for enabling the business and designing the processes for the next stage of growth and strategy. The fact that Garware is certified amongst India's 'Best Companies to Work for' by The Great Place to Work Institute (GPTW), India, was the cherry on top.
As a President & CFO of the company, I take care of accounts, MIS, finance & treasury, M&A, taxation, IT, commercial and procurement functions. Garware is a financially strong and net debt free company, and I am actively involved in further improving the working capital and fund flow management.
Given the complex and demanding nature of your profession, what is your take on the maintaining work
life balance? How has been the support and inspiration from your family in your career journey so far?
While balancing personal and professional life is something unreal for several CFOs, it is the most important habit of highly effective CFOs. Initial stages of our career sometimes demand 80+ hours a week. While this benefits the organization and your career, it's not a wise long-term strategy. Workaholics are not the best long-term performers and leaders; I believe that if your work cannot get by without you for a week, then you need to get a better team.

Getting to this stage in my life has taken a lot of work, but it is nothing compared to how my family, particularly my mother Leelabai Surana worked and sacrificed for me. Also, without my family and particularly my wife Neha's continued support, I could never have accomplished so much.

What is your opinion on knowledge sharing amongst your peers and industry? Also, how do you stay updated with latest trends and requirements?
I actively participate in various programs on technology, modern CFO, risk management, change management, corporate governance, international taxations, business ethics, private equity investments and M&A. Also, I have been participating as a speaker in various annual CFO strategies/leadership forums, and have been a member of IMA India for their CFO programs.

As a CFO, I also oversee Information System department. Therefore, I constantly read, follow and attend external seminars related to latest technologies and trends. I engage with various business & operations leaders, and work with the CIO to understand the benefits of these new capabilities, the investments required, and how to measure the value created. In FY 2019-20, we are planning technology interventions in S&OP, sales excellence, data analytics, business intelligence & dashboards, and information security up-gradation.

KEY MANAGEMENT
Mukesh Surana, President & CFO
An accomplished CFO with vast experience across various Indian and global heavy weights, Mukesh handles accounts, MIS, finance & treasury, M&A, taxation, IT, commercial and procurement functions with élan. Other than staying abreast with regulatory norms and industry trends, he ensures improving working capital and fund flow management.